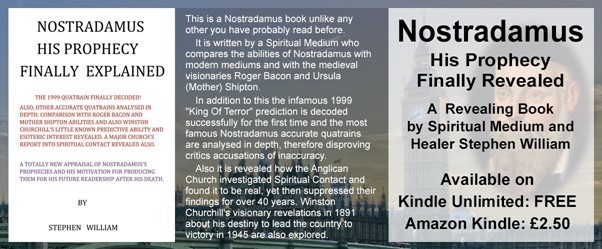 The English "Nostradamus." Was She A Relative of the British Royal Family? (Did this Medieval Mystic Also Foresee the Situation in Ukraine?)
By Stephen William. He is a UK based Medium and Healer and Author of "Nostradamus His Prophecy Finally Explained."
Available on Kindle now.
Whilst I was researching the famous French prophet Nostradamus's(1503-1566) predictive ability for my book on him and comparing it with other prophets , I obviously had to compare him with Ursula Shipton(1488-1561) better known as "Mother" Shipton , nicknamed the "English Nostradamus." She lived in the same period as her more famous French counterpart (the Late Middle Ages/Early Renaissance) and made prophecies which appeared to stretch far into the future. Were they of a Spiritual or Mystic nature or just lucky and exaggerated guesses?

Mother Shipton of the county of Yorkshire in England, since nicknamed as the "English Nostradamus" never claimed to be involved in any " magic" ceremonial ritual and seemed to produce her visions ,prophecies and other abilities it by appears instinct and her own untaught mystic ability. Her output on prophecies was in not in any way as broad as Nostradamus's and unfortunately many exaggerations and false prophecies have been attached to her work , by publishers hundreds of years after her life. These have obscured whatever accuracy she genuinely had .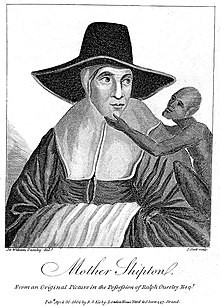 Mother Shipton, depicted in 1804 , over two hundred years after her death. The monkey- like figure is supposed to be a "familiar" giving her prophecies. However. she never claimed to use magic to produce them.

Despite this, she was famous in her own lifetime and predicted the coming of the Protestant Reformation in England amongst other events in her lifetime and other events far into the future which have demonstrated her accuracy . Her fame in her lifetime was so great ,she was referred to by King Henry VIII(1491-1547) in his correspondence to the Duke of Norfolk as the "Witch of York". Strangely enough although she lived at the beginning of the age of the great witch hunts , Henry VIII never persecuted her ,although he was well known for his brutal cruelty .He executed two of his six wives, several former friends who fell out of favour with him and many Roman Catholic priests and monks when he "dissolved" the monasteries and confiscated their lands and wealth. Even by the cruel standards of that age, he was considered a pitiless tyrant!

He perhaps did not see her abilities as unholy and possibly the existence of a prophet in his kingdom who could accurately predict the future , would have been seen as an asset. She died a natural death at the age of seventy-three and none of Henry's successors appeared to want to persecute her either. The newly formed Church of England of which the monarch was head of, obviously did not see her as a serious demonic threat. Before the Protestant Reformation, when the official national religion was still Roman Catholic, it is reported that the Royal Court in London had requested prophecies from the by then famous Mother Shipton. Therefore, the accuracy of her predictions had obviously been so great, that her fame even early in her life had reached London and the highest reaches of society .

Some may say she did suffer some persecution in the case of Henry VIII's advisor Cardinal Wolsey(1473-1530), who apparently threatened to go to the city of York and burn her as a witch. Mother Shipton's confident reply was he would see York but never set foot in it . Wolsey although he held the title of Archbishop of York ,had never actually previously visited it . He arrived at Cawood, a village where the Archbishop's official residence was in that time and which the city of York could be seen from in the distance. However, that evening he was arrested by the Earl of Northumberland on orders of the King , on a charge of treason and ordered to return to London for trial. Unfortunately, on the way back to London ,he fell ill in the city of Leicester and sadly died . It must be pointed out though ,at this time Wolsey had already fallen out of favour with Henry and had been stripped of his other titles. His only remaining significant title was the Archbishop of York, hence his eagerness to finally go there. Therefore, it was not direct persecution by the King of Mother Shipton. In fact, with Wolsey's arrest, was Henry VIII preventing her death?

There may even be a class dimension with Shipton's lack of persecution. She was born out of wedlock to a 15-year-old peasant girl called Agatha Southeil. However about two years after the birth of the Ursula as the child was called ,the Abbott of Beverley found the child foster parents (which he presumably paid ) in nearby Knaresborough and had the mother Agatha sent to a convent. A convenient way of ensuring she did not accidently reveal her child's parentage, perhaps? Regrettably, poor Agatha was never to see her child again. The Abbot also had Ursula educated also apparently at his expense . She was noted to be extremely intelligent . This apparent interest in the child's welfare has given rise to the suspicion he was the father of young Ursula or at least acting on the behalf of the father, who if he had an Abbott acting on his behalf, must have been man of wealth and influence.

Having an illegitimate girl child apparently educated , at a time when most of the population were not and illiterate, shows a duty of care beyond what was normally seen as Christian charity at the time. Perhaps if she had been born in wedlock with whoever the father's wife was , she would have been a member of the ruling and educated classes? This may explain the liberal attitude shown towards her and her paranormal activities by the monarchy. The" Yorkshire Rebellion" took place in 1489 just shortly after Ursula's birth and prior to this" rebellion", nobles loyal to the previous king Henry VII(1457-1509) were in Yorkshire to pacify unrest about the tax burden placed upon the population. In fact, Henry VIII's father, King Henry VII himself visited York in July 1487, not far from Knaresborough where Ursula was born the following year .He was there to put down a previous rebellion against him. Therefore, could Henry VII or one of his noble entourages have been responsible for Ursula's conception ? If it were King Henry himself, she would have been the half-sister of King Henry VIII !

Knaresborough Cave where she was apparently born is within a few hundred yards of Knaresborough Castle ,which could have housed King Henry or one Henry's allies or relatives during this visit. This is only informed speculation on my part, when these interesting facts emerged during my research. Yet it is not beyond the bounds of possibility and certainly less fanciful than some of the other speculation of the identity of her father. Other theories are the Devil himself fathered her or a descendent of the legendary King Arthur, who as we now know ,may not actually have existed! The Abbot who is the most popular candidate through his actions, of course was supposed to be celibate.

Her young mother, the unfortunate Agnes , was actually dragged before a magistrates court before her apparent removal to the Convent and questioned on who the father of her baby actually was , yet she stubbornly refused to tell them. Could the safe care that the Abbott provided for her child be part of a "deal" to buy her silence ? Also, could the fanciful supernatural or legendary candidates for her fatherhood of her daughter be a smokescreen for a more plausible real royal father ? The care for her wellbeing as a child and the use of her abilities by the Royal Court as an adult and lack of persecution in "Witch Craze" of 16th century Europe does appear to point to a protection of somebody who was more than the child of a sexually active "celibate" priest ?Was Cardinal Wolsey's last attempted act, a desperate threat to Henry against a relative of his ? We at this distance of time shall never really know, but given the analysis of the facts I found, it is more likely than her being the descendant of either the Devil or the possibly fictional King Arthur!

Some of the more historically aware readers will realise that that both Henry VII and his son Henry VIII were members of the House of Tudor Dynasty and the current British Royal Dynasty is the House of Windsor. However, the House of Windsor have descent from the Tudors via Henry VIII's sister Margaret, Queen (by marriage) of Scotland. So therefore, they are they ancestral cousins of the Tudor monarchs of that era.

Just like Nostradamus also, Ursula Shipton was a talented herbalist and was known for her herbal and healing cures locally , just as much as she was known for her predictive abilities. This indicates her being educated to a level well beyond a typical country peasant in Tudor England . She could not have learnt this as a family tradition, as she was separated from her mother at the age of two. There is no record of her foster family being engaged or talented in this field, either. She was married to a Toby Shipton who was described as a carpenter so it is unlikely, she learnt the skill from him.

She on examination of her lifestyle appears to be one of the "cunning folks" or "wise women" of rural Medieval Britain rather than a "witch" as she was often described by distant commentators in her own era. These people were often natural mediums and healers who learnt herbalism to help their fellow villagers and neighbours. They served people who were too poor to consult university educated qualified doctors. However, those "official" doctors would normally often a horoscope in their diagnosis for their wealthy patients! I suspect many of us modern people mystic or otherwise, would probably expect the herbal cures to be slightly more effective!

These cunning folk of both sexes still served isolated rural British communities with their abilities until the early 20th century until the advent of affordable modern medicine. Those who did employ any kind of ritual or incantation in their work appear to have used verses from the Bible or other traditional Christian sources. So therefore, the term "witch" with its connation with non -Christian belief or practice seems to be incorrect to describe her. I believe she was a natural medium and with her education and noted intelligence learnt herbalism to create a role and income for herself .

The major events she predicted in her own era apart from the Protestant Reformation included the threat and defeat of the invading Spanish Armada off the English coast by Henry VIII'S daughter Queen Elizabeth I's Navy and a century after her death The Great Fire of London. Yet it is the long-term predictions which are even more fascinating stretching into our Modern Age, as it is beyond the scope of idle speculation of a peasant living in a 16th century rural backwater.

She appears to have predicted the coming of electronic communication, i.e., telephone, radio , TV , Internet etc in her phrase,

"AROUND THE WORLD THOUGHTS SHALL FLY, QUICK AS THE TWINKLING OF AN EYE"

Also, the advent of aircraft,

"AND MEN SHALL FLY AS BIRDS DO NOW"

The invention of the submarine,

"WHEN BOATS LIKE FISHES SWIM BENEATH THE SEA"

She has even described the changing status of women in various phrases.

However, what has startled me in researching this article , is what appears to a reference to the current situation in Ukraine!

It is as follows,

"AND CHRISTAIN ONE FIGHTS CHRISTAIN TWO, AND NATIONS SIGH ,YET NOTHING DO, AND YELLOW MEN GREAT POWER GAIN,FROM MIGHTY BEAR WITH WHOM THEY'VE LAIN."

As soon as I saw this, a parallel with the war in Ukraine flashed into my head. Despite having spent such a long time in the Soviet Union together ,which had the official doctrine of State Atheism , many people in both Russia and Ukraine declare themselves as practising Christians . Their observance of their religion is far higher than in most Western countries. So Christian One and Christian Two are good descriptions of both combatants in this terrible war.

Regarding nations sighing and doing nothing, although practical help has been sent to Ukraine by some of the West , it is not universal. Russia has a few backers and China could be described to be among them. Yet they are not getting directly involved. It seems as if Mother Shipton foresaw the fear of a nuclear war and "mutually assured destruction" if the more powerful onlooking nations got involved.

China appears to be described in the next line . Although describing Chinese people as "yellow" is an outdated racist term and I apologise to any Chinese heritage readers if they are offended, it is not a term I use, it was a common European term to describe Chinese and other Eastern Asian people in the 16th century when Mother Shipton made this prophecy. When this war started Russia was seen as a superpower who would defeat Ukraine in days. Yet some months later they have been fought to a standstill on several fronts by a lot weaker opponent . This has dented their image of a vast conventional military power, although they still have the world's largest nuclear arsenal. China and Russia have for some years had an informal military alliance such as conducting joint military exercises together. Truly China has gained "great power from the Mighty Bear with whom they've lain."

Apart from the military link China has gained greatly with its trading relationship with Russia. Not only is Russia a market of 150 million customers for China's manufactured goods, but Russia is a huge supplier of raw materials to China's industry. The Bear throughout the centuries especially in a "Mighty" form, has been used to describe Russia due to its immense size and resources.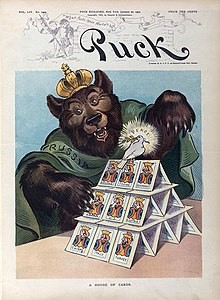 The famous 19th and 20th century American satirical magazine Puck in 1904 depicting Russia as a Mighty Bear.

Since the advent of the Ukraine war , because of the problems Russia has encountered ,its powerful image has suffered, leaving China by far the more influential Eastern nation on the world stage in most ways. It appears Mother Shipton in this prophecy, as did Nostradamus also saw a resurgence in China's power. I cover this in the 1999 predictive quatrain which translation and analysis I feature in my book. The fact that both these 16th century prophets saw China rising again in power, would suggest that they were aware that China although still powerful in the 1500s when they lived and practiced their prophecy, would decline and would in the immediate coming centuries be seen as a less influential nation than Russia and some other powerful countries. Then it would resurge and be at the international "top table" again.

Perhaps these prophecies about China are a wakeup call to all people both East and West? That now humankind has access to weapons that could destroy the whole of civilization , that humanity must find a new way of living peacefully together?

Some cynics may wonder why, Mother Shipton and Nostradamus both made prophecies that stretched far into the future and only could be deciphered after the future event had occurred . It served them no material benefit .It fact it could have lessened their reputations in their own time to some people as the prophecies made no sense to them. However, obviously were only the messengers or mediums of the future events. They were not creators of them and could only describe what they received. So why did they bother to record them for unborn generations?

Both as far- seeing mystics knew a spiritual/mystic dimension existed. They would probably have seen that a belief in the spiritual would drop away in the coming centuries as many conventional religions decline in practice and influence. Direct mystical experience provides that proof. However, it is up to the world to accept it.

© Stephen William International Copyright.

If you wish to read my book ,which is available at only US $ 3.45 on Amazon Kindle or FREE TO READ if you are a Kindle Unlimited member. please follow this link.
https://www.amazon.co.uk/dp/B098LS5PM7/ref=cm_sw_em_r_mt_dp_MBDF06G549ZKJ6XFKMCJ