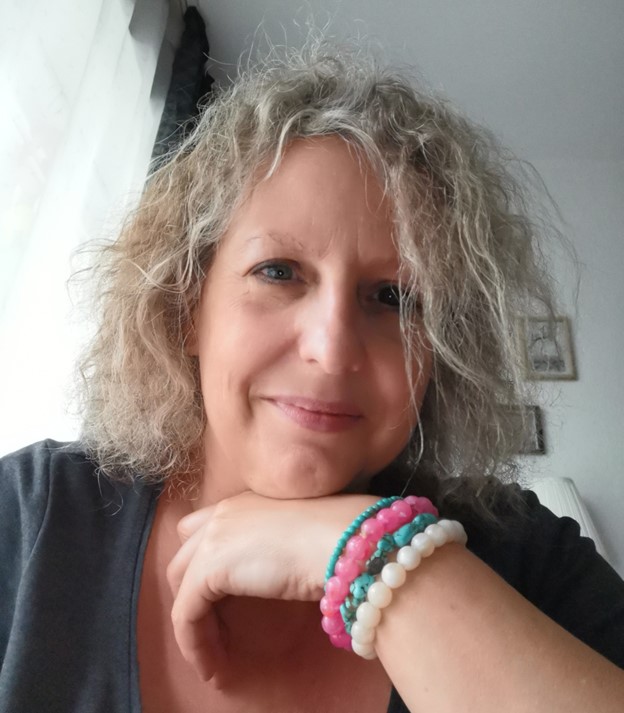 Ellen Hofrath-Stovall
As you may or may not know: I'm not only an artist, I also provide coaching. My main topics are Self-organization, especially in Home Office and, you guessed it: How to lower your stress level.
As the topic of stress is showing up again more frequently, I thought I could share some easy-to-do tools and ways to reduce stress in everyday environments like the office.
This is just a small choice of ways to do it but they are all easy to do.

In my experience, the best way to deal with a situation is to have some hard facts. So it's much easier to develop strategies.

To make it easier to handle the stress we first need to understand: What is stress and why am I stressed out?
Stress is one of our basic instincts, it's our emotional reaction to situations we don't know how to handle that overwhelm us. We feel helpless and experience a loss of control of the situation which then leads to reactions of anxiety, fear, and "fight or flee"- mode.
Experiencing this now and then is pretty normal.
Scientists rate the tension level on a scale from 0 - 100, and a regular situation, like being on the way to an appointment in public traffic or regular working experience is set on 30 - 50 on that scale.
The situation starts to be a problem, when you experience the 50 percent daily or peak to 70+ in very short intervals and more frequently.
If you live in a high tension state for a longer period of time (3 months+) it becomes concerning. You will experience physical and psychological effects and in the worst case, it will lead to depression and sooner or later Burnout.

I don't want you to underestimate it, but I can briefly say that my Burn out actually saved my life. But, I'm a hard learner and I hope you don't need that kind of hard awakening.

So, the goal is to recognize where on the scale you are, recognizing that you are stressed and short term lower the stress level and mid to long term get control over it and have tools to lower the level before it gets unhealthy.

This is easier than you may think and doesn't even need much effort.

First I will provide some things you can do in the situation, later some for long or mid-term effects

Let's say, you're sitting at your desk or just left a meeting and you don't feel good, like a headache, feeling tense, sensitive to noises or light, restless legs. Depending on the actual situation, you have two ways to go: If possible, leave the situation physically. Get out of the room, leave the building or get out on a porch, and move literally away from the situation. If I can't leave the building for any reason, I climb stairs one or two floors up and down, then I sit down for a second, breathe and enjoy the silence.
If you can't leave for any situation, but need to calm down:

you can take a piece of paper, imagine it would be the stressor, and rip it to pieces.
Another approach would be to do Zentangles. It's a method/art form specially created for this reason and doesn't require any actual talent. All you need is a small piece of paper and one pen or pencil. You start drawing lines or forms first with your non-prominent hand. If you are more experienced or are artsy, draw small patterns or symbols. The idea is to focus on small details and shut out the "outer world".
Grab a cup of a warm drink or your favorite treat.If possible look for a quiet place or at least, don't answer the phone and turn away from your screen. Close your eyes. Experience the treat or drink. How does it smell? Feel the warmth of the cup. Take a sip or bite. How's the mouth feeling? Taste? Is it hot, cold, sweet, or salty? Does it trigger any positive memories? - Repeat.

This exercise is perfect as awareness training, a phrase I personally can't stand anymore, as it's overused. It's done best with a piece of chocolate, as that changes it's taste and consistency over time when you let it melt in your mouth.
Another thing, but better done in privacy (stairwells, maybe bathroom or empty meeting room, when you are in the office) are breathing exercises. You might know them if you are into Yoga or Meditation. You can find endless examples on youtube, they can be calming, and energizing,.. Whatever you need.
Clean up your desk. A clear environment calms the mind.

Those are short-term options.
For the mid or long run, it helps to have things that generally lift your spirit and lower your entry tension level.

Have a "good memories" book or folder. It can be a notebook or a file in your cloud or phone. It may contain pictures of loved ones or favorite places, playlists from youtube, or your music streaming service you can listen to or watch frequently. And motivational quotes if they work for you.
Make it a morning or evening ritual to recall 1 - 3 positive things that happened during the day, maybe even note them in your calendar. When you are in a mood, saying nothing good ever happens, make a reality check when the last good thing really happened. It helps to put things into perspective.
Do things for yourself and remind yourself before you start, that you do it for yourself.
Celebrate small successes.
Break big tasks into small pieces.
Clean your schedule and your environment, as inside and outside impact each other.
Consider restructuring your day.
Consider your personal, internal rhythm. Are you an early bird or a night owl? Adapt your chores and duties to that.
Figure out what your major stressors are. How can you handle them better? Can you even avoid them? Why does this particular thing stress you out so much?

If you have questions or want a 1:1 feel free to contact me.

Take care and practice awareness.



Celebrate the small things
Work Out
Doodling
Time Out
~~~~~~~~~~~~~~~~~~~~~~~~~~~~~~~~~~~~~~~~~~~~~~~~~~~~~~~~~~~~~~~
You may reach Ellen at : bunteinspirationen@gmail.com on Instagram: ellenberlin1

Bio: Ellen Hofrath-Stovall was born in 1965
She is living in Berlin/Germany
2 Daughters, 3 grandchildren
single
Painting since 2012, self-educated
several exhibitions in cafes and restaurants


Reproduction of all or any part of material of Ellen Hofrath©, including previous posts, without the express written permission from Planet Starz, Inc. is strictly forbidden.

**Note from Natalie: Ellen is someone I discovered on Instagram and immediately we became friends. I thought what a nice addition to the ezine this would be to have a column for her.
Enjoy her work every month here at Mystic Living Today**


See you next month !!!

Love,
Ellen