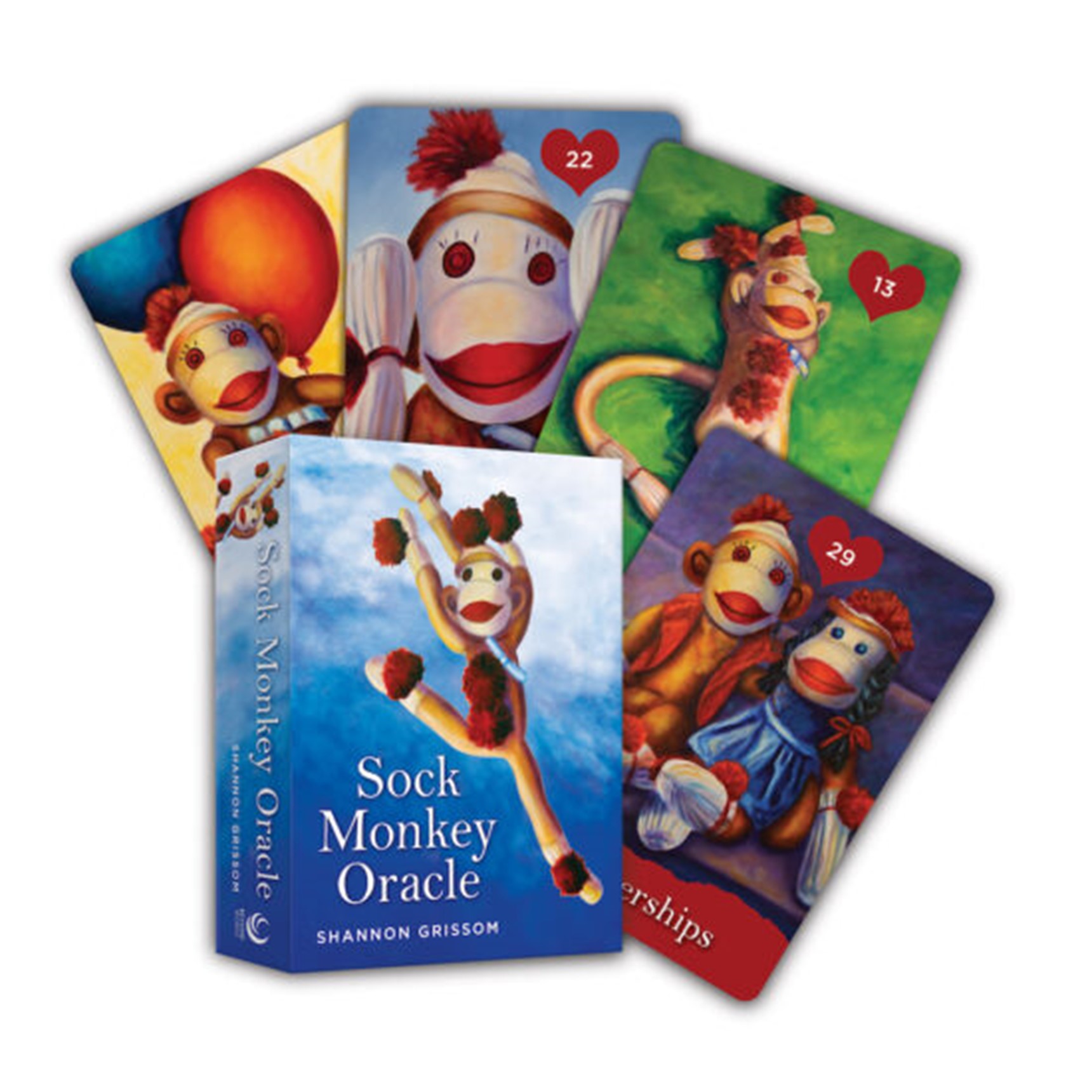 Portland, Oregon:
The sock monkey, a largely popularized vintage icon, has brought joy and love to homes for decades.

Dating as far back as the 1930s—at the height of the Great Depression—sock monkeys became most known for their vibrant red mouth fashioned out of Rockford Red Heel socks. At a time of severe economic distress, these unique stuffed toys were gifted to families and children as notions of hope, happiness, and…hugs!

Today, Shannon Grissom continues this long-lived tradition with the Sock Monkey Oracle card deck. Bridging the gap in history as a toy made for children, the card deck proves sock monkeys can infuse your life with joy at any age.

Discover your playful energy, embrace the nostalgia, and open up to love with 46 passion-filled readings and cards, including:
Tee Time as a reminder to just have fun,
Unwind as a reminder to relax and take self-care,
Parenting as a reminder to persevere when things get a bit messy, and
so many more!

No matter the card, the Sock Monkey Oracle will leave you with a warm hug, a gentle laugh, and a whole lot of love.

Shannon Grissom didn't discover painting until she was 33, but once she discovered this hidden passion, she was hooked and driven. By 1999, Shannon was able to leave her day job and began to create art as a full-time business. At 46, Shannon self-published her children's book Monkey Made of Sockies, along with a line of licensed merchandise, including a coloring book and the popular Monkey Made of Sockies golf club headcovers that have been carried on tour by several LPGA pros.

Shannon is an award-winning artist, television producer/host, author, and songwriter, and she just launched an online creativity school called Painterly. Learn more about her work with sock monkeys at:
https://sockmonkeyoracle.com
The Sock Monkey Oracle (978-1-58270-859-1) released from Beyond Words Publishing on April 19, 2022. Promo copies are available by request, and media inquiries can be directed to Brennah Hermo at
pr@beyondword.com
.

https://shannongrissom.com
**
Here is a link to the talk show I had with Shannon on August 31st and it was wonderful :** :



https://www.blogtalkradio.com/starzcast/2022/08/31/natalie-sist-talks-live-with-multifaceted-visual-artist-shannon-grissom