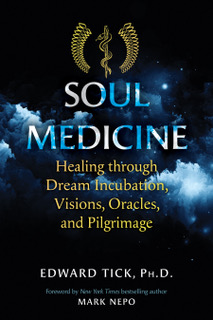 "We can conceive of symptoms as oracles, divinations, ambiguous messages asking to be read. It is often not the supplicants whose messages indicate mental illness but the therapists who misinterpret. This is so common in modern health efforts that millions are misunderstood, poorly listened to, misled, and condemned to chronic suffering instead of healing. But "words are doctor to a diseased temper," Aeschylos wrote in Prometheus Bound. Deep listening to and affirmation of the inner experience of the patient with responses that are truth-filled, personal, and accurate to the individual's lived experiences are essential. Anything less will be rejected by the psyche in need, the interventions fall short, and the patient possibly blamed for failure or "noncompliance."

The philosopher Heraklitos said, "The god whose oracle is at Delfi neither reveals nor conceals but gives a sign." Jung sounds similar: "The symbol in the dream has more the value of a parable; it does not con- ceal, it teaches." The signs we are given attempt to teach us through an experience and show us in ways we cannot ignore that something is out of balance, ill, amiss, emerging, changing, growing.

When the symbols are embedded or embodied, causing distress in our behavior, lifestyle, or health, we call them symptoms.

"Symptom" comes from the ancient Greek: sin, with, plus piptein, to fall. A symptom is something that "falls with" or together, literally a circumstance or occurrence that serves as indication that something is awry and points to the problem. It is readily applied to medical and psychological functioning as evidence of disorder. But then, common in modern practice, instead of working through a nightmare to resolve its underlying cause, disturbed dreamers are given medications that squash the dream activity. If there is no dream, there is no inner world experi- ence. Then the psyche does not experience release or renewal and noth- ing is learned, understood, resolved, or integrated. Whatever brought the nightmare is hiding somewhere, looking for another expression. As one trauma survivor said of his cognitive behavioral therapy, "It allowed me to tiptoe around the pain and old issues lying in my psyche so I can function, but I am always ill at ease and know beasts are lurking within that need to be released."

Symbol also comes from the Greek: sin, with, plus ballein, to throw. Symbol is something that is "thrown with," used to stand for or rep- resent something else, often something material used to represent the immaterial—the lion for courage, dog for loyalty, dove for peace.

All these are types of signs—from the Latin signum, meaning mark, token, indication, impression. All are meant to convey meaning. A stop sign is a physical sign meant to tell us exactly that—Stop! The sign becomes a symbol when it is used to represent something else, when, for example, it appears in the dream of a person struggling with a difficult choice.

These understandings are explicated in modern communications and linguistic theory. What do they have to do with ancient oracles? Long ago Plutarch announced that the age of the oracles was over, the well has gone dry.6 What does this have to do with our seeking them today? How without a Pythia might they be received?

An oracle, as Plato said, is a form of communication and commu- nion between the mortal and the divine, the visible and the hidden, in modern terms between the conscious and unconscious, and even deeper, between the conscious mind and the collective unconscious, the reposi- tory of archetypes.

Oracle comes from the Latin, oraculum, divine announcement, from orare, to pray. Oracles were utterances delivered to pilgrims at shines by For holy people as responses from transpersonal sources. The word oracle indicates the answer received. It also indicates the agency giving the response—Apollo at Delfi, Zeus at Dodonna, Yahweh in the Bible. And it indicates the person or thing used to channel the communication; the poet John Milton called Jesusus God's "living oracle." Finally, it means the revelation itself considered infallible and authoritative.

In my oracle at Delfi, Apollo called interpretation "the most diffi- cult human art." Carl Jung and Rollo May both urged future psycholo- gists to study the arts and humanities to develop a cache of symbolism to best understand patients' presentations, stories, dream images and symptoms. The larger the cache of symbolism a therapist carries, the better able to understand, associate, relate, interpret the patient's pre- sentations—whether dreams, symptoms, events, complexes. As has been said, the soul is not known directly but through images.

Thus symptoms—physical, emotional, cognitive, life adjustments, troubling dreams—are symbols. They indicate. They speak another language, what Erich Fromm called "the forgotten language." They are embedded and embodied symbols that can be heard as soul language. Their accurate, resonant, mythic, or holistic interpretations and their archetypal underpinnings are critical to access. Modern psychology departments or medical schools rarely teach dream interpretation or symbolic language. They have abandoned the inner world and its mes- sages. This becomes more problematic as higher education and society continues to exclude from curricula the liberal arts, the repository of our cultural symbols, and judges them useless in our practical world. Thus, our forms of education exclude awareness of this domain from consciousness, slowly filtering it out of people's worldview. Without understanding them, we become a bundle of confusing symptoms all relegated to the material, physiological, and biological. From within our modern medical and psychological worldviews, we do not receive oracu- lar guidance. We are not given messages, directions, and remedies that unfold our destinies. We thus miss great opportunities for growth and may in fact do more harm."


About the Author:
Edward Tick, Ph.D., is a transformational psychotherapist, international pilgrimage guide, educator, author, and poet. A specialist in archetypal psychotherapy and the healing of violent trauma, he is the author of four nonfiction books, including The Practice of Dream Healing and War and the Soul. He lives in central Massachusetts.