Aries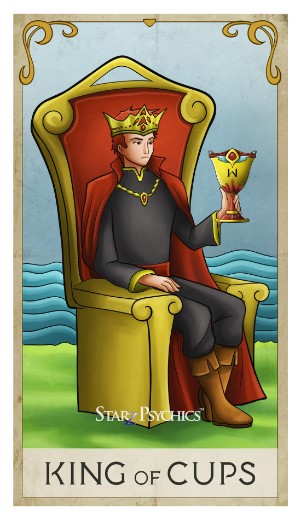 King of Cups

Assume this month that a calm, empathetic person with whom you are interacting has more of an influence over a situation than you may realize. On the other hand, someone who you assume is taking care of business might not be doing the job as well as you had hoped they would. This king also asks that you make choices from a place of love during May.
Taurus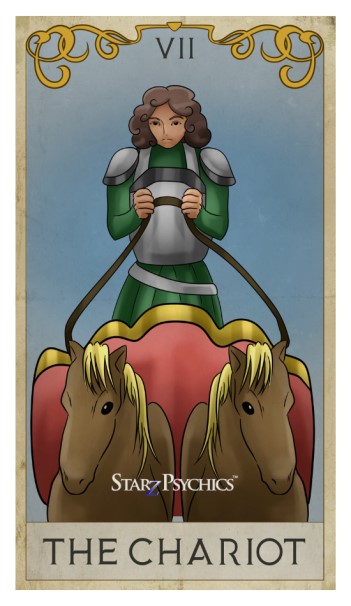 The Chariot

There is movement around you this month, it might be that you or someone close to you is considering a move – house or job, and this card is a good indication that this is positive and to be encouraged. The Chariot also shows inner movement and that your ideas are changing. So listen intently to that little voice in your head and what it is telling you.
Gemini
Justice
The Justice card reminds you that there are always two maybe more sides to every story! And therefore, asks that you to listen to everyone's point of view carefully before you make your decision. It also asks that you deal with facts and truths this month and that you avoid hasty or rushed choices. It says the truth will out in May.

Cancer


Four of Cups
The Four of Cups suggests that you are closed off to a solution that would help you, it shows that you are wrapped up in your own world and aren't seeing the bigger picture. Perhaps you are clinging to the old way of doing things and not ready to accept something different. This card can also be that someone is reaching out, but you aren't seeing this, and says become more aware!

Leo
Page of Cups
Love is high on your agenda this month, maybe you feel powerless over the attraction you have to a soulmate. Or perhaps you have fallen in love with a classmate, co-worker or friend and are trying to deny the attraction you feel. This page would be implying that your feelings will surface this month and you will not be able to deny you have fallen in love.

Virgo


Ten of Cups
The ten speaks to you about money and abundance this month, perhaps this is that you are struggling and have been left wondering exactly who your friends are. You are also being asked to take a conservative approach and to make sure you are balancing the books so to speak. Or maybe this is that you are affluent right now and feeling a tad bored with the easy life. Either way maintain balance!

Libra
Ace of Pentacles
This ace is asking that you are generous this month, not only with your possessions and abundance but also with your energy and time. This ace also speaks about your finances and asks that you maintain balance in all you do, especially where your finances are concerned. Look for opportunity because you are on the cusp of something that could be very good for you.

Scorpio


King of Swords
Lead with your head and logical thinking this month rather than with your heart and emotional thinking. Be wise and analyze things, don't take any chances this month unless you are sure they are rock solid in your favor. This King is also asking that you lead with your own truths and that you speak out and tell it as it is!

Sagittarius


Seven of Wands
Try and be a bit more assertive this month especially if you are trying to defend your own truths / turf. This seven is also asking that you take things slowly, one step at time, things may feel confusing at this time, so untangle things with care and then deal with one thing at a time. Make your own choices, do what is right for you.

Capricorn


Wheel of Fortune
Be bold and brave this month, get the ball rolling. The wheel is asking you to initiate change, to mix things up and to turn things in your own favor. The wheel shows that you are on the up, and that if you put in the work, you make a real difference in your life. It says make the change, look to the future, and know what you do now can have a great impact.
Aquarius


Two of Swords
The two this month speaks about balance and reason and asks that you make your decision based on fact. It asks that you follow your head and logical thinking, rather than your heart and emotional thinking. It also says be wise, seek out facts and truths and don't be led by hearsay, gossip, or what other people feel to be best.

Pisces


Seven of Pentacles
This seven is speaking to you about your free will and reminds you that you are the one that has complete control over this. Therefore, you are the one that must make the choices in your life, you own your feelings and emotions. So do what you feel is right. Know that the crossroad you are at is one that will bring you opportunity.


The Starz Psychics Tarot Course

Would you love to be able to read Tarot like a PRO? You can, with our ONLINE PDF Tarot Course! The only thing you need is a willingness to learn and a desire to delve deeper into the mysterious world of the Tarot. You will also need a tarot card deck, which we have covered with our unique Starz Psychics Tarot Card Deck.


What Does this Course Include?
18 Lessons with accompanying exercises - In a five part course
Access to me Starz Amber
PDF Keyword Charts
Information and Summary Charts
Audio's to accompany lessons and exercises
IN FACT - Everything you need to take you from base camp to reading Tarot like a pro... In simple easy to follow steps!

This course is designed for Beginners to Intermediate readers.

At the end of this course you WILL:
Give Accurate Readings!
Have the knowledge to be able to make money doing what you love.
Be confident about doing a Tarot Reading!
Know-how to a detailed reading without second guessing yourself
Know-how to avoid pitfalls and mistakes
There is an accompanying audio of this course available, just to make your learning experience easier!

So join me StarzAmber, on a unique Tarot Journey. I have over 30 years' experience reading Tarot and am ready to help you. This course comes in five parts, and can be done at your own pace! I will be with you every step of the way, and can be reached through a dedicated email which I will share with you.

Order form click on the link below:
https://starzpsychics.com/tarot-card-course.php
Cards use in the Tarot Scope are from the Starz Psychic Tarot Cards…coming soon

Plus coming soon learn Tarot in our Zoom Tarot Lessons

STARZ TAROT CARDS - YOUR FUTURE AWAITS ™
Natalie xo

Need an answer reach for the Starz - Your Future Awaits
https://www.starzpsychics.com