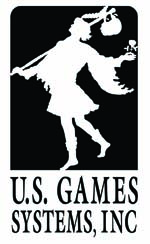 U.S. Games Premier Publisher of Tarot & Inspiration Cards
U.S. Games Systems, Inc. of Stamford, CT has been producing quality family games and specialty playing card decks for over 40 years. Designed for family fun, all our products are attractively packaged and affordably priced.
Our wide selection of games has something for every age and interest. For little ones we offer Kids' Classics. For the young at heart: Nutty Neighbors, Banana Split Card Game, and perennially popular Authors Cards. Award-winning word games like Snatch-It, Royalty, Flashwordz, and Quickword educate as well as entertain.

Let's Play™ Card Games presents an exciting collection of family games in an eye-catching counter display: Flip Six, Continuo, Duo, Tripolo, Bing-O and others. Best-selling Wizard Card Game is now available in several different editions, including Fantasy Wizard, Medieval Wizard, Deluxe Edition, and Large Index.TableTalk Conversation Card series offers dozens of exciting titles including PirateTalk, PetTalk, BaseBallTalk, and HobbyTalk.

U.S. Games Systems products have been honored with awards from Dr Toy, iParenting Media, Creative Child, NAPPA, TIA, Tillywig and many others.

Tarot and Inspiration

Founded in 1968, U.S Games Systems is a recognized leader in publishing tarot and divination decks. Rider-Waite® and Crowley Thoth continue to be among the most popular tarot decks in the world. Modern interpretations of these classic decks include Sun and Moon Tarot, Joie de Vivre, Deviant Moon Tarot, Cat's Eye Tarot, Crystal Visions and numerous others. Mystical, magical creatures are found in tarot decks as well as oracle decks such as Dragon Oracle, Fantastical Creatures, and Woodland Wisdom Oracle Deck. Other best-selling divination decks include Gypsy Witch Fortune Cards and Tea Leaf Fortune Cards. From the whimsical to the elegant, U.S. Games Systems' tarot decks showcase a wealth of creative talent.