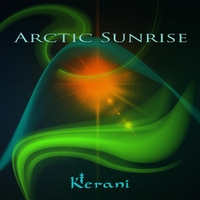 KERANI'S NEW CD MUSICALLY VISUALIZES
ARCTIC SUNRISE, NORTHERN LIGHTS, DRIFTING ICE AND POLAR EXPEDITIONS
Arctic Sunrise
Kerani, one of the top instrumental keyboardists in Northern Europe, explores earth's polar regions with her third album, Arctic Sunrise, which also symbolizes a spiritual awakening.

"In this time of global climate change with the polar caps melting more than ever before," explains Kerani, "I felt it was important to call attention to these beautiful and important Arctic and Antarctica wilderness areas."

The music focuses on her piano and synth playing supplemented here and there with guest musicians on violin, cello, guitar, horn and flute, plus percussion, drums, some nature sounds and a little wordless vocalizing by Kerani. The tunes were inspired by the native Inuit Indians of the Arctic region, an ill-fated British expedition to the South Pole in 1911, the country of Norway, the Northern Lights, huge blocks of ice breaking off the polar caps and drifting out to sea, and an appreciation for these spectacular wilderness regions. This new age music, "a true tribute to the mysterious worlds of ice," is delicate one moment and majestic the next, and is filled with musical imagery, spirituality, grandeur and mystery.

Kerani's musical career also encompasses writing and performing music for films, and recording and performing with mystical British singer-songwriter Asher Quinn (aka Asha).

Kerani's albums -- Arctic Sunrise, The Journey and Wings of Comfort -- are available as CDs and digital downloads worldwide at a wide variety of online sales sites including CDbaby, Amazon, iTunes, eMusic, CDuniverse, Spiritualbalance.nl (Belgium and The Netherlands), Magicmusic.de (Germany, Austria and Switzerland) and Redeye.com.au (Australia). More information about Kerani is available at her English-language website, kerani.nl.

"When I started writing Arctic Sunrise," explains Kerani, "I imagined an Inuit seeing the first sun on the horizon after six months of darkness. I wanted to create a feeling of awe, respect and humbleness. As we go through life, it is easy to think of our problems and fears as major. This causes so much emotional suffering. However, when we place ourselves between the Earth and the Universe, we come to understand that we are being taken care of by the Universe. Then all our problems become meaningless. In this sense the idea of an Arctic Sunrise -- a time of coming out of the cold darkness into the beautiful warm light -- can surely be interpreted as a spiritual awakening."

Leading up to this album, Kerani wrote scores for "Antarctic Inspection" and "Rothera," documentaries made by the NWO (Dutch Institute for Scientific Research). She also did her own research on Arctic and Antarctic exploratory expeditions. The title track was specifically influenced by a report written by the Danish explorer Knud Rasmussen during the Fifth Thule Expedition 1921-1924 in which he recorded a genuine Inuit poem that says that despite all our adventures and fears, "There is only one great thing...the great day that dawns and the light that fills the world!" Kerani also was inspired to compose "Aurora Sky" after reading the 1894 report by the Bureau of American Ethnology that describes the Eskimo legend surrounding the Northern Lights ("torches held in the hands of spirits").
The tune "Discovery" captures the excitement of when explorers and scientists finally managed to travel all the way to the North and South Poles. "Spirit of the Last Wilderness" was influenced by the fact that, Kerani states, "The Poles are basically the last mostly untouched places on our planet, and their Spirit asks us to keep them pure and unspoiled."

The most dramatic and heart-wrenching piece on the album is the ten-and-a-half-minute epic "Far Away From Home," a tribute to Captain Robert Falcon Scott and his British expedition team that perished in Antarctica in 1912 when they raced to be the first explorers to the South Pole, but arrived a month after Roald Amundsen's Norwegian team.

"I wrote the track 'Norway' after a cruise to that country. As we entered a fjord I was standing on the bow of the ship and I imagined what it must have been like in ancient times when the Vikings would return home in their dragonship hearing their wives on the shore humming a welcoming song."

Kerani says, "'Ice Kingdom' is representative of any ice-covered landscape, but my imagination was mainly triggered by stories that my mother used to tell about her childhood in Hungary where the winters can be exceptionally harsh. She described how the villages were snowed in and the people were not able to go outside for days. There is also something magical and mysterious about a cold, snow-covered landscape. The knowledge that the earth beneath that blanket of ice comes to life each spring is fascinating, almost miraculous."

Kerani was born in Belgium to a Hungarian father and German mother, and Kerani currently lives in the south of The Netherlands near the Belgium border and the area where she grew up. "As a child I listened to the great classical composers like Mozart, Liszt, Schumann and many others." Her family got an old piano when she was four. "I was strangely drawn to that weathered old thing. Slowly I taught myself to play and I discovered the magic of composing music. The rise of electronic music in the late Seventies and Eighties was a revelation to me -- Jean-Michel Jarre, Vangelis, Kraftwerk, Electric Light Orchestra and Mike Oldfield. These new sounds boosted my inspiration. In 1986 I teamed up with a couple of studio musicians to record the instrumentals 'Seagullsong' and 'Oblivion' which I released as a single. It got regional airplay and the B-Side became the theme song for the morning show on Radio 2 Flanders."

She performed as the lead vocalist and keyboardist in the band Liaison in the city of Ternat where they mostly performed the popular music of that time. Kerani moved to Italy for about three years where she taught English language courses (she speaks English, Dutch, French, Italian, Hungarian and German). She wrote and published a book of children's stories called Cherub ("it tells the story of a little angel who helps children"), and also re-orchestrated 15 children's songs for an instruction DVD for disabled children. In 2011 Kerani composed the soundtrack for the documentary film "Merlick 1967" commissioned by the Historical Society of the Roerstreek. Kerani released her first album, Wings of Comfort, in 2011, and her second, The Journey, in 2012. Both received positive reviews and strong airplay. Recently Kerani sang backing vocals on two Asher Quinn albums, State of Grace and Heal Your Heart, and performed with him in concert.

A decade ago Kerani began broadening her spiritual journey. "Without abandoning my Christian faith, over the years I have been expanding my spiritual horizon by reading books by Ute Kretzschmar, Drunvalo Melchizedek, James Redfield, Steve Rother, Deepak Chopra, H.H. the Dalai Lama and Paulo Coelho -- to name just a few. These are people who managed to provide answers to my countless questions.

"It was not until my first meditations that I grasped the essence of spiritual life. It is fascinating to experience that the core of life can be touched and the truth approached by communicating to the divine guide. All channels are open and it is always a two-way street. To me, meditation simply means tuning in, finding balance and connecting emotionally and spiritually with the Source. I already have a lot to be grateful for and each day comes with a lesson," Kerani explains.

"I believe that now my compositions tell stories that speak to the heart simply because they are made from the heart. Most of the time ideas come to me quite unexpectedly and once I have caught their essence, I try to maintain their purity by keeping the flow to and from Above constant and natural. I have learned to never push, never force it, but to just listen with an open heart."
_________________________________________________________________________
Radio Promotion/Publicity: The Creative Service Company * thecreativeservicecompany.com
Randall Davis (CreatServ9@aol.com) & Ruthe Forbriger (cscRuthe@aol.com) 719-548-9872
719-548-9872