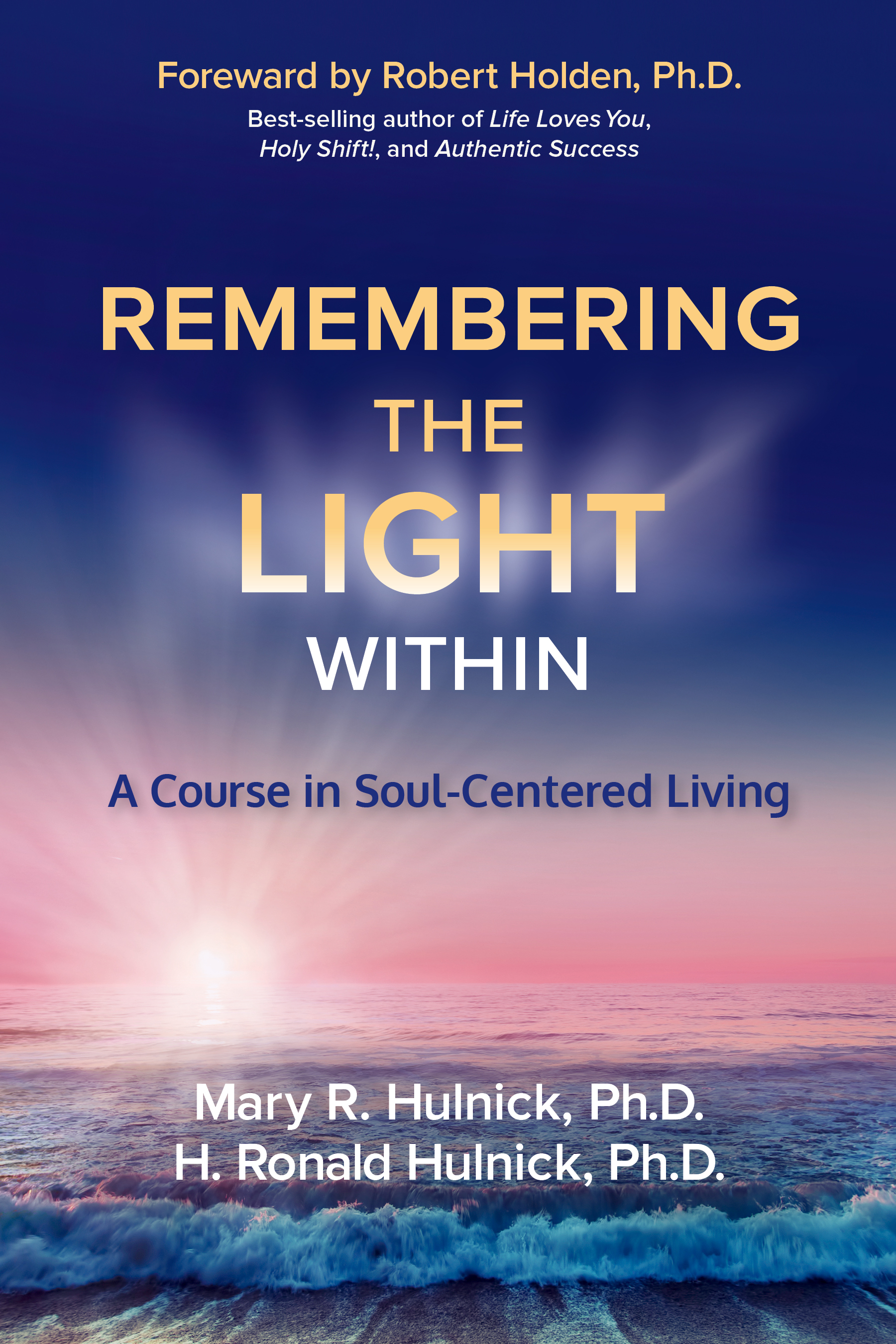 Excerpt from Remembering the Light Within: A Course in Soul-Centered Living by Drs. Ron and Mary Hulnick, Hay House, February 2017.
"Enthusiasm is one of the most powerful engines of success. When you do a thing, do it with all your might. Put your whole soul into it. Stamp it with your own personality. Be active, be energetic, be enthusiastic and faithful, and you will accomplish your object. Nothing great was ever achieved without enthusiasm."— ralPh Waldo emerson



Take Emerson's powerful, inspiring Call to Heart, and move forward on both the Goal Line and Soul Line of your life with enthusiasm! To start, you'll need to formulate and align with your own intentions for Awakening.

Let's clarify here what we mean by intention. Intention is perhaps best understood as determination to act in a certain way or to produce a specific outcome. It can also be thought of as your resolve. One of the best examples we're aware of is your body's intention to breathe. If you'd like to experience the power of intention now, try holding your breath for, say, 10 minutes.

Most people can't hold their breath for more than 30 seconds, and even highly conditioned athletes are generally gasping for air after two minutes. Well-known exceptions to this are certain pearl divers, who have been known to hold their breath for as long as seven minutes as they descend to depths of over 100 feet to scoop up exceptional pearls of luminous luster.

And while you continue holding your breath, consider the following: Luster is the amount of light a pearl reflects from both its surface glow and the deep mirror like reflection of its inner light. The better the quality of the pearl, the more superior its luster.

Now take a deep breath. Good! If you had any doubts regarding intention, you quickly saw that no matter how hard you might try, at some point your body will start breathing all by itself. The body's intention to breathe is innate and compelling—not to be denied!

Another intention that is inherent within you, regardless of the degree to which you are aware of it, is your intention to Awaken to the Luminous Light and Lustrous Love that is your Essential Nature. In fact, if you didn't have that intention, you wouldn't be reading this book.

You may be wondering, "What does an intention to Awaken really mean? And why does it matter? What difference will it make? Does it have any practical value? Will my intention to Awaken help me have better relationships with those close to me? Will I feel better about myself? Will I experience myself as more resourceful in responding to the challenges that are part of a human life? And perhaps most important of all, will it also assist me in learning ways I can experience more Meaning, Purpose, and Fulfillment in my life—and will I experience more Love?"

We trust that you will discover your own positive answers to all these questions as you progress through this book.

You Are a Creator

Our words, and the amount of energy with which we infuse them, are expressions of our intention. As such, they are a primary medium through which we create our life. The Spiritual Psychology Principle of Intention states: In your Universe, your word is your law; thus, the power of intention. This powerful statement is an admonition to be truly conscious of what we say because every word we speak, whether conscious or unconscious, is an intention with which we are creating our lives.

That's right. Your current life is a manifestation of your cumulative intentions, whether you think you have any or not! Unclear or competing intentions tend to result in nebulous outcomes. When you focus on what you want to avoid rather than focusing on what you intend to create and experience, it can program limitation, lack, and negative outcomes into your life. You must hold the picture of your desired outcome in your mind, positively affirm it with your words, and move toward it. Remember that negative affirmations spoken unconsciously will create more of what you don't want; they are one of the ways you unintentionally sabotage yourself.

What Is a "Clear" Intention?

Clear, positive intention involves clarity of purpose and the willingness to act on it.

As Abraham Lincoln said, "Always bear in mind that your own resolution to succeed is more important than any other one thing." When you hold a clear intention, your thoughts, feelings, and behaviors—including your words—align. As you align your purpose, choices, words, and actions with the outcomes you wish to experience or manifest, you initiate inner alignment with the Essence of who you are—a Divine Being having a human experience!

It is empowering to clarify your intention. You not only begin to engage in actions that propel you forward in harmony with your intention, but also you experience the taking of dominion within your own consciousness, which results in inner and outer cooperation. In truth, in your world, your word is law. Thus, you experience the empowerment that comes from clear, positive intention.

When engaging in the process of setting clear intentions, be aware that there are different kinds, depending upon whether you are focusing on the Goal Line or the Soul Line. The following medieval tale is one of our favorite stories to clarify the distinction between Goal Line and Soul Line intentions:

A traveler came to a work site and saw two men carrying stone. One man was working listlessly with a sullen expression on his face, while the other man was cheerfully singing as he busily carried stone after stone.

"What are you doing?" asked the traveler of the sullen worker. "Laying stone,'" was his reply.? The traveler asked the same question of the industrious worker. "Building a cathedral," he replied.

This is intention at work.

Drs. Ron and Mary Hulnick are pioneers and worldwide leaders in the field of Spiritual Psychology, as well as Teachers and Facilitators of Awakening in Consciousness. They are renowned educators, authors, and the Founding Faculty and Co-Directors of the University of Santa Monica (USM), where they have designed, developed, and facilitated Educational Programs for the past 35 years. Both are licensed Marriage and Family Therapists, and Mary is also a licensed Clinical Psychologist. They are the authors of Loyalty to Your Soul: The Heart of Spiritual Psychology, published by Hay House and available in 12 countries and 8 languages. Their latest book, Remembering the Light Within: A Course in Soul-Centered Living, was published by Hay House in 2017.


www.ronandmaryhulnick.com