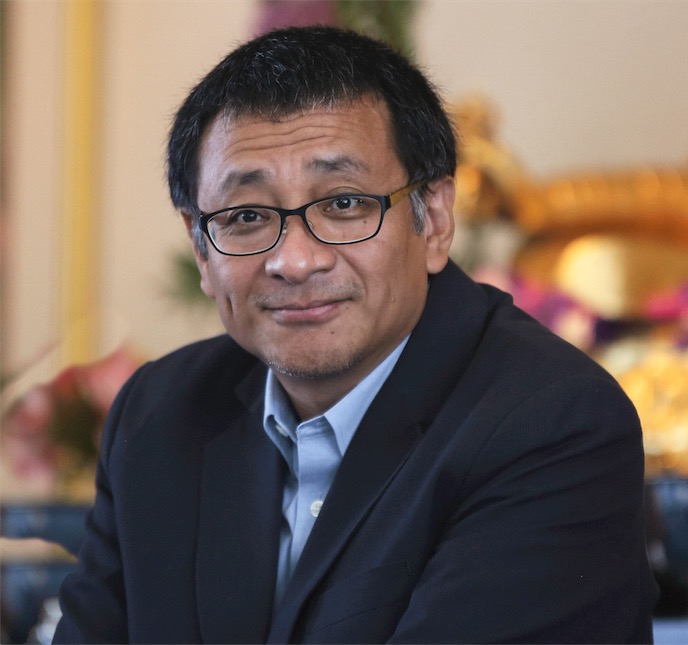 Dzogchen Ponlop Rinpoche




TarcherPerigee, a division of Penguin Random House LLC. Copyright © 2017 by Dzogchen Ponlop.

Chapter 8: Mindful Gap: Look
->Look . . . Mindfulness at the Kitchen Sink

Choose one or two ways you can apply mindfulness in your daily life in the coming week. The more specific you are in choosing the activities, the more likely you are to follow through. It's much easier to apply mindfulness to doing the dishes than it is to apply it to something vague, like, "I promise myself to be mindful all day."
You might choose washing the dishes on Monday, Wednesday, and Friday to begin your mindfulness experiment. Simply pay attention to each detail of the task.
• Bring your awareness to the present moment, to your body standing at the sink, and the warmth of water on your hands. Notice the texture, shape, and weight of each item as you soap its surfaces, rinse, and place in a rack to dry.
• At the end of the week, reflect on how the experience of mindful dishwashing was different from your usual way of washing dishes.
• Extend your mindful activity to other areas of the kitchen—the counters and floor—as you're ready.
• Alternately, you could choose organizing your desktop at the end of the workday.

Whatever activity you choose, remember that mindful- ness is equal parts focus and relaxation—it's not about perfectionism or being intentionally slow and self-conscious. Hopefully, it's enjoyable!

->Look . . . A Shift in Perception

When we approach an activity with mindfulness, we're not trying to see in some special way, but it does cause a shift in our perception. When we look at our feelings of anger or envy, they're not our prepackaged versions. We see them freshly, with greater clarity. We start to understand how we see—how we perceive and label—and how that alters our experience.
This clarity leads us to a new understanding of who we think we are. It brings perspective to our relationships and our sense of connectedness to the world. When we genuinely want to explore just how our emotions affect the way our life unfolds, mindfulness carries us a long way.

Look and See

• Look at a specific action (something you do by yourself), like cleaning up your desk. Once again, start with yourself. Bring your awareness to the present moment, to your body sitting at your desk, and to the objects on and around your desk. (What are their colors, shapes, and textures?)
• Notice your thoughts about the objects and the feelings they provoke, as well as your tendency to drift into thoughts about the past or future.
• At the first moment you recognize that you're thinking, acknowledge, Thinking, and bring your attention back to your body and the present moment.
• Next, briefly shift your attention to the mindful mind itself. Watch the watcher of your actions, then return to simple mindfulness.
• Repeat a few times.
• Reflect on the experience. Did watching the mindful mind change your experience of the original activity in any way?

->Look . . . The Flow of Activity

When you apply mindfulness while you're busy doing things—working at the computer, doing the laundry, washing the car or the dog, you're engaged in "mindful activity." You're being attentive to the flow of activity rather than becoming lost in your thoughts about it. As you move about, you're paying attention with mind and body, with all your senses. You're seeing, hearing, and touching the sights, sounds, and objects around you. When you become distracted, you pause and create a Mindful Gap by releasing any mental chatter or feelings that have come up. Again and again, you let go of your thoughts about what you're doing and get back to doing it.
Letting go of whatever's distracting you means that you let go of more than just chatter. You let go of your perfectionism, your boredom, your envy, your worry, as well. And then you return to your activity with relaxed but focused attention. If you're cooking the evening meal, the point is to simply do it and then let go of it. Let the result be just what it is. If you've given something your full attention and made a good effort, it's generally enough. Don't worry about becoming an expert in all facets of your life. Instead, just try to relax and enjoy what you're doing.

Reflect on It

Choose a simple creative activity that's new to you or at which you're inexperienced. For example, draw a picture, arrange some flowers, write a poem. What's important in this practice is to explore an unfamiliar activity with openness, and then let go of the result. When you encounter self-criticism, confusion, or resistance, simply pause and relax. That's being kind to yourself.
Using the continuous writing technique described previously, write for five minutes about your experience (longer if inspired to keep going). Here are some questions you might explore:
• What feelings did you notice as you engaged in the activity?
• Were you able to meet resistance with curiosity and kindness? If yes, what was that like? If no, what was the barrier?
• Were you occasionally able to release distracting thoughts? If so, did that help you to appreciate the process versus anticipate a result?
• What is it like to observe the result of your efforts without labeling (good, bad, beautiful, ugly)?

->Look . . . Daily Reminders

For this exercise, the idea is to find similar intentions in two different activities: an everyday activity, like driving a car, and a more exceptional activity, like working with difficult emotions. When you find a common purpose, the result is that performing the everyday activity can remind you of your intention to deal effectively with your emotions.

Reflect on It

• Using the example of driving a car, start by asking yourself, What's my intention when I get behind the wheel of my car? Why do I do it? Your answer might be, I want to be free to go wherever I want to go—and some are places I could never reach just by walking.
• Next, think about how you work with your emotions. Ask yourself, What's the intention behind my commitment to work with my emotions? Why do I do it? Your answer might be: I keep working with my emotions because it's the only way my life will have less suffering. My intention is to be free of emotional suffering.
• Finally, integrate the two, so that the purpose of the one reminds you of the purpose of the other. It might go something like this: Just as I drive my car to reach the physical places I want to go, I work with my emotions to reach the inner space I long for—freedom from emotion's suffering. Just so, each time I drive my car, I'll remember my goal of freedom.
• To help you remember, decide on a specific cue, for instance, when you turn the key in the ignition that starts up your car and ignites your mindfulness. You can also stick a note on your dashboard.

When you work with an exercise like this, take five to ten minutes at the end of the day to reflect on how this practice was helpful. Also, look at what interfered with your ability or motivation to apply mindfulness. You might want to keep a journal or sketchbook by your bed to make a few unprompted notes or sketches before going to sleep.

->Look . . . Catch and Release

I once bought a shirt at the airport because I had been traveling a long time and was in need of a change. I found one in a nice deep blue color and put it on without looking closely at it. Then, when I was sitting in the airplane, I saw it had a fish on it along with a caption down the sleeve: catch and release. I felt very good about that. It was like a message from the universe: somehow, I was wearing instructions for working with the mind in meditation. That was my teaching for that trip.
You can use that phrase in your practice of meditation, or contemplation, too. Catch your thoughts and release them. You don't need to bang them on the head and try to kill them before throwing them back. You can just acknowledge each thought and then let it go.
The practice of meditation is basically a process of getting to know yourself. How do you do it? By becoming familiar with your mind. Normally the mind is a whirlwind of thought, and meditation is a practice that calms this down and helps us develop a peaceful state of mind. Not only is our mind busy thinking, we're usually thinking about the past or the future. We're either reliving old dramas or imagining what could happen tomorrow or in ten years and trying to plan for it. We usually aren't experiencing the present moment at all. We can't change the past, and the future is always ahead of us—we never reach it, have you ever noticed? So, as long as this process continues, our mind never comes to rest. The mind can never just settle down and feel at ease.
When we practice meditation over time, we get better at catching our thoughts and emotions, and releasing them. Gradually the mind begins to settle naturally into a resting state. This is great because it allows us to be fully present in our lives. When we aren't being pulled into the past or the future, we can just be right here, where we actually live. To be in the present moment simply means to be awake and aware of yourself and your surroundings. That's the beginning of peace and contentment.

Instruction: Following the Breath

One of the most effective methods of meditation is the practice of following the breath. To begin, you simply sit in a comfortable and upright posture and watch your breath. There's nothing else to do. Your breathing should be natural and relaxed. There's no need to change your normal breathing. Start with bringing your attention to your breath, focusing on the inhalation and exhalation through your nose and mouth. There is a sense that you are actually feeling your breath, feeling its movement.
When you do this, you're not just watching your breath. As you settle into the practice, you actually become the breath. You feel it as you exhale, and you become one with it. Then you feel the breath as you inhale, and you become one with it. You are the breath, and the breath is you.
As you begin to relax, you begin to appreciate nowness, the present moment. Breathing happens only in the present. Breathe out. One moment is gone. Breathe in again. Another moment is here. Appreciating nowness also includes appreciating your world, your existence, your whole environment, being content with your existence.

How to Begin

To begin a session of meditation, first you need a comfort- able seat. You can use any cushion firm enough to support an upright posture. You can also sit in a chair. The main point is to have a relaxed but erect posture so that your spine is straight. If you are sitting on a cushion, cross your legs comfortably, and if you are sitting on a chair, place your feet evenly on the floor. You can rest your hands in your lap or on your thighs. Your eyes can be half open, with your gaze directed slightly downward a short distance in front of you. The most important point is that your posture is both upright and relaxed. Once you're sitting comfortably, the main thing is to be fully present—to give your practice your full attention. It's a good idea to start with short sessions (maybe five or ten minutes), and bring an attitude of curiosity about your experiences. Don't worry about whether you're doing it "right" or "wrong"!

Catching Your Thoughts

During meditation the chatterbox of mind will open up, and you'll have lots of thoughts. Some will seem more important than others and evolve into emotions. Some will be related to physical sensations: the pain in your knee or back or neck. And some will strike you as extremely important—things that can't wait. You forgot to respond to a critical email, you need to return a call, or you forgot your mother's birthday. These kinds of thoughts will come, but instead of jumping up from your meditation, all you have to do is recognize them. When a thought tries to distract you, just tell yourself, I'm having a thought about forgetting Mom's birthday. You simply catch your thought, acknowledge it, and then let it go. Sitting in meditation, we treat all thoughts equally. We don't give more weight to some thoughts than to others. If we do, we can quickly lose our concentration. Our mind will start to wan- der away and get caught up in all kinds of imagination.
We might think our meditation should be completely free of thoughts, with our mind totally at peace, but that's more like the end result of our practice than the process. The "practice" of meditation means relating to whatever comes up for us. When a thought comes up, we recognize it, acknowledge it's there, and then we let it go, relax, and breathe. That's "catch and release."
When you meditate, you repeat this catch-and-release process over and over again. Mindfulness, catching your thoughts, strengthens the power of your concentration with repeated practice, just as you strengthen the muscles in your body every time you exercise. Your mind is connected to many different conditions that impact you in various unpredictable ways. Don't expect your meditation to always be the same or match your expectations for progress.
It takes time to bring our mind to a peaceful and clear state. Eventually, however, you will see that your mind stays where you put it. Meditating and developing strength of mind isn't just a nice, wholesome activity. It is actually a big help and support for anything you want to learn or accomplish. As your mind becomes calmer, you experience more of what is happening in each moment. You begin to see that your life—your actual life, right now—is far more interesting than all those thoughts you've been having about it!

DZOGCHEN PONLOP RINPOCHE is a leading Buddhist teacher in North America. Dzogchen Ponlop Rinpoche was recognized by His Holiness the Dalai Lama and His Holiness the 16th Gyalwang Karmapa as a reincarnate lama of the Nyingma tradition. He is the founder and president of Nalandabodhi, an international network of Buddhist study and meditation centers, and of Nitartha International. Rinpoche is most active at Nalanda West, in Seattle, Washington, which offers public programs by teachers from many traditions that support a meaningful, contemplative life. His previous books include Rebel Buddha: A Guide to a Revolution of Mind.


You can visit him online at:
www.dpr.info