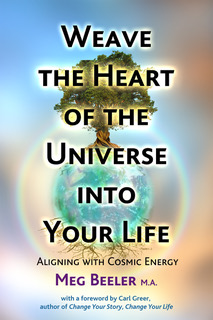 We live in a world of energy. An important task at this time is to learn to sense or see the energy of everyone and everything: people, plants, animals. This becomes increasingly important as we [move into] the World of the Fifth Sun, for it is associated with the element ether—the realm where energy lives and weaves.
—Carlos Barrios

Imagine yourself, as you read this book, surrounded by a spiral of thin gold filaments. Each filament is a thread you can follow, unravel, and reweave into your own energy field. Now imagine the gold filaments spreading out in all directions. Which one will you follow? Which ones call to you?

Imagine a cosmos where all living beings are connected—through heart, energy, breath, and consciousness. Imagine a society where we humans and other creatures live in resonance, attuned to each other's deepest selves. Imagine living your deepest potential in this resonant, vibrant world, forming connections of trust, heart, and reciprocity in all your endeavors.

Imagine living in such a world—right now.

This book will guide you in exploring simple, practical ways you can connect with the energy, mystery, and power of nature, stars, and the universe.

This is what I call Energy AlchemyTM—practices, insight, and inspiration to guide you into transformative experience, awareness, and heart opening. Energy Alchemy is based on an ancient and life-changing premise: that you can work with and change your energy—not just your mind and emotions—to shift your experience of and engagement with the world.

You will learn to shift from the heaviness in your life into the beauty of connection. You will discover your harmony and balance returning, your self-doubt and isolation morphing into vitality and joy, and your essence shining as you develop your energetic connection with all that is.

In the process, you will learn to experience all parts of the living universe as alive and responsive to you. You'll learn how to exchange energy with wind and sun, trees and mountains. You will experience yourself as part of the whole, not separate.

Reinvigorating your direct energetic experience is a heart-opening path of beauty that will enable you to find your way back into relationship with all beings.

Expanding your personal energy to incorporate nature, earth, and cosmic energies will help you draw power from beyond the personal. It will change your life, your stories, and the ways you perceive and engage with the world.

Not so long ago, your ancestors lived in conscious relationship with the living energy of all things. Your cells remember this; your heart remembers this.

Shifting your perceptual awareness to re-enchant your connection with nature is not as difficult as you might imagine. Nor is it difficult to experience, see, and access the living energy we all share.

It is wholly within your power to create and establish new patterns of relationship and possibility. It is wholly within your power to move your life and your world into a resonant, sustainable future. This book is your invitation to do exactly that.