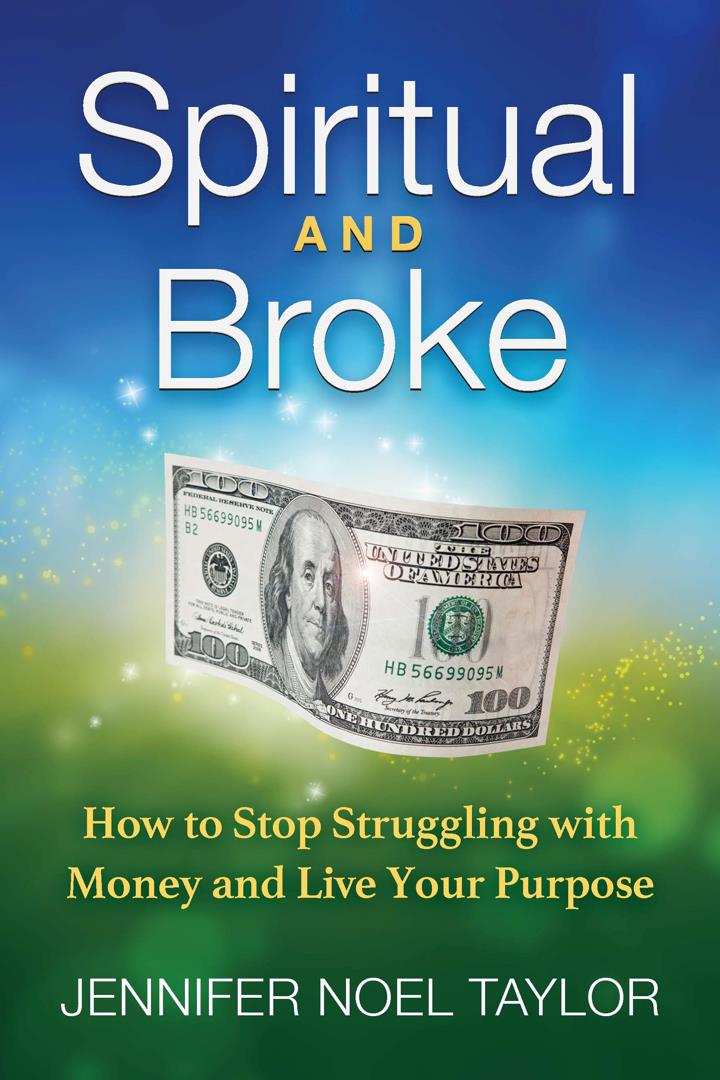 Chapter 1
Spiritual and Broke?



Have you ever had a moment in your life that was so shocking, so horrible, and yet appeared so absurdly random, that you were compelled to wonder, "How the f*ck did I end up here!?!"

I had that exact moment at 6 AM, one crisp, fall morning in Venice, California. The sun was just peeking out over the eastern horizon, painting the sky with a rich palette of reds, oranges, and yellows. The dazzling colors were enhanced by a thick and noxious, ever-present layer of infamous LA smog. As this new day dawned, I watched the glorious sunrise from a perverse, unfamiliar, creepy, and totally unthinkable place… the back of a police car.

What? Yes, that's right! I was sitting in the back seat of a police car!

Many leaders, teachers, Saints, and even the Merriam-Webster dictionary refer to a moment like this as an "Aha!" moment: "a point in time that provides a keen and sudden insight into our life." This surreal moment is often characterized by a sense that time is actually "standing still." In a state of shock, we watch our life unfold in slow motion, from a vantage point somewhere outside our body. This "Aha!" moment forces us to reconstruct our very essence on the spot; we know without a doubt, that we will never be the same person we once were. In my case, my "Aha!" moment was a profound catalyst for change - an opportunity to make a significant "course correction" in my life.

Looking back, I was way overdue for a major shift…

Negative Net Worth

Before my "Aha!" moment, I felt incredibly stuck. To me, life was a constant, never-ending, painful, depressing, and long-suffering struggle with money. I felt like I was always spinning my wheels in a state of fathomless desperation.

How did I, an intelligent, level-headed, college-educated, and supposedly savvy woman, end up incredibly broke? More specifically, how did I end up with no money, copious amounts of debt, and no savings?

Let me describe my previously pathetic, destitute, and bleak state of financial affairs...

First of all, my checking account was on life support; my balance was always so pathetically low that the bank levied a fee for having less than their arbitrary "minimum daily balance."

Second, I had accumulated thirty-five thousand dollars of credit card debt. My interest alone surely rivaled the average monthly food bill for a family of four! Isn't it ironic that the bank charges us money, for having no money? Our financial institutions penalize us for being broke, yet, when we're wealthy, it gives us more money. The bank is like the antithesis of Robin Hood; it robs from the poor and gives to the rich!

Now don't get me wrong, I had a pleasant enough lifestyle. However, my copacetic way of life was possible only because I was highly skilled at borrowing money! I had an "interest only" mortgage on a lovely house, which honestly, I couldn't afford. I secured this questionable mortgage back in the day when banks allowed "stated" income loans, a mortgage where the lender does not verify income. I also made sizeable monthly payments on a bright, shiny, "fire engine red" Mazda Miata convertible, which I utterly enjoyed, most especially on sunny days! I invested in my health with organic food, a gym membership, bodywork, and a personal trainer; and sometimes, I splurged on a sparkly pair of shoes - all of which was possible, thanks to MasterCard.

In addition to my credit card debt, unsurmountable interest charges, and whimsical bank fees, I also owed one-hundred thousand dollars on a business loan. Now you might argue that a business loan is not necessarily a bad thing, if the loan eventually generates a return on investment. But in my case, this loan wasn't funding any sort of business growth. This line of credit was the only lifeboat keeping my business afloat. Without it, I would have been forced to close the doors.

And to cap it all off, I had absolutely zero savings. I was in no position to handle unanticipated expenses, such as car repairs, a sudden dip in business, a visit to the dentist, the adoption of a kitten, or an emergency fix to a leak in the plumbing. And forget about having money saved to pay for a vacation, or a trip to see my family. Like many people, I was living pay check to pay check.

Taking the thirty-thousand foot view of my financial portfolio, I had

• a one-hundred thousand dollar business loan

• thirty-five thousand dollars of credit card debt

• a mortgage I couldn't afford

• an auto loan, and

• zero savings.

The truth was, I was beyond broke! In fact, my net worth was so ridiculously negative that I actually had to raise money to be broke! My life of creature comforts came with a steep emotional price tag: I always felt anxious and stressed about money.

The Leap of Faith

All of my financial troubles began when I quit my "real job." I was working as a software developer and while I wasn't in love with my job, I appreciated the reliable paycheck and benefits that came with it. Although I was financially solvent, I was emotionally bankrupt. I felt disillusioned by my work, and often wondered, "Is this all there is?" I believe that we are all put on earth to do something meaningful, and for me, it was not writing software in a cold, lonely cubicle, day in and day out.

Everything changed when I met Richard Gordon, the founder of an energy healing company called "Quantum-Touch." As you may know, energy healing is a form of alternative medicine based on channeling healing energy into a client to facilitate physical, emotional, and spiritual well-being. I fell in love with Richard and his mission to teach energy healing all over the world. Shortly after we met, I quit my "real job," and moved in with him.

Well, as it turned out, Quantum-Touch as a business wasn't doing that well. Right after I moved in with Richard, the CEO quit because she needed to get a "real job" herself. She wanted the same type of job I had just left - a secure position at a profitable and stable company. I certainly understood her desire to jump off a sinking ship! So, she asked me if I wanted to take over her job and I said yes!
Despite the bleak state of the Quantum-Touch, I loved my new role. I was extremely passionate about the philosophy behind energy medicine and I loved helping others. I wholeheartedly believe that love is the foundation of all healing. I wanted to share this passion with the world and Quantum-Touch was my vehicle to do just that!

I may have been naïve, but at the time, I was under the impression that if I followed my Heart, the money would come. However, I was dismayed to discover that this wasn't true for me… not at all. Following my heart did not create the financial abundance that I was so eagerly anticipating. It did, however, create lots of debt and stress around money!

I was working so hard to help others, yet I felt like a martyr for my cause. I talked about the power of love, yet behind closed doors, I was angry at the Universe (or God/Goddess/All That Is.) I felt betrayed. I believed that the Universe should reward everyone who has the courage to share their love with the world. Unfortunately, in my case, I was sorely mistaken! A change to what I knew and believed was in order because... I was spiritual and broke!

A Caged Butterfly

While I loved honoring my true calling in life, when it came to my finances, I really felt like a victim. When I thought about how to repair my negative net worth, it seemed like I only had unhappy, heart-wrenching, and unworkable solutions.

I considered going back to the "real world" and getting a "normal" job. On the upside, I would, once again, enjoy that nice steady paycheck. I could, perhaps, slowly dig myself out of my massive and unfathomable financial hole. This idea seemed extremely tempting at times, yet in my heart, I knew I couldn't do it. I would be going back to feeling unfulfilled, depressed, and miserable at my job. What sense would that make? I knew I had a unique purpose on the planet. No matter how I framed it, going back to a "real job" would be selling out; I would no longer be following my Heart. I would be sacrificing my soul for money.

Cutting back expenses seemed like the more obvious solution, but that just didn't work either! Every time I tried to lower my expenses, I felt like I was depriving myself of something that was essential to my well-being. Organic food is more expensive (strangely enough) than fast food, yet I needed to take care of my health. Like many healers, I am extremely sensitive to the energy of my environment, so I spent a lot of money on a quiet and nurturing place to live. I purchased a brand new car every five years because I didn't want to risk breaking down in the middle of nowhere. Even when I could manage to reduce my expenses for few days, I always felt deprived, like I was starving myself on an over-zealous crash diet. My feeble attempts to save money would most often result in a rebound spending spree.

To avoid either of these tough decisions, I rationalized my debt. I believed that my debt really didn't matter because someday, one day, my ship would come in. Sooner or later, the Universe would reward me for all of my hard work and eventually, I would receive the abundance I so greatly earned and deserved. I had fantasies of going to the bank, and proudly writing a substantial check to pay off all my debt. I dreamed of the day that my money worries would be a distant memory. Essentially, I was treating my debt as a way to buy time; I was waiting for the Universe to deliver on the debt that I felt it "owed me!" After all, the Universe should reward us for having the courage to follow our Heart! Right?

Yet, there was a big problem with this rationale: the money never came! Year after year, nothing changed. Much to my chagrin, I always remained spiritual and broke. I felt like a caged butterfly, extremely frustrated and anxious, because my "owner," (aka the Universe) never set me free.

Misery Loves Company

I was certainly not alone in my financial despair! So many people I knew were following their Heart, yet frustrated, angry, and disappointed by their complete and utter failure to make ends meet. For example, I knew many spiritual entrepreneurs who had no savings and hence no resources to handle regular, let alone any unexpected expenses. Many of them, just like me, had maxed out their credit cards to fund their mission and they discovered that their mission never paid them back. And believe it or not, I actually met life coaches who were living out of their cars or "couch surfing," unable to afford a place to live! Worst of all, despite my own financial problems, I loaned money to other conscious business owners who needed to fund their beautiful vision. Sadly, these loans usually turned into gifts.

Why were so many of my friends and colleagues living their purpose, yet extremely stressed about taking care of their family, loved ones, and employees?

Why were so many conscious entrepreneurs spiritual and broke?

My Police Car Epiphany

As the bestselling author H. Jackson Brown Jr. observed, "Every great achievement was once considered impossible." Like those living paycheck to paycheck, I felt trapped in a vicious cycle, always struggling to make ends meet. I used to believe that I would never achieve financial inner peace; I would forever suffer under the seemingly impossible weight of my insurmountable debt; I would never be able to save money; and I would always remain hopelessly spiritual and broke.
I felt like I was doomed forever, until I had my "Aha!" moment, in the back of a police car. Later I will share the gory details of exactly how I ended up there… one place I thought I would never be! As I watched a glorious sunrise illuminate one of the darkest moments in my life, I experienced an epiphany that radically altered my worldview. I finally understood why I was struggling with my finances, as well as other aspects of my life. My "police car epiphany" was the catalyst I so desperately needed to turn my finances around.

Financial Alignment

Five years after my "police car epiphany," I am debt free! I no longer feel burdened by one hundred thirty-five thousand dollars of unsecured financial baggage. I established a real savings account, instead of using my credit card as the "emergency fund." Now I have more than enough money saved for a security deposit on a place to live, fancy cat toys, a new couch, and even a vacation. Also, I consistently save money each month. My net worth went from insanely negative to comfortably positive. More importantly, I turned my finances around without any feelings of deprivation or sacrificing my well-being. During this time, I never felt like I was embarking on an unsustainable financial crash diet. And above all, I no longer feel stressed about my money (or lack thereof!)

Now, I want to clarify something… This book is not about making lots and lots of money or being a multi-millionaire! Rather, it's a guide to what I'm calling financial alignment, which means you have enough money so that you don't need to worry about money and you are living your purpose. Financial alignment is a harmonious co-existence between your heart and your money. You don't need to sacrifice your soul to make money and you don't need to sacrifice your finances to live your purpose. You can joyfully pursue your true calling in life, without worrying about the money.

So, what does financial alignment look like?

First of all, you are doing what you love. You don't just show up at work for a paycheck because you are passionate about what you do. You are helping others and you know without a doubt that you are fulfilling your true purpose.

Second, you have no debt- this means no credit card debt, no car loans, no bank loans, and even no money owed to friends and family. The only exception to this is debt that actually builds wealth such as an affordable (non-interest only) mortgage. Debt is a massive emotional burden that weighs down the creative Spirit, not to mention, the interest alone can feel insurmountable and downright depressing!

Third, you happily and easily live below your means. After all your monthly expenses are paid, there is money left to spare. Please note, I said "happily" living below your means because I believe that anyone can drastically cut their expenses if they are willing to endure enough pain and suffering. Anyone can pitch a tent in the woods, ride a bike in the snow, and eat ramen noodles as their only source of sustenance. This book, however, is about financial and emotional abundance, not deprivation. You can live below your means and still have money to enjoy the little luxuries in life like dinner out, organic cat food, a pedicure, skydiving – whatever it is that makes your heart sing.

Finally, you have a decent-sized saving account. It's very tempting to think of a credit card as the "fund for emergencies." But relying on credit is the mentality that creates negative money in the first place. So ideally, you have at least one year of expenses saved and because you are cheerfully living below your means, you consistently and painlessly save money, month after month.

In the process of turning my finances around, I realized that financial alignment has very little to do with how much money you actually make. I hear stories of people who make millions upon millions a year, but have mounds of debt and spend every penny they make, proving that it's possible to make lots of money and still be broke! Although I believe we have the power to create infinite amounts of money, I don't want to encourage, in any way, the mindset that we need to wait until we have more money before we can change our financial situation. In fact, we don't need to wait for anything or anyone; no need to wait for a raise, or for your spouse to change, or for your children to move out, or for someone to die, or for an act of God. You can create financial alignment, right here, right now, regardless of your current situation.

In this book, I describe everything I did, step-by-step, to create financial alignment, without feeling deprived. My financial turnaround was possible only because I didn't feel like I was suffering in the process. In fact, as I got out of debt and started saving money, I felt incredibly empowered, inspired and free, not confined by an unrealistic and painful budget.

The best part about financial alignment is that it significantly frees up your energy to do what you love! Instead of worrying about money all of the time, you can have more than enough money to

follow your heart,

live your purpose,

and create the life of your dreams…

or at least pay the rent on time!


"Spiritual and Broke - How to Stop Struggling with Money and Live Your Purpose" is coming soon!

Please sign up for the mailing list at

www.jennifernoeltaylor.com

to receive the first 3 chapters of the book and updates on the book!