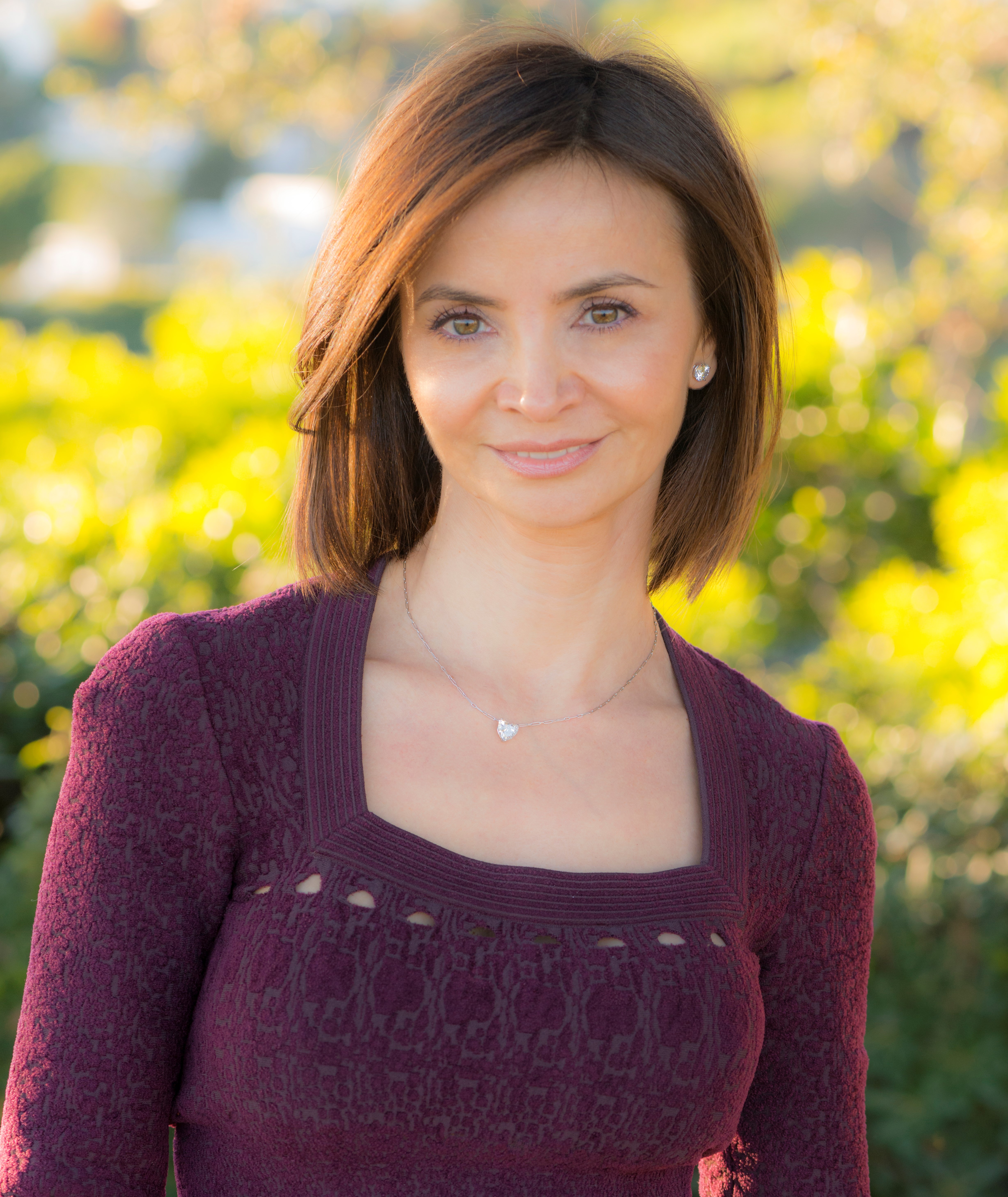 Stefania Magidson

In 1983, at the age of 15, my parents, sister and I received the approval to emigrate from Romania to the United States. It was a time in history when leaving one's native communist country was the equivalent to, I don't know, say moving to another planet. It was a one way ticket which precluded our return. Our home and citizenship were confiscated, we said goodbye to our grandparents, extended family and friends, knowing we'd never see them again. After decades of work, we arrived in America with $400 exchanged on the black market and 5 suitcases. We had to start from zero, from the very bottom of the pyramid in a fiercely competitive capitalistic society. What followed were ten incredibly hard years of sacrifice and hard work. Because of this, I sometimes call this period of my life "the crawling in the mud period," but as often the case, the "mud" often gives us the chance to polish some of the rarest gems, in my case, the diamond of my spiritual essence.




***


I was born in Brasov, a picturesque city nestled in the heart of the Carpathian Mountains, at a time when Romania was trapped in the clasp of the communist regime, an oppressive dictatorship with no end in sight. Because of that, one may think that the fifteen years I spent there could be summed up as constricted or oppressive; and perhaps they were in part, but they were also, so much more than that. My life until the age of fifteen when we received the approval to immigrate to America, was rich in experiences that ran the gamut from cultural and athletic, to mystical revelations in nature, experiences of deep love and joy and those which Joseph Campbell calls "the rapture of being alive," often spiritual in essence.

You see, living as a child under the communist regime was perhaps the perfect backdrop for discovering that we are spiritual beings having a human experience. After all, if one went by the rules and didn't make too much noise in that society, one had time to reflect on the condition of human nature, art, literature, spirituality, you name it. Back then there weren't too many distractions for us children, certainly no colored TV's with multitudes of channels, amusement parks or exciting gadgets and toys.

Brasov was not only a city located in Romania, but it was also nestled in Transylvania, that central region of Romania, which throughout centuries, if not millennia, took part in a colorful and whirling history. From being invaded by the Huns, the Turks and other nations and tribes, to changing allegiances from Romania to the Austro-Hapsburg Empire and back again; it was the place where Vlad the Impeller (aka Count Dracula) lived and ruled, not only succeeding in telling off the Turks, but also being the source of legends-to-come that enthralled, scared and fascinated the Western World for centuries to come. Transylvania was a region where Romanians, Hungarians, Saxons and Roma people (commonly but erroneously called Gypsies), were living side by side, weaving a colorful backdrop tapestry rich in mysterious traditions, religions, pagan rites, a deep connection with the deceased, captivating legends, sharpened intuition and myriad superstitions and rituals. So that was the backdrop of my other outside world, and in my experience, it was just as palpable, if not more, than that of the communist regime.

Inside our family, the nuances and threads present were equally fascinating. My paternal grandfather was a Romanian-Orthodox priest who was also a professor at a theological seminary. My maternal grandmother was very religious, but in retrospect, I think she was in fact a very spiritual woman, because she never got lost in the dogma, but extracted the spiritual essence of the Romanian Orthodox teachings, always to her own and our family's upliftment. My aunt was a Byzantine church painter, who completed renovating and doing murals for 20 churches in 20 years. And so you see, talks about saints, spiritual and religious rituals, premonitions and such, were common in our conversations, nothing out of the ordinary.

It was also common parlance for our parents to talk about and analyze our dreams in the morning. Messages from deceased relatives, premonitions about upcoming events, fears we yearned to resolve or appearances of saints or archangels in our dreams was every day stuff. Perhaps Freud would have been proud of how we approached what he named "the royal path to our subconscious."

Little did I know that all that which seemed common and ordinary during my childhood, would end up being my only bridge into the new continent, the only thing that I could rely on in order to not completely lose my footing in this new and bewildering world, America. For you see, in spite of the fact that I was moving to the "greatest country on Earth," my initial experience was one of complete loss and confusion; I literally felt that the rug had been pulled from underneath me and had no points of reference that remained a constant between my old and my new world.

Slowly, The Power of Myth by Joseph Campbell, Inspired Thoughts by Swami Rama, Mircea Eliade's Enchanted Forest and a small book on yoga fell into my lap. They were little sparks in a dark night, but bright enough to slowly help me start building a bridge of light that would assist me not only to cross the bridge to my new continent, but to start building a life here and cultivate a rich spiritual practice which over time was also manifested in the physical world reality.

A after completing high school in Salt Lake City, and receiving a BS in Health Education from University of Utah, I moved to Los Angeles, the city of those ethereal beings I was so familiar with. The moment I set foot here, I knew I belonged. Soon after, I learned about University of Santa Monica and their Masters in Applied Spiritual Psychology program, and had no hesitation to sign up. Finally, something I had been so hungry for, was available there, all I had to do was delve in.

The years spent in the spiritual psychology program were the beginning of a rich and engaging path of formally cultivating that part of me that is at the core of every human being: our spiritual nature. It was a time when I learned basic counseling skills; when I healed wounds and memories that were painful and weighed on me; when I learned to identify patterns of behavior or thinking (many unconscious and which took a lot of digging) and replace them with ones that were more supportive; and last, but most importantly, we were asked to pick a project, a dream we held dear and transform it into reality.

My project was getting ready on the physical, mental, emotional and spiritual levels for a long term committed relationship. It was about getting clear what kind of qualities I wanted in my partner and getting myself ready to meet him. And I did, just a few months before completing the program. That was twenty five years ago; we are still married. The way I went about meeting my life's partner was only the beginning of this incredible journey because what I really learned in that process was how to pick up a magic wand and make a dream into reality. Of course, it is a little more complex than it first sounds, but definitely doable.

My next dream was motherhood. And afterwards it was building one of the largest non-profits in the Romanian diaspora, helping Romanian and Moldovan youth receive a college education. The thread has always been the same: getting clear about a dream (which I consider to be a sacred contract we make before our incarnation) and then setting about accomplishing it. On the path, we often stumble onto obstacles, doubts or seductions and that is where these applied spiritual psychology skills come in, to help deal with them.

With time, my social and financial platform have became of such nature that I was asked to play additional roles beyond the ones mentioned above, from serving as chair for various committees of film festivals and museums, to being a supporter of cultural and educational institutions on both coasts. I always checked inside myself to see if it was aligned with my highest calling in this lifetime before I said yes, I never just wanted prestige or to be busy. I asked myself if I could bring a meaningful and profound contribution that touched or uplifted many other lives.

***

One day, about five years ago, Carmen Firan, a respected Romanian-American writer/novelist/poet/journalist, invited me to do an interview for a literary magazine in Romania. I think she too, within a short time, became fascinated by my whole approach of transforming dreams into reality and how I go about using spiritual psychology skills to attain my aspirations. Our dialogue became four and then thirteen articles published over a thirteen month period. In the end, they were gathered and published in a book "Searching for the White Magician - Spiritual Psychology and the Manifestation of Destiny" which sold out in two editions in Romania. Since then, I translated it and just recently it was published into English by New Meridian Arts, a New York based publishing house which "gives voice to original international writers of talent and scope."

I've never been much of a self-promoter or even initiator in this arena, first Carmen and then the publisher, Nava Renek, insisted in their encouragement to bring this dialogue to light. But since then, I've become convinced that the stories shared in the book are rich and inspiring and some of the notions explored are a very tangible source of help and provide skills which the reader can find practical, even adopt. The chapters explore themes ranging from the energy centers of our chakras, animism & shamanism to feminism & femininity, and dreams (one of my favorite ways of working with our subconscious, intuition, direct knowing and altered states of being).

You still want to know who the White Magician is? It is "that Higher Self inside of us which understands the higher notions of the universe and is in direct contact with our intuition, that side of us which has access to what is available, beyond the five sense." Through this book, I invite you to join me on a journey of exploration and rediscovery of that inner place that holds the lens of mystery and magic through which life filters, if we allow it. I invite you to find that magic wand that transforms inner worlds into realities, to pick a dream they've always had and manifest it into the world of the five senses.

By Stefania Magidson

Stefania Magidson founded Blue Heron Foundation which focuses on improving the quality of life of Romanian and Moldovan orphaned youth by providing them greater access to life's opportunities through merit based college scholarships in Romania. To date, the organization has raised over
$1,800,000, has awarded over 300 college scholarships and has touched the lives of nearly 3,000 children.

www.blueheronfoundation.org

. Stefania lives in Los Angeles, CA with her husband and their two sons.