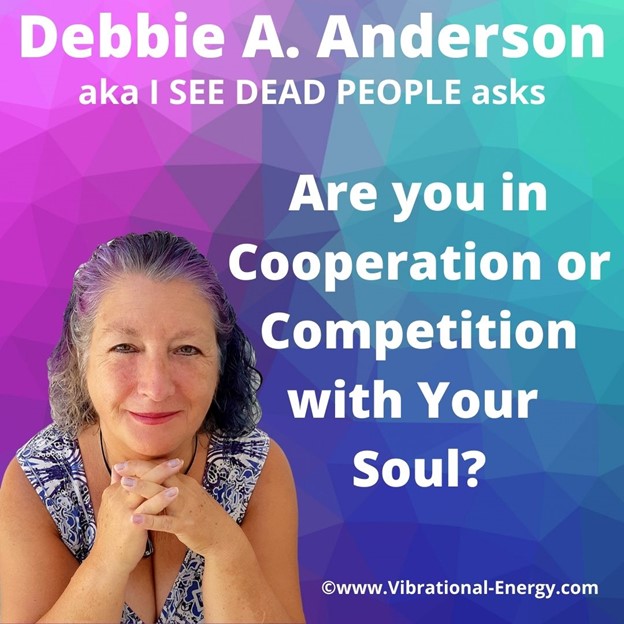 Are you in Cooperation or Competition with Your Soul? This opening statement is something I want you to consider for a moment. When we fully understand that we should be in cooperation not competition with our spiritual self, we can begin to unravel the mysteries that surround the journey we call life.

Firstly, we are a wave of energy, the vibration that sets us aside from our fellow man or woman is not how good we are at something, but more how much we are transmitting our frequency in the NOW moment. Not backwards or forwards, just right in the moment. So when we are in that essence we are in collaboration with the Universe not trying to control or compete with the energy that is surrounding us, be it human, animal or mineral so to speak.

Believe it or not, but we are at the source, the beginning in every single moment. So putting that into context, think that every breath we take is a single moment, and each one has us exactly where we should be, standing right in our existence. Not that of others, not that of expectations either made by us or those around us. When we are in this Zen like existence of life, the reality shifts and there is no longer any fear about what could be, what should be, or what may be.

We are in the beginning, middle and end of the emotion of our perception. And believe it or not, it is a beautiful place to be. Because we are in cooperation with spirit, the divine, the amazing source that sustains us. We are the reality of what we are in our soul essence and human vibration.

Once we establish this element within us, we don't need to get caught up in the spirited energetic field that occurs within our world, because we are not forcing ourselves into empowerment. We are in it already.

All the knowledge, all the wisdom, all the understanding was already embedded into us. Call it a program, code or a piece of computer type language, but yes, it is there within each one of us. And amazingly enough, when we are ready to activate it, all that we have been seeking, looking for is revealed to us.

So, when we are in a time of isolation, separation or feeling remote and lonely all we have to do is go within. Listen to what our heart centredness is sharing with us and move into that vibrational frequency.
For only then will you be fully and consciously in cooperation with your soul... and that my friends is a beautiful place to be!

Bio: I SEE DEAD PEOPLE. Yes, that is how Debbie A. Anderson introduces herself. From a young age she had the ability to connect & see spirit. For over 35 years she has united people with loved ones who have crossed over to say "Hi", get closure or maybe find that missing will. She raises the vibration & shares the positive using the oracle & affirmation decks she has published, teaching others how to shift their energy to tap into the "self" in a focused & balanced way. Sign up for her newsletter & receive I AM Mantra meditation FREE.
www.Vibrational-Energy.com