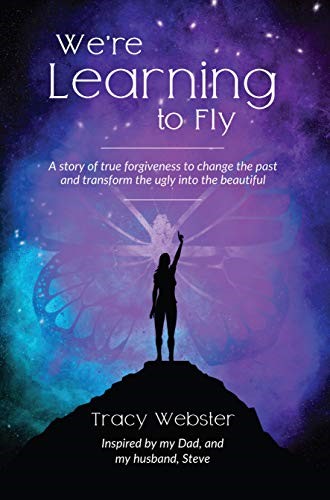 We're Learning To Fly is Empowering Women, Awakening Many People to 'The Game of Life'
Los Angeles— It is so easy to get caught up in the drama and distractions of daily life now, that most people miss out on living happy, fulfilling lives. One new book teaches people of all ages how to experience life and love despite any challenge, obstacle, or roadblock.
We're Learning To Fly: A Story of True Forgiveness to Change the Past and Transform the Ugly into the Beautiful is an action packed "girlfriend's guide to life" biography/memoir aimed at helping a multitude of women (and men) who are ready to move beyond the status quo. We're Learning To Fly is a manual that demonstrates anyone can reach a high level of bliss, happiness, joy, excitement, anticipation for the future, understanding and peace if they are willing.
"It takes a daring, courageous person to break out of their comfort zone and the gifts of doing so are priceless," says Tracy Webster, best-selling author, wife, mother, and successful entrepreneur. "I didn't realize there was something for me to be sad about, or stressed about, or that I was less than in any way when I was a child. And then in my late teens and 20's, the sadness and hurt feelings from growing up in poverty, emotional abuse by my father, shattered trust, and domestic chaos at home, took hold and drove my every opinion and reaction for the next 30 years."
According to Webster, it is our response to everything we go through in life that dictates our reality. She asserts it is not the things that happen to us that make us sad or stressed, but our response to them. She adds that the most amazing thing about this is every person has full control over how they respond to anything that happens in their life!
Webster writes about how she, her mom and dad, and two brothers moved homes like gypsies to avoid bill collectors and she attended nine different schools before graduating from high school. On more than one occasion, her father escaped from the bathroom window when there was an early knock on their door. Webster was always the one to open the door to the debt collectors, which was scary for a little girl, and her first lessons on money and manifesting.
"The fact that I could be happy while what was happening around me was terrible as a child taught me that I can be happy, no matter what," adds Webster. "In my 40's, it became my mission to: forgive, forget, and most importantly to let go. I went on courses, I read books, I practiced what was recommended. I did anything and everything I thought may help me move on and leave the past behind. I remember asking at a Louise Hay inspired course how one can tell if they have let go. The answer was: when you are in the situation, or thinking of the situation, no emotions surface and no buttons are left to press."
Webster reveals that even her long-time relationship with her childhood sweetheart, turned husband of 30 years, Steve Webster was at several points full of 'land mines' and 'love grenades' as a result of his affairs, her jealousy and mistrust, and their collective fears and bull headedness. They also put their relationship to the test by uprooting from their highly successful lives in South Africa and beginning a new life together with their adult daughters in Los Angeles beginning in 2012.
It took the Websters nearly five, stress filled years to obtain the appropriate visas and immigration status to relocate to the United States. One condition of their entry was that they open a business and employ American workers. They chose to open a health-conscious restaurant, which they named Deliteful and for the first time in her life, Tracy Webster was a restaurant owner. It took her months to overcome the fears of owning a restaurant and everything that entailed. And In spite of their best efforts, Deliteful ended up losing the couple almost $3 million and nearly sending Steve and Tracy Webster into bankruptcy.
The Webster family continued to have one major setback after another between 2016 and 2019. This ultimately had Tracy become severely depressed and in January 2020 call a family meeting to suggest the idea of a family suicide pact. One saving grace was that Steve had been working on a book manuscript titled The Law of Creation: The Science Behind Manifesting Your Dreams, which he pulled out and read key sections to Tracy and their two daughters. This was the turning point that brought Tracy out of her depression, had her re-engage with all of the course work and reading she'd done during the past decade, become Steve's co-author, and get The Law of Creation published just a few months later.
Readers everywhere can now discover the simple formula to fully experiencing life and love in their daily lives! Webster shares keys to the 'Game of Life' and principles of joyful living in We're Learning To Fly with the world in her new bestseller now available for sale in select bookstores and via Amazon. For more information about Tracy Webster and We're Learning To Fly visit:
https://www.SteveandTracyWebster.com
About Tracy Webster
Tracy Webster was born in Zimbabwe and moved to South Africa when she was 6 years old. She has had a varied career path, and loves reinventing herself. She has worked in car rental, vehicle finance, import/export, holistic health and nutrition, bio-energetic therapy, been a restaurant owner and now a best-selling author. Most exciting to her is her current vocation in Ontology - the branch of metaphysics dealing with the nature of being. Tracy has a strong calling to help others improve their lives and find lasting happiness. She has been together with her husband Steve Webster for more than 30 years and has two adult daughters. She is most proud of her Harley Davidson riding skills and loves being a biker chick.