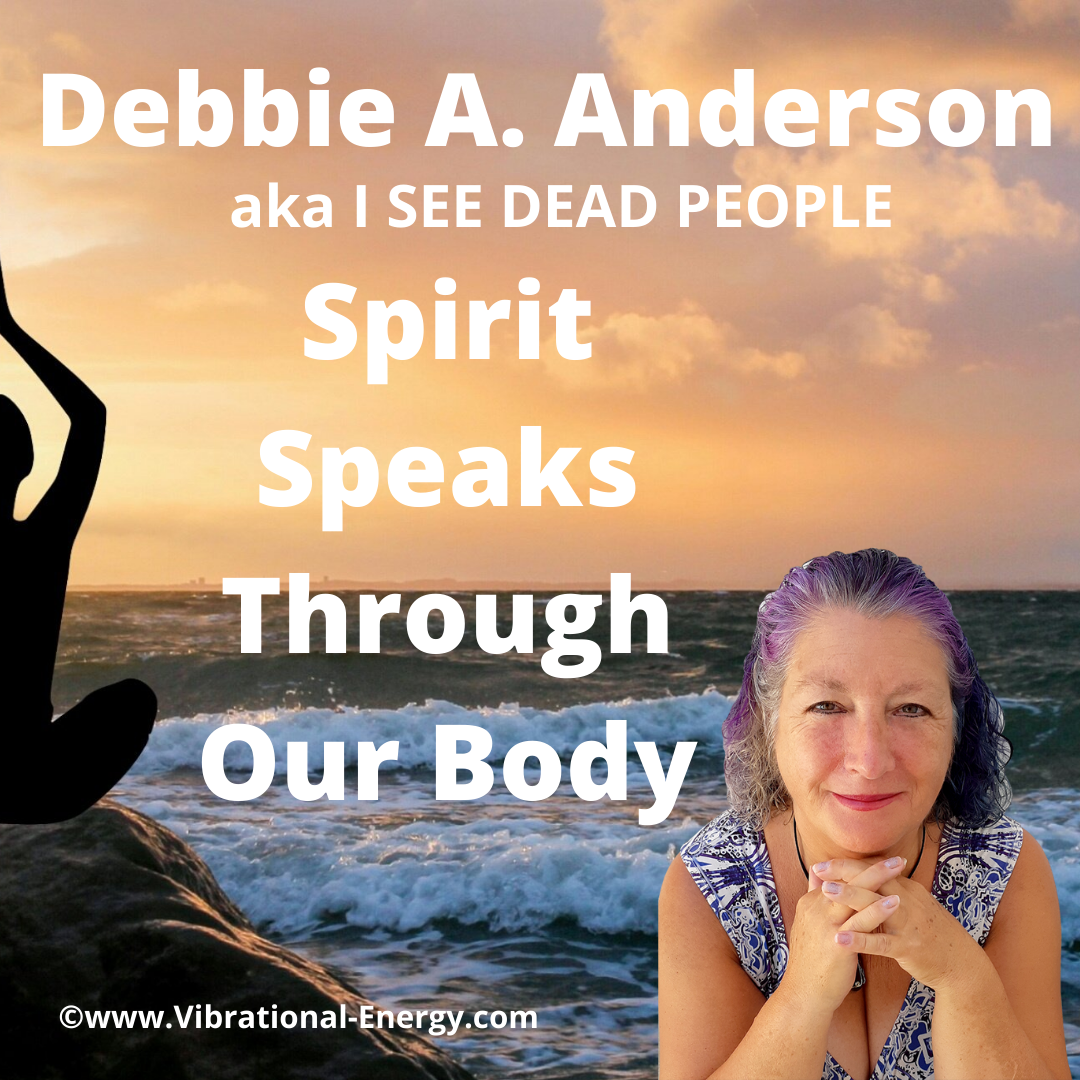 Spirit speaks to us – brings things to our attention. Whether it is a message of love from someone who has passed over to the other side or a reminder not to forget to do something, they, spirit, our guide, angels and helps WILL guide us.

Yes, I know I have shared this before but DO you listen? Connect?

They can nudge us, put signs right in front of our nose, but maybe we don't acknowledge them. So spirit WILL explore other ways to make us hear... listen... including using our body.

So, next time you have a craving, twitch or niggle with a certain part of your body, connect to what spirit are trying to communicate with you.

Many times spirit is trying to speak through your body. Take a moment to connect inside of you, before you race off to your GP or medical practitioner.

What I would do, is go on the internet and Google that area that was causing the concern or discomfort. Not in a diagnostic way, instead in a spiritual way asking Google to connect with your soul essence. Yes, it can be done, and that is determined by your intention and the key words you type in.

As we should, by now, know our physical body is like a barometer to us. You only have to listen to an old farmer who when they get a pain in their knee say something like.. "...bad weather is on the way... I can feel it in my knees..."

Usually they are correct when this happens, because they have accepted that pain means something... and yes, it is coming from spirit... giving them.. us a heads up.

Let me use just one example to share with you, and who knows it may resonate. The bottom line is your body is connected to your spiritual and vice versa. There is NO disconnect, it is just sometimes we chose to ignore it.

Some time ago, I awoke with a slight discomfort in my left kidney area. Immediately I stepped into the spiritual investigation on what my body was trying to communicate with me. The left side of my body signifies the feminine... the receiving side... so then I step into the concept further.... what am I not accepting or ready to receive? Yes the Hmmm plays a significant factor because the more you are open to entertain other possibilities, you begin to open up and receive the information, in a different way.

Let's continue. The left side is also related to nourishing oneself... being creative, and trusting in my own wisdom... Okay, this is where I had to ponder, digest and absorb.

Now, let's take a look at the kidneys spiritually... this organ is a symbol of intellect and wisdom... emotions... about letting go of disagreeable thought patterns.. i.e. past programming...

Kidneys are the cornerstones of balancing between male and female, creating our strength, purpose. They are the organ that is in charge of the power that ...... our activators, openers...the triggers within us. Kidneys are the processors...

Once we begin to navigate in this way, it's about being fully open and trusting the process. Because this is when we begin, piece by piece, gathering the information and in doing so, it expands, grows and then comes the "Aha moment", when we may shout out "Bingo" or "by Jove I've got it..." Whatever words you use at this juncture will have your spiritual vibration jumping and pumping, trust me.

Now comes my disclaimer. Sometimes, not always, the criterion you get, may initially activate and generate you to respond in a negative way. You may not want to accept what you are picking up, what is being relayed to you. Possibly you don't want to deal with this at the moment? But here is the rub, so to speak. When we react in whatever way we do, in that moment, take time to acknowledge it. Why are you responding the way you are?

Enlightenment is not all sunshine and roses, sometimes it is the cool hard irritation that has arisen for us to deal with, and in doing so it provokes us to ignore it, dismiss it, even get enraged. So again, look at the emotions that are rising from this. Remember, if we allow ourselves to be controlled by fear, it can damage us in some way. We can get stuck in the negative based on our own insecurities. So even though this may seem painful initially, go with it.

This dear reader is when again you may shout out "BINGO" and thus begin the process of shifting whatever it is that has been detonated within.

So what next... how can I begin the shift? Simple. Sit and meditate on all the elements, negative and positive... and invite in the balance needed.

Spirit don't do things by chance... nothing is a coincidence ... it is all divinely attuned to each of us in our ever evolving, changing lives.

Yes, you may have to do a little research when something occurs within your body, put some effort into it. But it is no different that racing off to the doctors for them to analysis and diagnose it?

All I am suggesting is to "consider" this first. If nothing changes, or alters then YES definitely go seek medical assistance.

For me, in my life thus far, the more I have attuned my soul to sense, feel and connect to the messages I receive, the more spirit has assisted me on this vibrational journey we call life.

Maybe it is a spiritual recalibration... so address everything.

Ask yourself "what does this mean to me?"

Am I ready to acknowledge, accept, change, alter?

And maybe it is something you need to clear and release....

The biggest question you will ask yourself is are you ready to step into what spirit are offering up to you?

Maybe the message you receive is about self nourishment.. sweetness... these could be missing from our life and need to be accepted back in again...

Sit, meditate on that concept and see what you receive... remember it will come usually in the form of a sign or symbol... so be open to reading the signs along the way.


Vibrational Blessings Debbie A. Anderson
Bio: I SEE DEAD PEOPLE. Yes, that is how Debbie A. Anderson introduces herself. From a young age she had the ability to connect & see spirit. For over 35 years she has united people with loved ones who have crossed over to say "Hi", get closure or maybe find that missing will. She raises the vibration & shares the positive using the oracle & affirmation decks she has published, teaching others how to shift their energy to tap into the "self" in a focused & balanced way. Sign up for her newsletter & receive I AM Mantra meditation FREE.
https://www.Vibrational-Energy.com
https://https://www.indie-goes.com/vibrational-energy-oracle-cards-mobile-app-iphone-ipad-android
https://https://www.indie-goes.com/vibrational-earth-children-oracle-cards-mobile-app-for-iphone-ipad-and-android-amazon