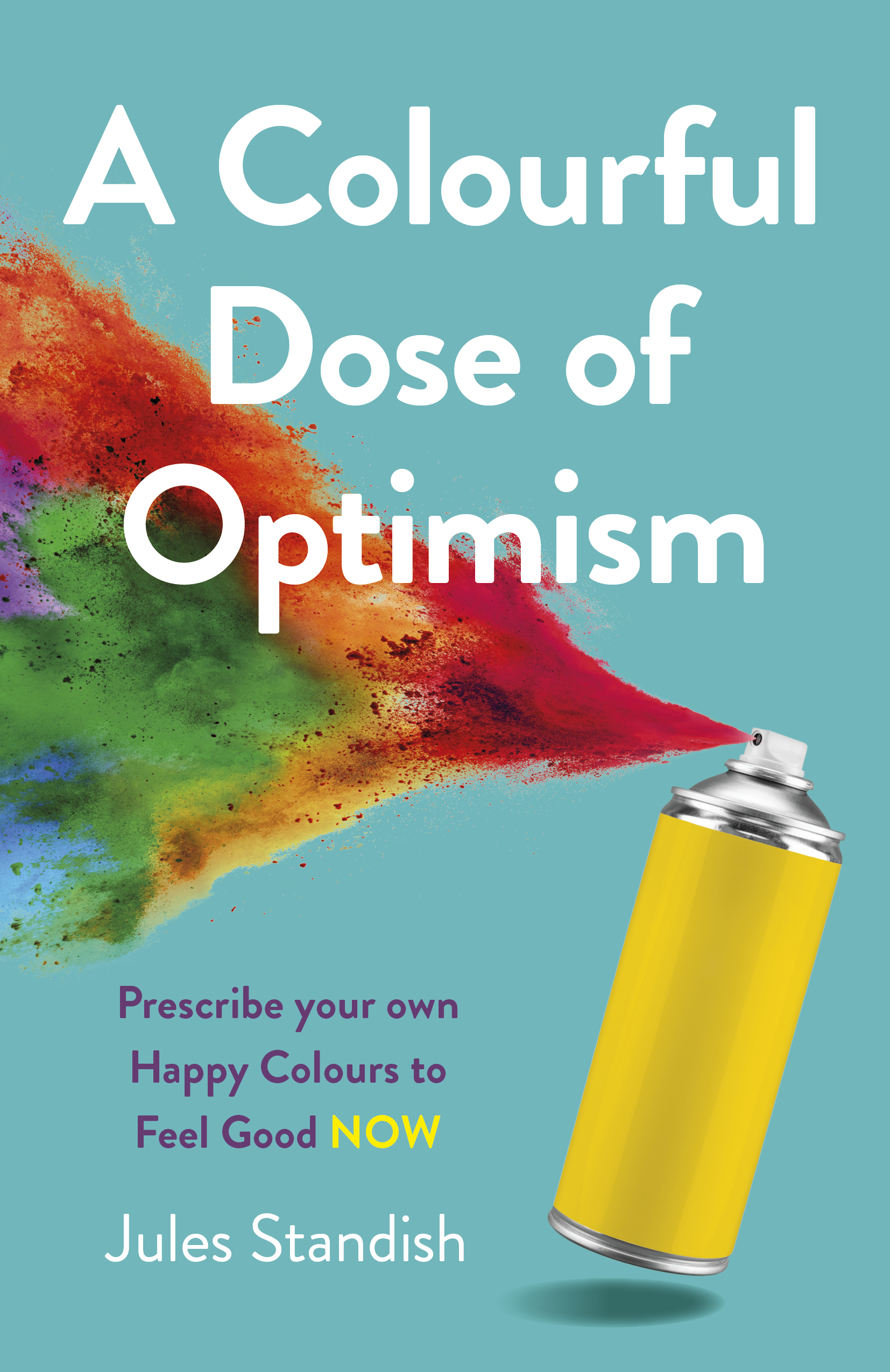 Prescribe your own happy colours to feel good now


Colourfully change your world
In such an uncertain world, why not take control of the things you can change in a positive way. If you could write yourself a prescription today, would it be for instant hope, joy, and happiness? "A Colourful Dose of Optimism" introduces some simple, effective, colourful solutions to everyday dressing and design dilemmas, and presents ways to turn fearful, challenging situations into opportunities to feel more contented and confident.

The holistic colour strategy
I combine years of expertise as a celebrity personal stylist, colour consultant and Head of Colour at the London College of Style. My research into the psychology and science of colours is brought together with the four-season analysis system, alongside a personality profile, to create a holistic colour diagnostics strategy. I encourage you to delve deep into your colour genetics, providing personal prescriptions to help you discover those all-important 'happy colours' to nourish yourself and your home.

The 'Perfect Plan' for instant happiness
Clear and detox your wardrobe to feel uplifted and energised with an easy step-by-step guide to create an exciting, sustainable, colour-capsule closet, injecting an instant hit of happiness into every outfit. Learn how to shop well, online and in person, and enjoy the feel-good factor of having found your own colourful comfort zone for ultimate well-being.

The clever "Colour Prescription" Digital App
Once you have discovered your own "Colour Prescription" in the book, there is a link in the front that you input into your phone or computer. This welcomes you to the visual platform of images, so you can see clearly what your happy colours are, by season, including the psychological benefits of each. As an additional USP, you are invited to pay a one-off charge to download a DIGITAL APP of over 100 of your best shades to keep.

Imagine the joy of being able to tap into your "Colourful comfort zone" in an instant, never making expensive mistakes again when shopping for clothes, make-up, and the home. Look and feel fabulous forever, for ultimate well-being anytime, anywhere in the world!

A diagnostic system of discovery – the problem
"A Colourful Dose of Optimism" is designed as a guide to discovering your happy colours, by diagnosing the problem then prescribing the solution in doses of shades that suit you best.

Do you:
look tired and drained and could do with a healthy, glowing appearance?

struggle to find colours that flatter and suit you?

need to get some energy to start a new project or exercise routine?

feel stressed about a family situation & how to feel more in control?

work from home and want to look your best on zoom?

have a job interview and are not sure what colours would be appropriate?

have a wardrobe full of clothes you don't wear but hate shopping?

would love to feel upbeat even in comfortable casuals?

feel stressed about not having the time to invest in searching for outfits?

want some inspiration to try new colour combinations but don't know how?

want to feel happier in your home as you can't afford to move?

need to give your home a new look to brighten it up, and have a tight budget?

simply want to boost your outlook for a brighter future.

Now you have diagnosed the problem (s), let's look at the solutions.

A step-by-step guide to a positive prescription – the solution
Step One: Discover your genetic colour palette & personality type
Work with your 'Perfect Plan' for positive change, to discover your best colour palette that you genetically inherited, along with an exciting look at your individual characteristics. Analysing inborn traits of introversion and extroversion, and powerful personality combinations will provide an in-depth look at your colours, combined with the psychological benefits of colour ensuring that the real, authentic you can shine inside and out.

Step Two: Welcome to your "Happy Colours" in detail
Now, prescribe your own colourful dose of optimism according to your personal colour palette. Lift your mood in flattering colours that get you complimented, make you feel confident, with a healthy glowing complexion and youthful appearance. Put your personality on display and show your colourful side by discovering your key wardrobe colours, along with neutrals, accessories, jewellery, and make-up. Feel comfortable and happy in your chosen colours, and never stand out for the wrong reasons or feel invisible again.

Step Three: Detox and rebuild your Colour Capsule Closet sustainably
An easy-to-follow detox and rebuild strategy for your wardrobe, will allow clarity and make more space. Create a colour capsule wardrobe of flattering items for an instant hit of joy and happiness, every day. Discover how to look tonal trendy or classically clashing, go off-piste with colourful pairings, and feel positive in patterns or smiling in stripes. Enhance your body shape and energise your wardrobe with new colour combinations, then learn how to shop effectively online or in person, buying wisely for the new you. Knowing your happy colours can be a wonderful investment in your wellbeing for the future and can be positively focussed on the most important areas of your life at work and at home.

Step Four: A new look at wearing colour to work in the office & virtually
Prescribe your own colour confident 'seasonal' work wardrobe and express your best authentic image in the office. When individuality is an advantage, combining colours can be a clever and empowering way to dress. Discover 'Top Colour tips' for being camera ready and embrace working from home virtually. If going to a job interview then stand out for the right reasons and dress appropriately for your profession, in your seasonal palette, to ensure that the impact you make in the first ten seconds gets you the job.

Step Five: How to stay calm and balanced in your "Colourful Casualwear"
Discover how to be confidently cool in laidback loungewear wearing colourful casuals, a modern way to dress at home. My mission is to help keep you calm and relaxed in your cosy moments whilst staying out of the grey zone. Discover what colours are best for starting a new exercise or hobby, going on a new date, or playing games with your children.

Finally: Find your "Colourful Comfort Zone" in your Happy Home
You can prescribe yourself 'A Colourful Dose of Optimism' in your home by taking your personal palette and personality into your interiors to create harmony and balance surrounded in colours that make you happy. Use shades mindfully in every room to elevate the space. Perhaps choose calming blues and greens to sleep in, but energise your living areas with warming, stimulating yellows and reds. Add colour within a budget, without major renovation, and change rooms instantly, by creating a positive living place.

Exclusive expert tips
To add to the level of expertise in the book, I am excited to include some exclusive 'Top Tips' from experts in the world of fashion and interiors. Those who specialise in helping people transform their wardrobes and homes by adding colour in exciting ways in their professional work and who will now share their amazing insights with you!

A COLOURFUL DOSE OF OPTIMISM By Jules Standish is available from
https://www.o-books.com
and from wherever books are sold

BOOK LINK:
https://www.johnhuntpublishing.com/o-books/our-books/colourful-dose-optimism