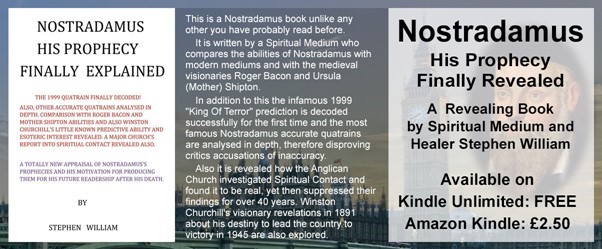 Winston Churchill. Did His Mysticism Help Save Civilization ?
By Stephen William. He is a UK based Medium and Healer and Author of "Nostradamus His Prophecy Finally Explained."
Available on Kindle now.

Even the most Mystically minded people in knowledge and practice must wonder sometimes why those at the pinnacle of our societies seem to have a barrier in their understanding concerning the transcendental part of existence . Even those who openly practice conventional religions do not expect to actually experience a direct spiritual contact. In fact, they in many cases appear to actually not practice even the teachings of their religions away from their places of worship! This to me indicates that they perhaps doubt the actual presence of a spiritual dimension to existence.

However various high profile respected people throughout the modern era have consulted mediums, psychics, mystics etc. and continue to do so. Mediums and other mystical practitioners by common practice , are discreet and confidential about all their clients and especially their well- known clients. They are only too well aware that it could ,be seen as an eccentricity in some careers, for somebody to be known to be consulting with them. Especially politicians!

Sir Winston Churchill the great British World War Two Prime Minister, is said to have consulted mystical people and this is borne out by his attempt to stop the prosecution (under 1735 Witchcraft Act) of the then well- known British medium Helen Duncan during that that war . She revealed the sinking of the Royal Navy ship HMS Barham, at an open séance before it had been revealed to the public. He was unsuccessful of course as even Prime Ministers in a free country (thankfully!) cannot interfere with the process of the Law. Still, it does show that he had a strong interest in clairvoyant and predictive matters. It is interesting that as a busy political leader amid conducting a war, he would take time out to concern himself in the prosecution of a spiritual medium who had already previously been caught out using some deception in her practices, before the HMS Barham revelation .

Many of the public at time would have seen this as a minor matter. Yet his membership of such organizations as the Freemasons ,the Ancient Order of Druids etc. does show however an esoteric and mystical side to his personality. Incidentally the 1735 Witchcraft Act was repealed in 1951 partly because of the Helen Duncan case and replaced by the Fraudulent Mediums Act . This allowed genuine mediums to practice without being compared with confidence tricksters.

I have wondered if this intervention by himself, was because he believed that a person with such an ability of foresight could in fact be of help to the British and Allied war effort? Churchill was known to have mixed with various mystics throughout his long life and surprisingly, had dramatic mystical experiences himself.
A young Winston Churchill( pictured center) present at a Meeting of The Ancient Order of Druids.

One surprising fact that came out of my research into his possible spiritual activities ,was that an old school friend of his, claimed Churchill had a future premonition of the World Wars in the forthcoming century and his own significant involvement in them, especially the Second World War. The school friend was called Murland De Grasse Evans and he stated whilst they were at the elite British private school Harrow together, the seventeen-year-old Churchill in 1891 said that he had prophetic dreams about the future and his role in it. He saw great upheavals in the coming century. He mentioned "wars such as one cannot imagine" . Murland De Grasse Evans told this to Randolph Churchill, the son of Winston Churchill, who later wrote Churchill's official biography. This experience is also documented in other biographies. Evans later in life became the Reverend Evans, an ordained priest in the Church of England, so was unlikely was to have invented this experience.

Since 1815 and the defeat of Napoleon , the British had been involved in colonial wars and played a supporting role in Crimean War, but these wars could not be compared to the enormity and scale of the two World Wars, so this was beyond the lucky speculation of a precocious seventeen-year-old. In addition to this, Churchill also said that he would occupy "a high position and would save London and England from disasters". He also said, "it would fall to me to save the Capital and save the Empire". Although Winston Churchill was born into an extremely wealthy and influential family and attended one of the most prestigious fee-paying schools in Britain , he was not considered academically gifted and left the school early as he was not expected to attend university ,which he never did. Therefore, to have stated such a future for himself would have invited ridicule if he was fantasizing about his future. It is therefore extremely likely he was confident that this was not a mere dream but a genuine vision of the future. Churchill was, despite many career setbacks and sometimes lucky escapes from near fatal incidents , famous for his self- confidence in his destiny. This points to a genuine-predictive vision of the future and a possible reason for his interest in clairvoyant and mystical abilities. Perhaps a Nostradamus style self- prophecy helped save the civilized world?

Winston Churchill (left) at the Yalta conference with President Roosevelt and Soviet leader Josef Stalin. This conference was held near the end of World War 2 to decide how to deal with the defeat of Nazi Germany.

Apart from his major role as British Prime Minister in World War Two ,he also was a senior British government minister , during World War One . Before that, he was a British Army Officer who fought in the Sudan War. He then became a famous journalist during the South African War and was captured by enemy forces and then staged a daring escape and trekked through hostile territory back to safety. This dramatic incident made him internationally famous and helped propel him into a successful career in British politics.
His almost reckless disregard for his personal safety , appears to demonstrate he knew he was on a pathway to live a long life to fulfil the destiny that had been revealed to him as a seventeen-year-old. He also seemed to be deliberately accumulating the skills he needed to fulfil the task ahead. Military experience ,journalistic experience to help influence public opinion and finally political experience to help him gain the "high position" to help save his country as the vision he received predicted.
In World War One ,he served politically as First Lord of the Admiralty , the Minister in charge of the Royal Navy and then as Minister of Munitions .These were both vital positions in gaining experience for the task that lay ahead of him in the Second World War. He even re-joined the British Army for a short while and served in the frontline as a Lieutenant -Colonel in the Royal Scots Fusiliers! Modern or less inspired politicians just do not do dangerous things like that !
In fact , even his World War One activity seems to fulfil his premonition with his high-profile political jobs . However , he obviously it appears, was aware there was a greater task still to come for him.

Winston Churchill (pictured centre) in World War One during the brief period he was a Lieutenant – Colonel in the Royal Scots Fusiliers.

During the 1920s he still had high ranking government jobs in the British government . However, it was in the 1930s when he had ceased being a high -level Minister and was an ordinary MP in the British Parliament, that his predicted great destiny started to materialize . Adolf Hitler and the Nazi Party in 1933 had gained power in Germany and immediately started their terrible and cruel dictatorship of the country . Persecution of Jewish people and other minorities started and invasion of other countries territories started soon after.
Although most people in the leading democratic countries of the world disapproved of the Nazis activities , there was no appetite for another major war of the scale of the mass slaughter of the First World War. Therefore ,repulsive as the behaviour of the Nazis was, most nations practised a policy of "appeasement" towards them. They understood Germany was rearming and did not want another confrontation with this heavily armed state.
Winston Churchill however was not having any of this "appeasement" ! As an experienced journalist he constantly in print attacked the rise of Hitler and as an experienced politician constantly made speeches in Britain and abroad of the danger of the Nazi menace . He also predicted the probability of an eventual war to stop the Nazis. This caused him great unpopularity . Surely there was nothing worse than the recent "Great War" which had killed millions ,many people reasoned ? Old friends and political allies at home and abroad began to shun Churchill. Some even suggested he had gone mad! Others argued his military background and experience had turned him into a warmonger.
However, the more they protested he was wrong , the more he warned of the folly of appeasing the Nazis and the need to be prepared for another war to stop their supposed goal of world domination. For a man who liked to be both socially and politically popular ,this seemed to be very strange behaviour. Stubbornly he refused to change his position, much to the frustration of some of his remaining friends and political allies.
Yet given his youthful vision of the future which he shared with a man who was later a well- respected minister of religion this seems to be entirely logical. He "knew" what was going to happen and he "knew " his destiny was to help protect civilization against a modern form of barbarism.
In 1939 Great Britain and France declared war on Germany because of their brutal invasion and occupation of Poland. Within months as Britain and France were not sufficiently prepared for a European land war with Germany as Churchill had predicted, France had been invaded and the British and their Commonwealth and Empire allies stood alone against Nazi Germany and Fascist Italy who had now occupied most of Europe. The unfortunately fatally ill (he had cancer) British Prime Minster Neville Chamberlain had to resign and the experienced Winston Churchill who had predicted the tragic events so correctly was made Prime Minister by a united coalition government made up by politicians from all the major British political parties. Churchill's predicted hour had come.
Churchill immediately started giving rousing speeches to not only the British people ,but to the listening world on radio, that Britain would never give up fighting until it had defeated the Nazis and their allies . He also encouraged more adventurous tactics by the British armed forces ,which stopped the remorseless progress of the German and Italian forces and resulted in British and Commonwealth/Empire victories which stalled the Nazis world domination plans.
However , what he also did was forge a good relationship with the United States and in particular its President, Franklin Roosevelt. He persuaded them into supplying Britain with additional weapons and materials so it could keep up the fight against the Nazis. Some people in the USA were alarmed by this as they thought it would endanger its neutrality and drag it into the conflict. Some Americans also, although mainly disapproving of the Nazis and their behaviour ,did not like the idea of being seen to support two "old fashioned" Empires (Britain and France) as it appeared to go against the principles of what the United States was founded on.
Churchill however by his supreme confidence and charm and possible knowledge of future events for the US, managed to keep up the supply of goods flowing across the Atlantic to Britain. The Japanese attack on Pearl Harbor in December 1941 however propelled the United States into the now Second World War. Churchill's work on ensuring good relations between Britain and the US ensured the two new military allies could cooperate immediately to ensure victory in 1945 and smash the Nazi alliance.
Some fellow mystical folk may wonder why Spirit, God, Providence, or whatever your concept of Ultimate Goodness is , chose Winston Churchill as its recipient of such a prophetic vision ? He had some well- known and sometimes self-admitted character defects . He had a high alcohol intake and sometimes turned up drunk for his government work. He was known to be a heavy gambler and could be very arrogant and erratic in his behaviour. However, as Churchill was born into a rich and influential family , he from a very early age would have the potential high- level contacts needed ,especially as his father before him was also a high- profile politician. He although he had a famous British father , was also half American ! His mother was Jennie Jerome, the daughter of an American multi-millionaire , therefore ensuring he had high-level contacts in the US .It also ensured that he understood the American outlook on life . This was invaluable in forging the alliance to defeat the racist Nazi threat to world civilisation .
It was classic case of being the right man, in the right place ,at the right time. Armed with his prophetic knowledge and his role in events in the future, he then guaranteed throughout his life that he had the right skill set to undertake such a destiny.
Returning to Churchill's life- long attachment to the spiritual and mystical there is also another esoteric connection he had during World War Two. Churchill ever the extravagant self-publicist , often used when posing for photographs his hand to display two fingers displaying a "V FOR VICTORY SIGN". Various theories have been put forward for the origin of this sign ,however my research has revealed that the famous occultist Aleister Crowley claimed he devised this for Churchill. It was created to produce a counter-sigil (a sigil is magical symbol) to the Nazi Swastika. The swastika as most mystical people will know predates the Nazi use of it by many centuries. It is still a religious symbol of good will in Hindu and Buddhist countries.
However, the Nazi swastika is reversed in direction to the Hindu-Buddhist one and in modern times that form is now mostly recognised as a sign of evil because of its association with Nazism and racism. Because of this, Crowley claimed he created this sigil for Churchill to counter the "power" of the Nazi swastika .The reason for why Crowley apparently formulated the V-sign was because the straight lines created by the extended twin fingers in this V-sign, counteracted the" crooked cross" appearance of the Nazi swastika. Whether Churchill believed this symbol actually "worked" is open to debate! Yet he did obviously think it was a powerful visual symbol and used it on many occasions .
Crowley does seem to be an unlikely advisor to a British Prime Minister. Nevertheless, Crowley who was originally a member of the Order Of The Golden Dawn and had several mutual acquaintances with Churchill, most notably a fellow member of The Golden Dawn , Sir Arthur Conan Doyle , the famous author, and creator of the Sherlock Holmes stories.
Conan Doyle , was a qualified medical doctor , but also a famous Spiritualist and Churchill first met him in 1900. They remained friends until Conan Doyle's death in 1930.
However, during both World Wars , Crowley worked for the British Secret Intelligence Service . This has been confirmed by the files of American Secret Service predecessors of the current day CIA. The British Secret Intelligence Service has also recently admitted Crowley worked for them. Crowley was apparently involved in the interrogation of Rudolf Hess , the captured Deputy Leader of the Nazi Party in 1941. Apparently, he was brought in as Hess was deeply interested in the occult. It was felt that Crowley may be able to persuade him to give information that the "regular " interrogation would not reveal. Crowley's main tasks in both wars , was apparently to pass false information to his per-war German esoteric contacts in the hope that it would be fed to the German government to deceive them over British war tactics.
Winston Churchill displaying the famous V FOR VICTORY SIGN which Aleister Crowley claimed he created as a counter sigil to diminish the power of the Nazi swastika.
I am aware that Winston Churchill, as in his own lifetime ,can be a controversial figure. As soon as victory over the Nazi Third Reich in 1945 had been won,a long overdue General Election was called, which had been delayed by the war . Winston Churchill and his Conservative Party had a disastrous election campaign and they made very unpopular statements about their opponents and about their social reform policies. Because of this the winning Labour Party ended up with more than 50% of the electoral vote (votes cast ,not constituencies won). That has not been repeated in a UK General Election since by any political party. Just because a person is spiritually aware and has successfully performed a great task, does not mean they can behave negatively in other ways. He had a skill set for a great war leader, but he perhaps was not the most effective peace time Prime Minister.
He did manage to win re-election in 1951 as he was still leader of the British Conservative Party and was still regarded as great war leader both in the UK and Internationally . However, his leadership in his second term as Prime Minister is now considered as undistinguished and he had to retire before the end of his term of office. He was admittedly by then was well into his seventies and had suffered bad health. However, his political decisions were sometimes suspect and many in his own party were relieved when he retired.
It has occurred to me that perhaps as his self -prophesied spiritual mission was now over , his skills and personality were no longer needed? He had faced up to Great Evil and helped bring about its defeat and therefore he was returned to the ranks of normal humanity in more normal times. His destiny to help save the Civilized World was completed.
However , another notable mystical event happened to Churchill in his time after his election defeat in 1945. In 1947 he was painting in his home art studio (a favorite hobby of himself) when according to his own account, he was visited by the spirit of his father who had been dead over fifty years. Apparently his father's spirit appeared sitting in a chair in the studio and they had a long discussion about events since his father's passing.
It had such a dramatic effect on him, he apparently described the whole episode to his gathered family at dinner soon after . They were intrigued by his story and one of them suggested he wrote it down and published it for a wider audience. He did just that in the form of a short novel, called "The Dream." It was by his own admission a fictionalized version of the event , no doubt leaving out some personal details, but he still claimed the visit by his father's spirit did occur to his family.
The "Dream" was not published until 1966 a year after Churchill's death ,no doubt because of the controversy of a former revered Prime Minister implying he was visited by his long dead father!
There is one more predictive event also in Churchill's long and eventful life to recount though. On the 24th of January 1953 , Winston Churchill by then serving his second term of office as British Prime Minister, remarked to his private secretary that it was the anniversary of his father's death in 1895. He then added he himself would die on the same date. Twelve years later the 24th of January 1965 after a lengthy illness he did just that. Did his father bring him that knowledge or was it another prophetic experience of this great visionary man? As mystics we know that a lot of the "the Other Side" cannot be explained this side of the "veil." However, we have comfort that there is more to existence than our short physical lives.
© Stephen William International Copyright.
If you wish to read my book ,which is available at only US $ 3.45 on Amazon Kindle or FREE TO READ if you are a Kindle Unlimited member. please follow this link.
https://www.amazon.co.uk/dp/B098LS5PM7/ref=cm_sw_em_r_mt_dp_MBDF06G549ZKJ6XFKMCJ