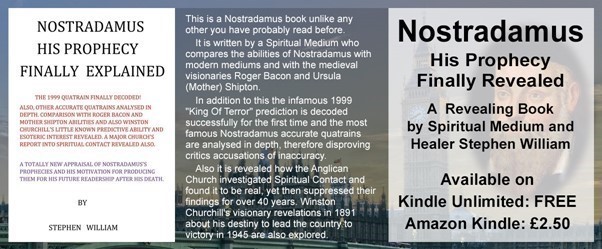 People who read books and articles on esoteric matters and are convinced by the content in them or have had spiritual or mystic experiences themselves sometimes find it hard to argue the validity of what they have read or experienced to other people who have not read the same texts or have had similar experiences. This is quite understandable as most of us are skeptical at times of information which challenge our previously held views or experiences . However complete dismissal of something which has been seen to demonstrate an extra element to our existence , can if it is done out of thoughtless ignorance, be annoying. It is also a missed opportunity for the person advancing such a view to broaden their assessment of the nature of its reality. It also does not excuse someone belittling someone of credible spiritual knowledge.
So, if you are already deeply knowledgeable on spirituality or have direct spiritual contact experience , here are some suggested answers to those who find it difficult to accept the accuracy of something which challenges their preconceptions. The following is a selection of the usual cynical questions and the potential answers to them.

"I HAVE READ THAT WELL KNOWN STAGE ILLUSIONISTS SAY THAT THEY CAN DO EVERYTHING A PSYCHIC, MEDIUM ETC. CAN DO, BUT BY NON-SUPERNATURAL TECHNIQUES.

Suggested Answer

Well, they are part of showbusiness and part of that "business " is promoting your "talent!" Seriously, when have you ever seen or heard of a stage illusionist or magician contact a person's long passed grandparent , or make a personal future prediction that surprisingly came true? Of course not !
Even their often performed "mind reading" acts are normally performed with the help of a professional "stooge". There is no real comparison between a self -confessed stage trickster and a sincere mystical practitioner .

" INDIVIDUAL MYSTICAL READINGS BY MEDIUMS,MYSTICS ETC. ARE FAKED BY THEM LOOKING YOU UP ON THE INTERNET BEFORE YOUR APPOINTMENT AND FEEDING THE INFORMATION BACKING TO YOU,SO YOU FEEL THEY HAVE A SUPERNATURAL ABILITY."

Suggested Answer

Well, what did mystical practitioners do thirty years ago before the internet became widely used!!?
Also, if you try googling yourself , you may find that not much information about yourself that would be useful to a medium etc. would be available. No grandparents' first names, no parents' birthplace details, no detailed sibling or partner details etc.etc.
Also, if you have a common surname such Smith, Jones etc. unless you have a unique first name , it would be virtually impossible for a stranger to find you!
Therefore ,it is a ridiculous suggestion for a skeptic to make!

"TIME TRAVEL BY ANY MEANS IS IMPOSSIBLE, WHETHER PHYSICALLY OR MENTALLY, THEREFORE YOU CANNOT SEE THE FUTURE OR HAVE PREMONITIONS "

Suggested Answer.

Just because you are in denial of something where there appears to credible evidence , does not mean it will cease to exist, just because you refuse to acknowledge it!
This sounds as if it has scientific basis, but surprisingly it does not! Scientists are divided on how time works. Scientific new theories are constantly being proposed and then disputed by other scientists. The concept of physical or mental time travel is debated by physicists and divides into two camps , those who believe it may be possible and those who do not. Consequently, there is no clear consensus on it.
Sometimes future predictions are made by passed loved ones so the physical world's future appears to be viewed by them from the spiritual plane. This demonstrates on some level the future can be viewed. Suggest to a person who says this, that they visit a medium and they will find this out themselves. If events that are predicted happen to them come true, they have conducted their own "experiment" to prove the future can be viewed! They therefore have become their own time traveller!

"MEDIUMS, MYSTICS,PSYCHICS ETC. ARE ALL FRAUDS AND THEY JUST DECEIVE PEOPLE WITH GENERAL AND VAGUE STATEMENTS THAT COULD APPLY TO ANYONE."

Suggested Answer.

Mediums, Mystics, Psychics etc. are consulted by millions of people world- wide every year and departed persons messages and predictions are given to them which very often come true, even if they are unexpected and the person consulting them has not "tried" to make them come true. Are you as a skeptic saying you are right and these millions of other people are wrong? What is your proof that you are right?

"I ACCEPT MEDIUMS AND MYSTICS CAN MAKE TRUTHFUL PERSONAL PREDICTIONS TO INDIVIDUALS SOMEHOW, SO WHY CANNOT THEY MAKE "GREAT" PROPHECIES , LIKE NOSTRADAMUS , SO WE CAN AVOID DISASTERS?"

Suggested Answer

An interesting question, however, Nostradamus stood out in his own time, compared to other mystics of that era. So, it appears to be a rare form of mediumship and curiously not one in great demand. Most mediums have never been approached by anyone who has asked ,when or ever will World War Three break out, whether robots or computers will take over world, will we ever contact a civilization from another planet and when, etc.
If a disaster were foreseen and action taken to prevent it, skeptics would say the prediction was incorrect as it never happened ! Predictions or prophecies have to happen or they are not predictions !

"MY RELIGION WILL NOT ACCEPT MEDIUMSHIP, CHANNELING, CONTACT WITH THE DECEASED ETC. AS AN ACCEPTABLE FORM OF SPIRITUAL PRACTICE. THERFORE I CANNOT ACCEPT ANY PROOF OF IT ".

Suggested Answer

I respect a person's religious belief if sincerely held. I also understand you may be ostracized by your family or co-religionists if you were seen to be pursuing something contrary to their religion's teachings. However even within strict religious groups there are arguments about the interpretation and meaning of religious texts amongst the clergy or elders . Everybody sees spirituality in their own personal way , whatever grouping they belong to.
So why do you not discreetly visit a medium or psychic ? Freedom of will in spiritual matters , which we all have , means you can decide on whether the information you receive is from a "pure" source or not. Even if you are still unsure of the "pureness" of the source, at least you will know for certain there is a spiritual dimension (most religions have a belief in a supernatural element and an afterlife) and your belief in the divine facet of existence is not a "fairy tale for adults" as skeptics often taut religious people.
You do not have to become a spiritualist or visit a medium again, but at least you will have proof you have a belief based on a tangible reality and it will probably strengthen their religious conviction.
That is what every person who seeks spiritual enlightenment genuinely wants, surely?

"I AM A TOTAL RATIONALIST, THERE IS NO PROOF OF ALTERNATIVE "DIMENSIONS" TO OUR REALITY, SPIRITUAL OR OTHERWISE."

Suggested Answer

Alternative Dimensions , Different Universes, the Multiverse Theory etc. have been theorized for over a century by many leading physicists. This idea that there are realms of existence other to the physical Universe we can observe through a telescope, has a respectable scientific pedigree . There is no one proven theory on this subject , but some of the currently well - respected theories point towards other Dimensions/Universes existing.
Therefore, it would be very plausible for a spiritual dimension to exist in such a scenario. The last scientific paper ,Professor Stephen Hawking prepared for publication before he unfortunately died ,was in favour of the Multiverse Theory.

"I HAVE READ VARIOUS SKEPTICS'S VIEWS ON THE SUPERNATURAL AND THEY SAY IT CANNOT POSSIBLY BE ABLE TO EXIST TO THE INFORMED MODERN MIND."

Suggested Answer

The quick answer to this is , "Do your own research and make your own mind up."
Sometimes these professional "skeptics" are making a lucrative living out of being cynical of spiritual matters. They know that many people are interested in mystical topics and many books are sold on the subject. So, by presenting an alternative view on the subject whether sincere or insincere , they are entering a potentially lucrative market. This means that as a "professional skeptic" there is sometimes a commercial pressure to reject compelling evidence of the accuracy or reality of spiritual practice if they come across it. If you have created a following of readers who expect you to always be skeptical of the supernatural , the temptation to maintain that stance on whatever evidence turns up, must be very tempting !
However, most of the world's population do have some form of spiritual belief .Within that majority , many people either have had a direct spiritual experience or regularly consult psychics, mystics and mediums and receive information that is truthful and cannot possibly be guessed at. Information that is so detailed and personal, it is beyond coincidence . Are they all delusional or liars ? Are people making money out of sneering at sincere reports of spiritual experience, the only people who know what they are talking about ? Of course not!

"COINCIDENCE IS THE REASON WHY MYSTICAL PRACTIONERS SOMETIMES APPEAR TO IDENTIFY DECEASED RELATIVES AND MAKE CORRECT PERSONAL PREDICTIONS."

Suggested Answer

The very fact that there is a high rate of accuracy in contact of deceased relatives and personal predictions for people who seek spiritual guidance should actually stimulate proper scientific inquiry rather than being treated as some kind of mental aberration or coincidence . In fact, the prediction of future events for people does answer the scientific question does the future already exist on another plane ? The fact is the future can be viewed via spiritual communication as psychics and mediums regularly demonstrate, shows that it does. This therefore means that scientific research in physics can be perhaps accelerated by acceptance that question has been answered ?
Try this form of answer, to someone that cynically puts this kind of question to you and even if they do not agree with your answer, they normally cease from asking cynical and sometimes insincere questions !

"I HAVE DECIDED THAT THERE IS NO SUCH THING AS THE SUPERNATURAL OR A SPIRITUAL DIMENSION AND EVEN IF THEY CANNOT BE DISPROVED CURRENTLY ,THEY WILL BE IN TIME BY SCIENCE"

Suggested Answer

Although your question seems to be based in rational logic, it has unfortunately an illogical emotional basis to it. Firstly , and rather ironically if you are making such a statement, you are making a prophecy! You are predicting a scientific disproving of the spiritual dimension to existence! Yet there are many leading scientists who admit that it cannot ever be totally disproved, even if they feel personally such a dimension is highly unlikely.
People who hold the "science will disprove the supernatural, sometime" view are allowing the familiar (i.e., a "natural" explanation for everything) to define what they might discover. Therefore, if they come across something that is not familiar, such as a credible supernatural explanation for an experience, they do not allow this fresh information to change their mind however strong the evidence. Such an attitude shows a closed mind of someone who will not accept convincing evidence purely because they may to admit they were wrong previously.
To hold the view that science will certainly one day disprove the existence of a spiritual dimension, forgets one of life's truisms when it comes to investigating new theories and evidence, i.e., just because something appears improbable , it does not mean it is impossible!

--------------------------------------------------------------

Hopefully, these suggestions will help you when you are faced with questions which appear to make your own sincere knowledge seem uncertain. Remember it is irrational to reject what you know to be true! Nevertheless, you will never convince everybody , it is their right to have their own opinion in a free society , whatever evidence, or arguments you may present. Some people have extremely negative experiences with conventional spirituality as a child and unfortunately that has closed their mind on the subject. Yet ,cynics will know you are willing to stand your ground and not have your knowledge ridiculed or belittled !

©Stephen William International Copyright.

If you wish to read my book ,which is available at only US $ 3.45 on Amazon Kindle or FREE TO READ if you are a Kindle Unlimited member. please follow this link.
https://www.amazon.co.uk/dp/B098LS5PM7/ref=cm_sw_em_r_mt_dp_MBDF06G549ZKJ6XFKMCJ