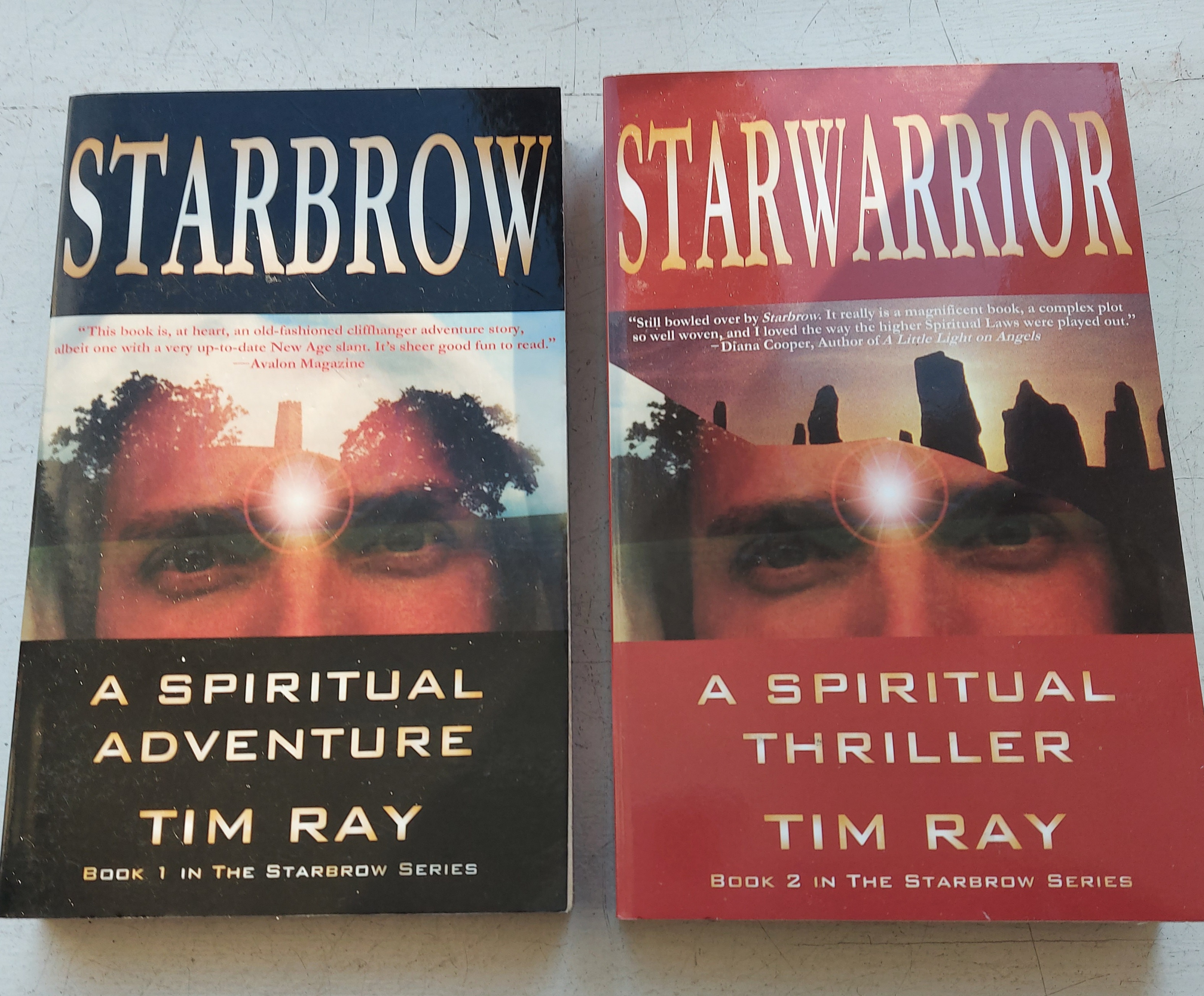 Welcome to the World of Starbrow and his friends! Two best-selling spiritual adventure stories by Tim Ray that people around the world love.
BOOK 1 – STARBROW – A SPIRITUAL ADVENTURE
In Tim Ray's breathtaking spiritual adventure story, three young men in their mid-20s have only 48 hours to save all of humanity from total destruction. What? Yes… because they are StarSeeds on a mission which all started 1500 years ago.
1500 years ago, in the Dark Ages of humanity,
they were given a mission: To use the Force
to create peace and harmony on Earth.
But the mission failed.
Now, 1500 years later, at the dawn of a New Age,
they are called upon to fulfill their ancient oath

and complete their mission.
But there's just one small problem.
They've forgotten the Secret of the Force...
and who they really are.
And they have less than 48 hours to remember.
Starbrow is the tale of three 'ordinary' young men who are called upon to undertake an 'extraordinary' mission: To help save all humankind from total annihilation. But this is no ordinary fight for survival! In order to save everything they know and love, our heroes have to learn ancient spiritual truths so they can raise the collective consciousness of humanity to a higher level in the shortest possible time. No mean feat for any superhero!

It all starts one night, when the main character (Starbrow) meets a mysterious and alluring woman who tells him his real name is Starbrow, and that she has come to remind him of his ancient oath: 'To create peace and harmony on Earth.'

Unsure what to do with this mind-blowing information, our hero does what most regular guys do when confused: He calls his two buddies, Jacob and Janus, and they head out to party. However, later that same night, the mysterious woman comes back and this time she has a message from intergalatic beings who invite Starbrow to receive training in higher dimensions so he can fulfill his mission.

According to the mysterious woman, Planet Earth is ascending to higher dimensions and unless humanity raises its consciousness in a very short time, the Earth will do a total axis shift, annihilating all of humanity in the process. Starbrow is one of the people who is being called upon to stop this calamity and he has just 24 hours to reply to the invitation.

He thinks he's going crazy and decides to speak with his beloved grandfather but discovers his grandfather had a heart attack. Distraught, Starbrow rushes to his bedside and arrives just in time to hear his grandfather's dying words: "Follow your heart, for your heart alone knows the way." The words trigger something in him and he rushes back and accepts the invitation.

At the same time, the Earth is thrown into chaos by violent earthquakes, huge storms and floods – in short climate change at its worst…

Once in the higher dimensions, Starbrow discovers he is not alone on his quest, his friends Jacob and Janus have also been called to help. They soon learn that to fulfil their mission, they must learn ancient spiritual teachings to lift the consciousness of planet Earth before it's too late.

To find out what happens, join Starbrow and his friends on their mind-boggling mission – through space, time and the dimensions – from the streets of Copenhagen to the dramatic climax on top of Glastonbury Tor in England! A ripping good yarn that's funny, exciting, moving, surprising and enlightening.

What folks are saying about Starbrow
"Still bowled over by Starbrow. It really is a magnificent book, a complex plot so well-woven, and I loved the way the higher Spiritual Laws were played out."
- Diana Cooper, author of A Little Light on Angels

"This book is at heart, an old-fashioned cliffhanger adventure story, albeit one with a very up-to-date New Age slant. It's sheer good fun to read."
- Avalon Magazine

Starbrow is available in English, Danish and Dutch.

For more about the book and to order it, click here:
http://beamteam.com/en/tim/starbrow.html
Starbrow's spiritual adventure continues in Book 2
STARWARRIOR – A SPIRITUAL THRILLER
Starbrow's spiritual adventure continues and Book 2 in the series is another page-turning thriller. Join Starbrow and his faithful companions as they struggle to become Spiritual Warriors and apply the teachings of the Masters in the face of cataclysmic Earth Changes and challenges. And when all seems lost, they receive help from the most unexpected quarter.
An ancient prophecy
and an earth-shattering intergalactic event...
A world in chaos
and a CIA agent on a global manhunt...
A radio that receives messages
from the higher dimensions...
And a lost spiritual teaching
that can change the future of humanity.
In short: A busy week
for Starbrow and his friends!

This book is another fast-paced thriller with a deep spiritual message. A one-of-a-kind thriller and adventure story that presents essential spiritual teachings for our times. The book, which keeps readers turning the pages, offers a comprehensive teaching about the Nature of Reality and consciousness. The book's heroes must learn and apply this teaching in order to carry out their mission, which is to help humanity in the face of earth-shattering crisis and cataclysmic natural disasters.

Starwarrior is a book that readers will never forget, not just because it is exciting, but also because it presents profound spiritual truths.

Starwarrior is available in English and Danish.

For more about the book and to order it, click here:
http://beamteam.com/en/tim/starwarrior.html
For much more about Tim Ray and his amazing books, go to
http://www.beamteam.com