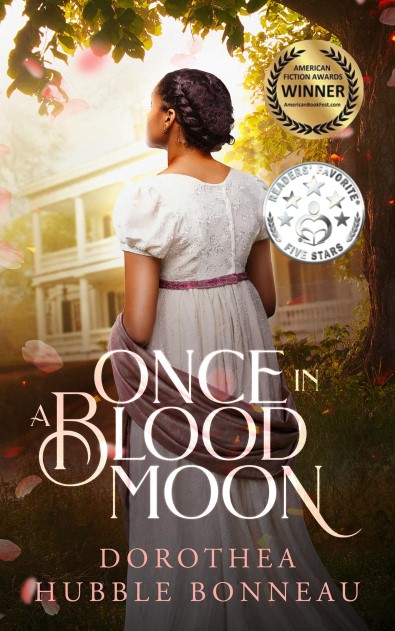 After midnight: Heaven Hill plantation, upriver from Georgetown, South Carolina, 1807.

Alexandra, sixteen-year-old daughter of a wealthy African American plantation owner and a social-climbing mother who can pass for white, has just been told her mother intends to sell Lulu, Alexandra's servant.

Lulu is nearly the same age as Alexandra. Until the girls were ten, they were allowed to play together as friends. Alexandra wants to save Lulu from being sold, so she's going to sneak down to the African-style village on the edge of the plantation grounds where her father choses to live. She intends to beg him so stop her mother from putting Lulu on the auction block.


Once in a Blood Moon
Chapter Two
When Alexandra dangles her feet over the edge of her bed, an Ahoelra, one of those discontented African ghosts with mischief on its mind, slips into her head.
"You don't have the courage to do this thing," the Ahoelra whispers.
"I do have the courage," she whispers back. The flame in her lantern flickers and dies. Sampson never did light the chandeliers. Darkness engulfs her. Alexandra shudders. The Ahoelra shakes with laughter.
Taking a deep breath, she touches her toes to the floor. She finds it warm and damp under her bare feet, like a living thing that has caught a fever.
"You're going out alone, in the dark?" asks the Ahoelra.
"Go away," Alexandra says as she slides her feet along the floor, testing for squeaky boards. When she makes it to the other side of the room without crashing into anything, she pulls open the French doors. Moist air swirls around her like silk, jasmine-scented with a touch of swamp rot. She peers into the moonlit night and smiles. Mother's lawns are shrouded in a caul of fog. With luck, she'll make it to Papa's village and back without Mother ever knowing she left the big house.
Pulling her black cloak over her dress, more for camouflage than warmth, she slips into her riding boots and steps out onto the balcony. Taking hold of the dew-slick railing, she feels her way to the back landing, grateful when she sees the porch lantern is still lit.
She hesitates. Do evil spirits really prowl through Mother's statue garden at night like some of the house-help claim? Fear ripples through her. She doesn't have time to go the long way. She pulls the lantern off the stand and follows its orb of light. Alabaster saints watch her with their marble eyes. A shadow glides in front of the Virgin and slips behind St. Joseph.
"Go back," warns the Ahoelra.
"It was a trick of the light," Alexandra says so loud that her own voice startles her.
Gathering her cloak, she races up the hill toward the man-made ridge that separates Mother's bastion of "refined" Carolina society from Papa's African world. When she reaches the edge of the pine forest, she stops. Will Papa help her save Lulu? Or will he be angry and say Mother's free to do what she wants with the house-help?
An animal cries out. Panther's prey? She wishes she'd brought a torch instead of this lantern with its feeble light.
"I can't do this," she whispers.
The Ahoelra purrs as she turns back toward the big house.
She's taken three steps when a vision of Lulu's lifeless body being carried from a row of cotton flashes into her mind. She turns toward the woods, steps into the dark maw of giant trees, and picks her way over the damp carpet of rotting leaves that covers the path. When she comes to the towering oak that marks the entrance to the sacred forest, she lifts her arms and looks toward the sky.
"Emitai, Creator of All Things, protect me," she prays to Papa's God.
She walks deeper into the forest. Wind whispering through longleaf pines grows to a roar. Something brushes the top of her head. She screams. Ducks down. Conceals the lantern behind her—as if that will help. She holds her breath and stays still. When nothing more happens, she looks up and sees the culprit, a strand of moss dangling from a low branch.
The Ahoelra cackles, "Lucky this time. Go back before it's too late." But its voice sounds childish here in Papa's forest.
Turning onto the main path, she passes the stack of stones that mark the way to the ceremonial grounds. Scents of moss and burnt wood hang in the air, conjuring memories of magical nights when sacred shrine fires sent up sparks that inter-mingled with fireflies. She hears the echo of drums and the thrum of ekonting strings.
When they were little, and she and Lulu were still allowed to visit the village, they raised their hands as soon as the drumming started. They wiggled their hips and danced like birds set free from a cage.
As soon as the path opens on to the pasture, Alexandra tucks away her memories. If she doesn't focus, those new patrollers, so determined to enforce the slave curfew, could mistake her for a runaway and take her to jail—or worse.
The fog has dissipated, and the full moon bathes Papa's stables in silver light. Fragrances of hay and herbal liniment quicken Alexandra's anticipation. The village lies on the other side of the man-made hill that was built long ago to divert floodwaters. As she passes the corral, Cabai, her favorite horse, comes to the railing and nickers a greeting.
Alexandra strokes his nose. "I'd like to spend some time with you, but I have to go."
Her heart drops when she reaches the top of the rise. Warning fires that surround mud-and-thatch homes built around the village commons have been lit. There's no way she'll be able to steal into Papa's house unnoticed with those fire-tenders standing guard. They all know the terms of her parents' agreement. When it became impossible for them to live together under one roof, Papa and Mother divided Heaven Hill into two portions. Mother reigns over the big house with her retinue of slaves. Papa lives with free-people-of-color in the Diola-styled village modeled after the homeland his ancestors inhabited along the bank of the Gambia River.
From the day Alexandra turned fifteen, she has been forbidden to enter Papa's grounds until the time she's promised to a suitor approved of by Mother—unless there's an emergency.
Alexandra sends up a prayer, "Emitai, Creator of All Things, make Papa understand that Lulu will die if she's sent to pick cotton down in Georgia. And please, forgive me for treating her like my servant. She's my friend."
Alexandra's about to start down the path that leads to Papa's house and brave bargaining with the sentries when the hairs on the back of her neck stand on end. Someone's following her. She ducks into the bushes and crouches. She can hear the stalker coming up behind her.
Someone grabs her arm and pulls her to her feet. Alexandra turns and finds herself standing face to face with Oeyi, the village priest. The old man looks like a dream-spirit, dressed in his long red caftan and matching conical hat. This is the first time she's seen him up close. He's even taller than Papa. His complexion, even darker. The priest's obsidian eyes seem to glow in his unlined face. How can he be more than ninety years old?
"Come." Oeyi's voice ripples through her like the vibration of a deep-throated bell.
Didima once told her that Oeyi is so powerful, he can make himself appear in two places at once. Mother says he's the devil's shape-shifter, a worker of black magic.
"I have to see Papa," Alexandra says, struggling to keep her voice even. "My friend's life depends on it."
As Oeyi peers into her eyes, a wave of dizziness disorients her. "I know why you've come," he says.
She doesn't resist when the old man lifts the lantern from her hand, raises his staff, inset with crystals and festooned with feathers, and gestures for her to follow him down a barely perceptible trail.
Sounds of the night are silenced. As they move farther through waist high swamp grass, clouds of mosquitos assault them. Oeyi stops when they come to a vine-covered mound. He lifts the curtain of ivy aside. Alexandra follows him through a crevice into a man-made cave.
"Wait here," Oeyi says, handing her the lantern.
"Are you going to bring my father?"
Oeyi leaves without answering.
The acrid smell of animal droppings stings her nostrils; her stomach roils. When a high-pitched whine emanates from a narrow opening. She shivers. Ghosts? Angry spirits? Wild animals? She picks up her lantern, ready to run back to the big house. But when she reaches the cave exit, she realizes she'll never be able to find the way. So, she paces around the unlit fire pit. In the flickering lantern light, she sees that the walls are shimmering. Old Marcello, Heaven's black¬smith, whose Cofitachiqui ancestors inter¬married with Papa's African relatives, has told her about the pearl-studded walls in the ancient temples of his people. She's about to move closer to get a better look when a chirping sound sends a chill up her spine. She ducks as a colony of bats swoops past her and out through the opening to feast on mosquitos.
Why had Oeyi brought her here instead of taking her to Papa's village? Just when she fears the old priest has abandoned her, she hears someone coming. "Let it be Papa," she prays.
But the footfalls are quick, not heavy and deliberate like Papa's. Alexandra flattens herself against the wall and tucks her lantern behind her. She hears heavy breathing and sees torchlight flicker near the cave entrance. Has a patroller discovered this mound? The Ahoelra hisses. Is she about to be captured and sold into slavery?
Her eyes are riveted on the entrance when Aunt Mamou strides through the opening waving a pine torch in front of her and flashing her famous smile.
"Mamou!"
"Ali!" Mamou sings as she sets the torch in a sconce in the cave wall.
When Alexandra falls into her aunt's embrace, she feels like she's eight years old again. Then she stiffens. "Where's Papa?"
Mamou draws back. "Your father's not in the village."
"But I have to talk to him."
"He's in Georgetown seeing to a problem with a rice ship¬ment. He'll be back tomorrow evening. It wouldn't be a good idea to tell him you've come here in the middle of the night. Sit with me, Alexandra."
Mamou gestures toward tree-stump stools that surround the fire pit. If her aunt intends to have one of her long talks, Alexandra will never get home on time.
"You'll be back before sunrise," Mamou assures her.
Has Mamou read her thoughts? Terrified by what her aunt will find inside her mind, Alexandra yearns to leave. But that vision of Lulu's lifeless body pops back into her head. She forces herself to sit still and allows Mamou to place her warm, fleshy palms on either side of her face.
Mamou's eyes roll up until only the whites show; her lips move, but she makes no sound. Talking to her spirits, Alexandra thinks. Mother calls it speaking with the devil's minions.
Mamou's eyes fly open. Her laugh startles Alexandra. Her aunt leans close and whispers, "I don't converse with friends of any devil."
Shaken by the accuracy of her aunt's clairvoyance, Alexandra nods. Mamou's quick smile prompts her to relax.
"I was studying your situation. There is a way you can save Lulu from the auctioneer's block. But you must do what I tell you, and you may not like it."
"How did you know I came about Lulu?"
"Seeing what's true is my gift—and yours too. When the time comes, you'll be able to summon visions at will. But, in the beginning, images will come to you in flashes."
Like the image of Lulu's lifeless body?
Alexandra has seen what she calls mind-pictures for as long as she can remember; often their predictions do come true; sometimes they serve as a warning.
https://www.dorotheabonneau.com