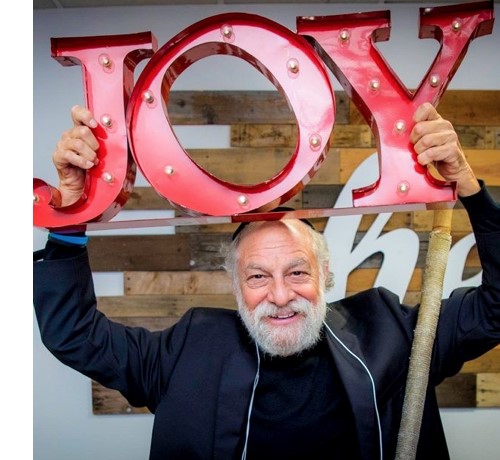 Barry Shore
FROM QUADRIPLEGIC TO SUCCESSFUL ENTREPRENEUR & "AMBASSADOR OF JOY"
One Man's Incredible Story Offers Hope & Catalyzes Change in Our Nation's Response to Stress & Mental Health Issues
-Tips to Manage Stress, Burnout, & the Emotional Aftermath of 2020-
A new year usually brings renewed optimism as people focus on making positive changes for personal and professional growth. But motivation is a tough thing to muster after the year we just experienced. Entrepreneurs are struggling to keep business afloat. Healthcare workers are burned out. Parents and teachers are trying to cope. People of all ages are feeling hunger and the hopelessness of isolation. The lasting emotional impact of this year can't be estimated.

As we begin the recovery process from this traumatic year, philanthropist and serial entrepreneur Barry Shore (known in the media as "The Ambassador of Joy") is bringing hope and timely actionable advice people can use to manage stress, combat burnout, and cope with the emotional fallout of 2020.

Shore's ridiculous accomplishments (in business, philanthropy, and his amazing health recovery) are matched only by his infectious enthusiasm and tireless effort to make a difference in the world. He spreads not only joy but also strategies to manifest it and use it for personal wellness and professional success.

A successful serial entrepreneur with TWO multi-million dollar exits and THREE issued patents, Barry was afflicted suddenly with a crippling disease that left him completely paralyzed overnight. But his decision to use this experience to better his life and the lives of others has opened a unique opportunity to find JOY in living regardless of circumstance.

HERE IS BARRY SHORE'S REMARKABLE STORY:
Before he became the "Ambassador of Joy", Barry Shore had a career marked by big ideas:
• He started an internet company in 1999, built on two patents, and sold it to a NASDAQ-listed company within 18 months for more than $10 million. Today, the acquiring company has a $4 billion market cap.
• He studied to become a gemologist and wholesale diamond dealer. Within 3 years of starting his business, bought and sold over $100 million dollars of diamonds, authored a popular book on Investing in Diamonds, and was approved for the first Diamond-Gem Limited Partnership investment in the State of California.
• He also had a career in retail and owned a flourishing fashion boutique called FRED on Newbury Street in Boston, frequented by celebrities including Cheech and Chong.

But on September 17, 2004, his life changed forever. He woke up happy and healthy and ended up in the hospital as a quadriplegic...completely paralyzed from the neck down from a rare neurological condition called Guillain-Barre Syndrome (aka French Polio). He spent two years in a hospital bed unable to move, then four years in a wheelchair with braces on both legs from hips to his ankles. He has since made remarkable progress. Today, though he still needs assistance (12 hours per day 7 days/week), he is able to live at home and can walk with the support of a 7-foot walking stick (made by a zen master!)

During the recovery process, Shore became an avid swimmer. Using floatation aids on his legs and tummy (to prevent his body from sinking) and adaptive swimming gloves (because he can't close his hands) he now swims 2 miles per day 6X/week. Over the past 12 years, Barry has swum more than 7956 miles—about the distance from NY to Mumbai India!

Barry Shore's desire to bring more JOY and love into the world would not allow him to sit on the sidelines. Shore's paralysis led him to his next business venture. He created ChangeBowl, a philanthropic foundation (which was written about in O Magazine) that enables people to safely and easily send money to their favorite nonprofit charity. The goal is to give one billion dollars to charities by making small donations effortless and meaningful.

"Choice, not chance, determines your destiny," says Shore, who after years of recovery decided to go "M.A.D" (aka to Make A Difference) and is now on a mission to transform the world through the JOY of living, every day.

Barry Shore is sharing his incredible story and has actionable advice for the public on how to manifest joy for personal and professional success, combat stress, manage mental health issues and cope with the emotional aftermath of 2020.

After the turbulence of 2020, we need more than just a "feel-good" inspirational story. We need structural support and an actual framework for climbing back to normalcy and coping with the emotional, social, and economic fallout. Barry Shore is the perfect person to show us the way.

________________________________________
TALKING POINTS (FOR INTERVIEWS & ARTICLES):
• From Quadriplegic to Successful Entrepreneur & Ambassador of Joy: Barry Shore's Incredible Story of Combatting Trauma & Manifesting Joy
• Tips to Manage Stress, Burnout, & the Emotional Aftermath of 2020
• 11 Strategies for Joyous Living
• How to Manifest JOY & Use It for Personal Wellness & Professional Success.
• The Fascinating Link Between Joy & Entrepreneurial Success: Why More Businesses Need to go "M.A.D."
• How to Catalyze Change in Our Nation's Response to Stress & Mental Health Issues
• Free Stress Test: What Color Is Your Stress?
• A Happier You in Just 6 Minutes
• Can Optimism Be Taught? This Expert Says Yes!
• How to Find Miracles Hiding in Plain Sight
• How Paralysis Led This Entrepreneur To His Next Venture

________________________________________
ABOUT BARRY SHORE (SHORT BIO):
Barry Shore (known in the media as the "Ambassador of JOY") is a Philanthropist, Serial Entrepreneur (with 2 multi-million dollar exits and 3 issued patents), Former Quadriplegic, Swimmer, Speaker, Author, and Podcaster.
In 2004 Barry became a quadriplegic overnight from a rare disease but his journey to regain mobility pushed him to go "M.A.D" (aka to Make A Difference). To that end, he created the JOY of LIVING Institute™ (a platform that teaches people to live in joy, no matter the situation); and Keep Smiling (a movement that has reached multiple celebrities and distributed millions of "Keep Smiling" cards worldwide. In addition, Shore has built several philanthropic foundations including Changebowl (which was written about in Oprah Magazine.)

Shore's nationally syndicated radio show and his podcast, The JOY of LIVING, is heard globally by hundreds of thousands and has had over TWO MILLION downloads in just 19 months. His forthcoming book "The JOY of LIVING: How to Slay Stress and Be Happy" will be released in 2021 and it reveals 11 strategies for living in joy, daily.

FOR MORE INFORMATION VISIT:
https://www.BarryShore.com