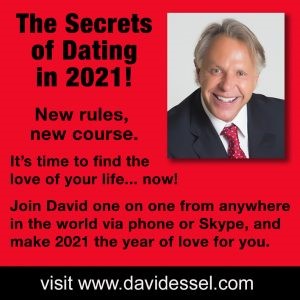 #1 BEST SELLING AUTHOR, LIFE COACH AND COUNSELOR OFFERS BRAND NEW COURSE

"THE SECRETS OF DATING IN 2021"

8 WEEK COURSE THAT WILL ALLOW YOU TO WORK ONE ON ONE WITH DAVID ESSEL!


NEW RULES, NEW COURSE.


SIGN UP TODAY
https://www.davidessel.com




It's time to find the love of your life!

Are you frustrated with the world of dating?

Are you unsure of how to find your life partner?

Have you sabotaged potentially good relationships in the past?

Are you tired of all the drama and chaos in our current world of dating?

For the past 40 years, David has been one of the leaders in the world of personal growth, and helping people to find their life partner is something that he is absolutely excited to work with you on.

David's new course will take you on an amazing journey, both inside your heart and mind, in order to help you create a game plan to attract the love of your life.

Don't worry about the pandemic, he even has answers of how to work around that during the experience of finding your life partner..

David is ready to share with you the secrets in the world of dating and relationships that he's uncovered in the past 40 years, in order to prepare yourself for the deepest love relationship that you've ever experienced:

Number one. 25 years ago he created "David Essel's 3% rule of dating", which is one of the simplest and most magical ways to help you get focused on finding the love of your life.

Number two. Attitude adjustment? So many people in the world of dating are jaded, unsure of who they are and what they're looking for. David will take you through exercises in order to turn your subconscious mind into an ally instead of a saboteur in the world of dating.

Number three. Clearing your mind from past relationships that did not work is not the easiest thing in the world to do, but in this program David will show you how to literally erase all of your past relationships that did not work, in order to prepare yourself for the new one, the one you've always waited for.

Number four. Online dating? David has some powerful secrets on how you can create a profile that is real, honest and built to attract the type of lover you're looking for.

Number five. Machete dating? This might sound funny, but it's a very powerful tool that he also created years ago in order to help you move past the early potential dates that aren't for you, while preparing yourself for the one person you've been waiting for your whole life.

Number six. Dating during the pandemic? David will set you up with a series of safety guidelines and questions to ask potential partners, to make sure you're both on the same wavelength regarding health, safety and more.

Number seven. How long should you wait before meeting someone locally that you've connected with? How long should you wait to meet someone who may not be in your geographical area, before you meet them? The answers to these questions are crucial in regards to setting you up for success in the dating world.

Number eight. What are the most important features that you're looking for in a partner emotionally? Psychologically? Physically? Belief systems? Sexuality? Most of these questions are never even thought about by individuals in the world of dating, which is why so many relationships never make it past the first few months.

Number nine. David created his "love scale", in order to help you evaluate how ready you are for a deep, long lasting and monogamous relationship.

Number 10. What is the definition of intimacy to you? David will help you explore what you're looking for in the world of intimacy, so that you can easily explain it to a potential partner. It is so important to know the answer to this question, to make sure that whoever you're potentially dating, has the same philosophy that you do.

Now is the time to redirect both your conscious and subconscious mind in order to prepare yourself for deep love.

As the author of 11 books, four of them on relationships, David has shared with the world via his radio and TV interviews that 80% of relationships are dysfunctional… And this course will teach you how to remove yourself from the arena of dysfunctional relationships, date properly, and create a pathway to deep, monogamous love.

Now is the time to take action, to find your life partner, and David will work with you one on one from anywhere in the world via phone or Skype to ensure that this happens for you.

The course is eight weeks long, you will work with him one on one for one hour per week for eight straight weeks in order to create a dynamic game plan for love.

David works with his clients from all over the world via phone or Skype on a daily basis.

Also included in this course is his top-selling book "Love and relationship secrets… That everyone needs to know!"

The cost is only $1797, and the end result will give you the tools necessary to search, and find, the love that you've always wanted.

Here's was just a few people who have taken this course say about David's work in preparing for deep love:

"I had read all of the soulmate books, I had attended all the soulmate weekend seminars, and for years after years after years I never found my love partner.

Until I went through David's Dating course. By following his advice, and doing the written homework, I surprised myself by finding the love of my life several months after completing his course. And now we're married! It works!"
Caroline, Gainesville Florida

"I had no idea what I was doing when I was introduced to David and his dating course. I'm overweight, and had shied away from even attempting to find a partner because I didn't think that I would be attracted to anyone who would want me long-term.

The changes that happened during this course with David were so dramatic, that he actually used my story in one of his new books "50+ flavors of erotic love" to prove that regardless of your body size if you make the internal changes necessary you might be super surprised by what you find out. Yes I met an incredible guy while still overweight, who still loves me today as much as he did the first day I met him. I'm happy, that I took the time and the effort to work with David as the end result is something I've always wanted." Marianne, New York

"I was a guy that was constantly on dating sites, as a matter fact when I started working with David I was on four different dating sites, spending 4 to 5 hours every night searching, responding, hoping that somehow I would find my life partner.

David showed me within a short period of time that I was incredibly needy, outrageously codependent as I couldn't be without a date every Friday night. And he was right! After working with him, I can tell you that my attitude changed 100%, I got off of all dating sites except for one, and yes by slowing down and taking my time eight months later I was in an incredible relationship. David is a pro at what he does." Brandon, Florida

Now is the time to prepare yourself for the love of your life. Sign up below today, and then simply text the office at 941.266.7676 and one of David's teammates will get you all set for your first session. Enjoy!