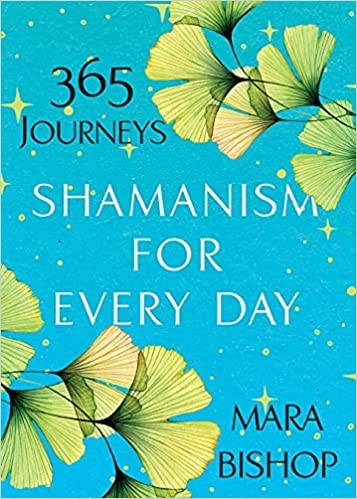 I do a lot of "spiritual" work, and it does to me sometimes. It's not the practice itself, but the idea that I have to do something. It brings out the little girl in me, who used to say, "You're not the boss of me!"

But here's the thing. I've seen tremendous benefit in my life from doing things every day that help keep me grounded, calm, and connected spiritually. Some of them are intentional (like meditation and shamanic journeying), others are more free-form and fun (like lounging around outside with my dog or watching the birds).

One of the key things is to find some joy and/or meaning in what you do with your daily practice time. Mix it up so you stay engaged: intersperse the things you know are good for you with the things that make you smile. Hopefully there is some overlap! Here are some ideas I suggest to my clients:

Be in nature. Research shows an incredible array of health benefits by just being outside. Lie on the moss, walk in the woods, or swim in the ocean.
Give and receive love. Spend a few moments focused on your heart and the calming, happy feeling you get when you pay attention to sending or accepting love. Hint: Pets are wonderful assistants for this practice.
Tap into your creativity in new ways. Make a meditation out of your baking. Garden mindfully. Dance yourself into an altered state.
Breathe. Simply take a few minutes throughout your day and pay attention to your breath.

Each of these practices can make a big difference in the tone of your day, and don't have to feel like a burden. Because I've seen such benefit in my life from a daily spiritual connection, I wanted to make it easier for others to have the same benefit without the pressure, and with some variety. So, I developed a program and a book to provide a full year of topics to seed a daily spiritual practice, keep it fresh, and make it easy to tailor it to your personality and preferences. My background is shamanism so for me it takes the form of a journey. For you it might be a meditation, or a moment of prayer or contemplation.
Shamanism for Every Day: 365 Journeys helps you connect to your innate sources of knowing, to the divine within and around you, and to your inner healer.

The topics range widely, from light to in-depth, work with seasonal and personal cycles, and stretch us to see from new perspectives. This full year of journeys helps you learn, heal, and evolve as you connect to your own sources of wisdom and restoration. More information can be found here:
https://www.wholespirit.com/books-shamanic-practice-personal-evolution/book-shamanism-for-every-day-365-journeys


We are all facing new challenges and pressures, evolving individually and collectively. Research is increasingly demonstrating that meditation helps stave off anxiety, and time in nature reduces cortisol levels and increases the body's ability to heal and reset. Whether you work with a guide one-on-one, have a self-directed practice, or simply take time each day to be present, appreciative, and aware, mindful times connected to the elements of nature within and around you can help. If I can be a resource in any way, please feel free to be in touch.

Wishing you a peaceful heart,
Mara Bishop
© 2021 Mara Bishop WholeSpirit



Bio
Mara has over 25 years of experience helping people find spiritual health and well-being. Her Personal Evolution Counseling™ blends shamanism, psychology, intuition, and energy healing. Nature is her inspiration and nature-based practices are a primary focus of her work. Mara's books include Shamanism for Every Day: 365 Journeys and Inner Divinity: Crafting Your Life With Sacred Intelligence. Mara's books and courses help others connect to their unique sources of guidance and healing. She has extensive training in shamanic healing, as well as in psychology from Columbia University Teachers College. She lives in Durham, NC with a beloved family of people, animals, and plants.


https://www.WholeSpirit.com
mara@WholeSpirit.com
Facebook : Mara Bishop WholeSpirit
Twitter: @MaraBishop
Instagram: #marabishopwholespirit