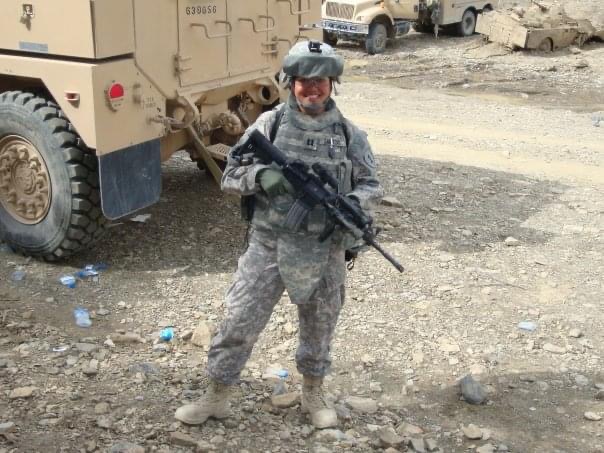 Roseline Salazar
I am a retired female prior enlisted retired Air Force officer who deployed to Camp Clark Afghanistan from December 2008-December 2009. I attended a ten- Afghanistan week training at an Army base in Kansas prior to our deployed location. Training was nothing I ever did before, so I did struggle. I met lots of other Air Force personnel and realized I would end up with some of my team members when we reach our destination. It was a long 365-day journey, lots of convoys, battlefield circulations and supply runs. While on our camp we experienced mortars and rockets that would hit too close to our bhuts and dining facility. One rocket struck an empty quarter that would be occupied the following week but thank goodness no one moved it yet. All those who you occupy those quarters would have died. We had a close group that would be my family, or so I thought.
About a month into my deployment, we lost two young soldiers where just about to head home since their time was up. I got to know the new guys who I realize will be my family for the year that we're there.
We went on supply runs, battlefield circulations, and convoys to the different camps, outposts, and into downtown to meet some of the leaders. There were mostly men, women were to hide in their mud-built homes and not allowed to come out. They would wear full covered clothing till their feet and a burka to cover their face. Whenever our convoy drove through the village, we'd see some women and small children but most of the time the women would have to run back to their stands or hide because their men didn't want them to be visible. I on the other hand, drove the MRAP and 5-ton vehicles and the villagers knew I was a female because I was tiny, and I was built like a woman. During this one mail and supply run, an envelope flew off the 5-ton and to the ground. A kid took the envelop and ran into their mud house. Since I was the closest to the mud house, I was ordered to run inside and retrieve the envelope. The Afghans did not stop me, nor did they try to harm me. I just asked for the envelope which they didn't want to give it at first, they wanted something in return. I just gave them a bottle of water then I got my envelope back. Whew, that was a scary situation. Our convoy arrived back to our camp safe and sound.
Fast forward to twelve years later, the withdrawal of all Americans and evacuation of the Afghanistan people is just chaos. I can't help but feel it is a waste of time and funds on the other hand, I have a heart for those women and children. I know I will have backlash from people reading this, but this is coming from someone who's been there, done that. We drove through the worst roads to fulfil our missions, trained Afghanistan counter partners, name it, we did it. I am relieved that we're finally leaving Afghanistan, after all, it was more for their benefit. We got Osama Bin Laden, that should have been the end of it. Our president is being blamed and picking up after something that our former president's doings, making a deal with the Taliban. He had 4 years to take care of it but hey, no matter who is in the president's shoes will take the blame for the current issues.
Now for the women… I feel sad about them having no grounds, being disrespected and so on. However, I was one of those who got bullied and disrespected by my army boss, our own who I thought would protect me. I have a lot of sympathy for the innocent people especially the woman and children. I made a lot of friends with the locals, interpreters, and enjoyed the humanitarian missions that we did for them. I will forever cherish the friendship and my experience while I served there, but that is the past now.
After my deployment to Afghanistan, my life has never been the same. I am diagnosed with combat PTSD, MST along with other physical and mental issues from this deployment. It is also sad that our own betrayed me. Not only did we endure several injuries and deaths as we served our country, but it is also sad when you can trust your own people who should have had your back in the war zone.