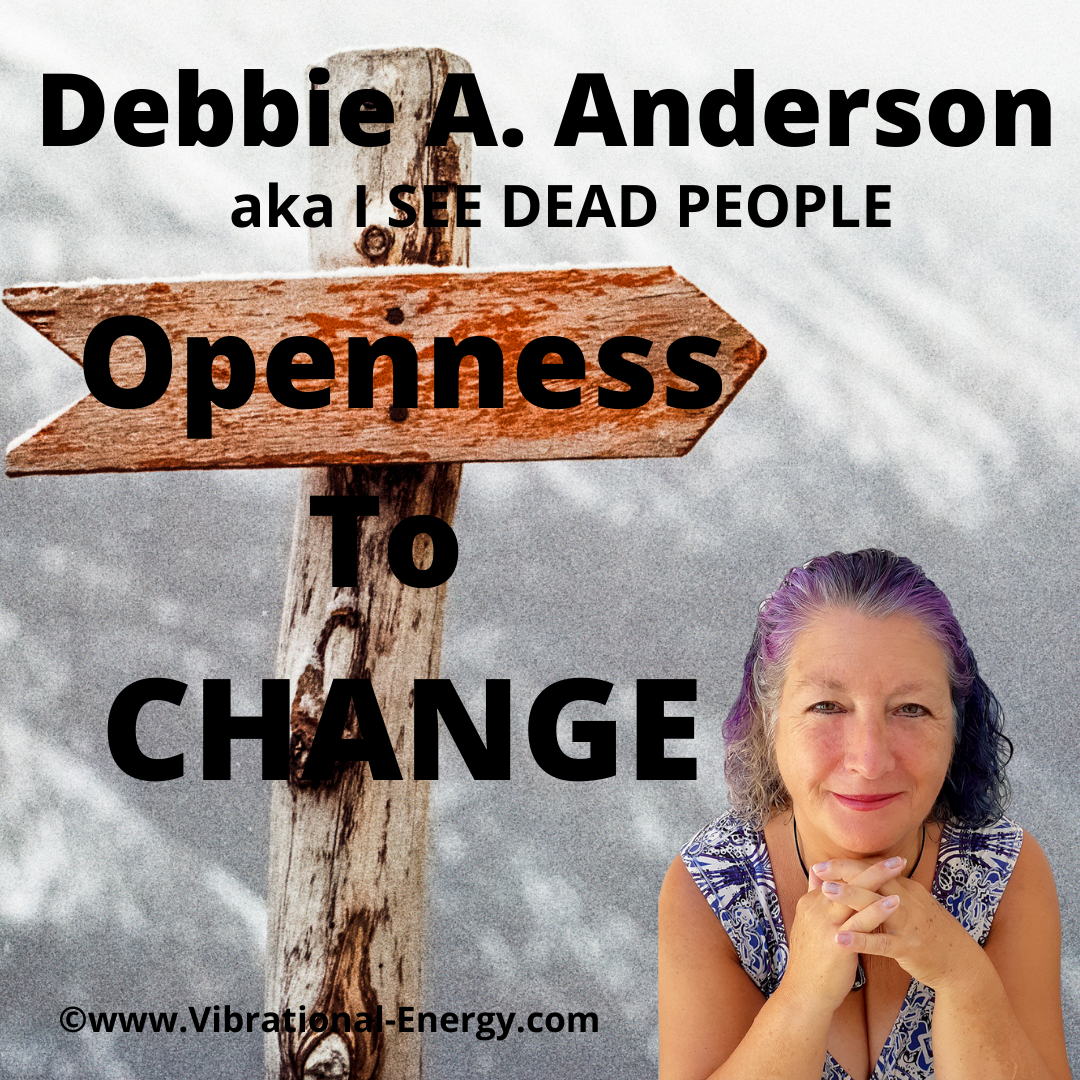 Openness to change – calibrating one vibration with another.

Each of you has your own frequency which shifts and changes as you mix and mingle with the universe.

The energy that surrounds you emits this, hence you can feel tension, stress, anger, happiness and joy when you get close to another being. Usually, without a word being spoken.

Some can audibly hear a "hum" or "ringing" surrounding them. Even silence has a sound, some would sense it as a pressure like feeling on the ears.

Whereas others may sense a vibration from the earth when they stand barefoot on soil or grass. A tingling rush that moves through the body recalibrating it, balancing it.

Water too has an incredible healing effect vibration. When you hear a gentle fountain tumbling over rocks, it can activate a calmness within you. The influence pulsates through to your soul creating an inner peace and tranquil vibration.

The sound of thunder, in its forceful and demanding attention way, can create a very cathartic feel to the body. As the rain falls, it cleanses and washes away – clearing, cleaning everything in its path.

Music, being the most popular vibrational sound energy, can affect you in so many ways. How it resonates with you is based upon the cellular memory attached to the sound. Some creating sadness or the eruption of an event that caused you pain or sorrow, but in many cases the vibrational sound attached to music is that of happiness, joy, harmony and inner peace.

It can change the way you feel or react to a situation. Somewhat like a trigger that you can react to or it is the way you respond.

We sing lullaby's to babies as we cradle and rock them in a calming way, easing the vibrational energy, thus generating a safe feeling so they will drop off in a gentle sleep state. The same could be said of the soporific rocking and humming that is created by a moving vehicle.

Even something as simple as your breathing can induce a calming, sleep induced energy, hence the use of it in meditation and yoga. Centralizing a balancing energy focused on the breath.

In reality, your world exists based on vibration, so you need to be open to hear, feel and sense and experience what is around you always!

To create your own vibrational sound, just stand quietly, arms by your sides, and breathe deeply taking your inhaled breath deep into your diaphragm or stomach area.

Each time you take in the breathe, hold it for the count of three, then as you release it, allow whatever sound is pulled up with the breath into the atmosphere. It can be one note or a sequence of sounds. Whatever you hear or feel you should do is YOUR vibrational sound. So let it out. Don't stop. Allow it the freedom of dancing with the universe.

Even the earth emits its own vibration, therefore it is not hard to accept and acknowledge that everything that exists on the planet would do so too.

A piece of paper, a screw, the chair you sit upon!

You have already learned that rocks and crystals discharge vibrational energy – this is already known because many healers and therapists use them to heal or help others.

Dowsing is another tool where the object being used can vibrate and calibrate to an energy giving the user or practitioner answers or direction based on how it moves.

Aura photography shows you the energy or aura surrounding an individual being and how it can change or alter dependent upon many aspects of that person. How they feel, what is happening to them... so many factors can change the vibration.

You are of vibration and it is of you. So learn to use it more and the more it will bring you harmony and gratitude.

This is when your openness to transformation can create amazing vibrational shifts within your soul essence.

Vibrational Blessings Debbie A. Anderson
Bio: I SEE DEAD PEOPLE. Yes, that is how Debbie A. Anderson introduces herself. From a young age she had the ability to connect & see spirit. For over 35 years she has united people with loved ones who have crossed over to say "Hi", get closure or maybe find that missing will. She raises the vibration & shares the positive using the oracle & affirmation decks she has published, teaching others how to shift their energy to tap into the "self" in a focused & balanced way. Sign up for her newsletter & receive I AM Mantra meditation FREE.
https://www.Vibrational-Energy.com
https://www.indie-goes.com/vibrational-energy-oracle-cards-mobile-app-iphone-ipad-android/
https://www.indie-goes.com/vibrational-earth-children-oracle-cards-mobile-app-for-iphone-ipad-and-android-amazon/