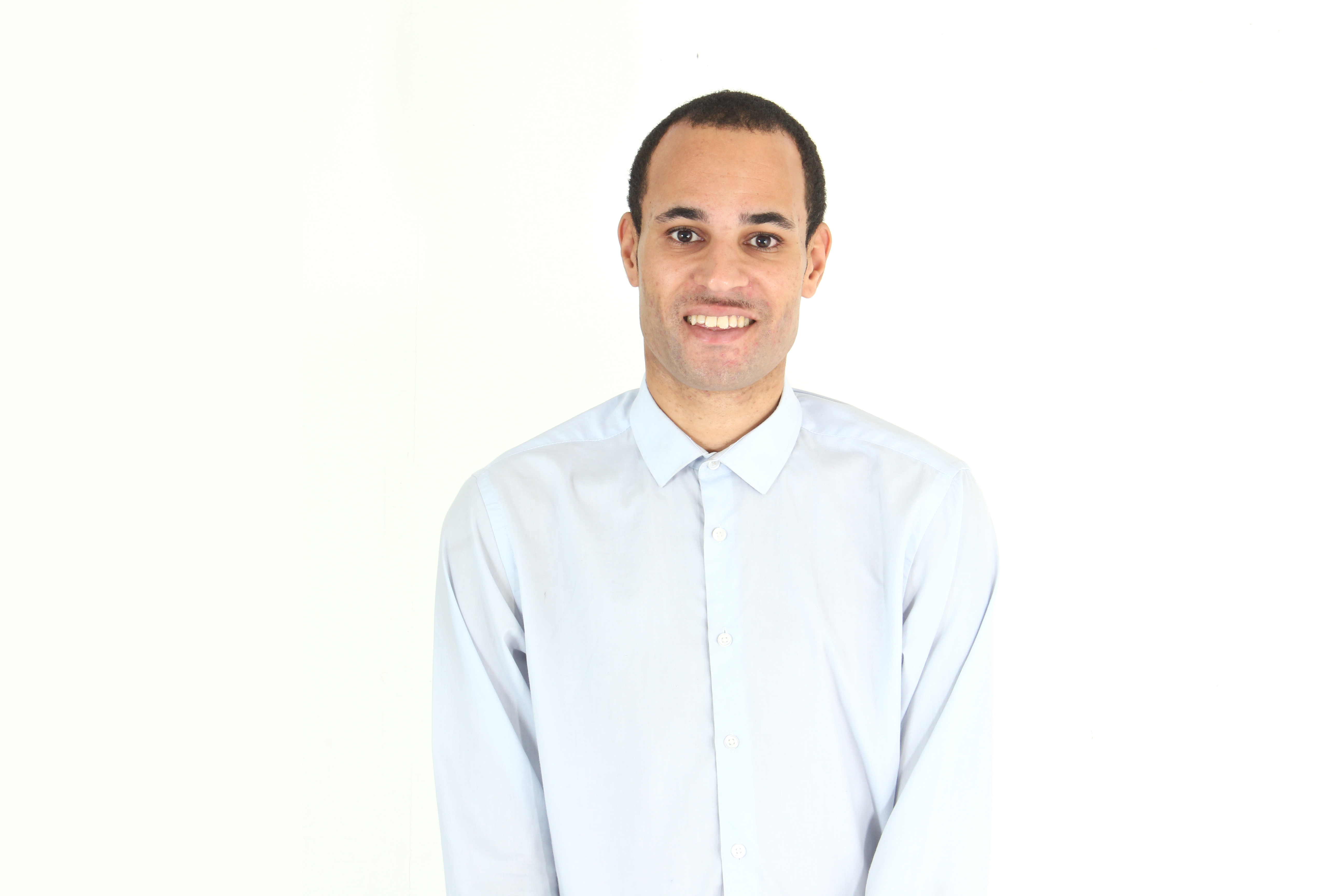 Lee Dixon
Ever wondered how to play golf but were put off by all those pesky rules and different golf clubs?

Luckily for you, we here at The Golf Connector have attempted to make your life easy.

We've created a guide of the best 6 tips that we believe will help get you started with the beautiful game of Golf.
Feel free to get a notepad and take some notes while we walk you through these quick 5 steps.
If you're unsure of what club you need, or what to start learning first, stick around as we've got you covered to help get you started.
#1 – Master The Fundamentals
Here is what a great pre-shot routine looks like. By nailing the basics, you are giving yourself a higher chance of success when you go to strike the ball.
There are key fundamentals for any golfer to learn before they even hit a ball.
One of the ways to spot a good golfer is by observing their posture, grip and stance before they swing for the ball.
This can be known as a pre-shot routine.
You will see a lot of the best golfers in the world either have a structured pre-shot routine or possibly even a very timed one, e.g. golfers with a timed pre-shot routine may do different things during their setup, however the timing of this set up always remains the same.
First, start working on your grip, posture and stance. The great thing with these 3 fundamentals is you can practice these anywhere and they will help develop your swing later on.

#2 – Focus On Learning How To Master Your Grip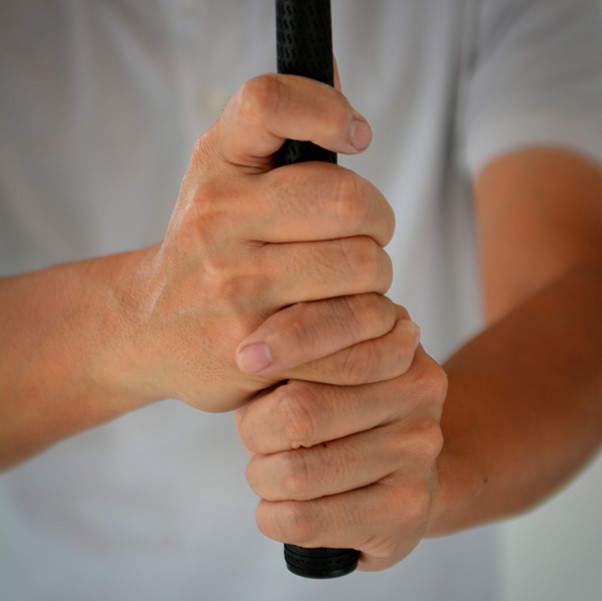 Interlocking Grip

There are many different ways to hold a Golf club.
Ultimately, you want to find the way that's most comfortable to you.

The different ways how to hold a Golf club are as follows:

Neutral Grip
Strong Grip
Weak Grip
Interlocking Grip
Vardon Grip
Baseball Grip

There are several reasons why for us at The Golf Connector the grip is the most important thing to learn when starting out.
This is because your grip is actually the ONLY contact that your body has with the Golf club.

Besides that, your grip furthermore controls all the angles around your body.
And finally, mastering your grip doesn't end there.
You should nail your grip because it controls the club face also.

And finally, mastering your grip doesn't end there.
You should nail your grip because it controls the club face also.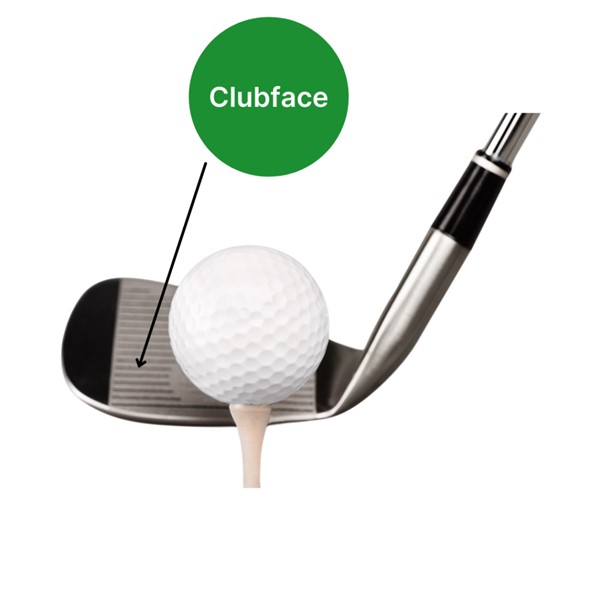 Clubface

The grip influences how you deliver the Golf club back to the ball. If not done right, your shot can end up wayward either going too far left or too far to the right.
This can usually be down to poor alignment of the hands.
After you have taken your stance, check to see if either one or both of your hands are far too much to the right.

Editor Tip: Take advantage of Golf clubs made for beginners. Your definitely much better off going with a Hybrid than possibly lets say a 3-, 4- Iron for example

#3 – Basic Shots You Should Know
Next you will find below some of the most basic shots you can begin practicing right away.

Approach Shot

An approach shot is intended to help land the ball on the green

Chip

A chip is typically a short-ish kind of shot that is usually played in and around the green.
With this type of shot you will be looking to get the ball to travel via the air over a very short distance to hopefully roll on the green into the hole.
Editor Note: Knowing when to chip and pitch is crucial as a beginner.

Fade

A fade is very common to see with skilled golfers as it is done intentionally.
Right-handers particularly use this to make the golf ball curve slightly to the right. If not done right then this can look like a slice shot similarly.

Putt

A shot played with a putter, usually on the green.

Short Game

These can be a variety of shots that happen on or near the green. Some short game shots include chipping, putting, pitching etc. These types of shots can be considered the short game.

#4 – Etiquette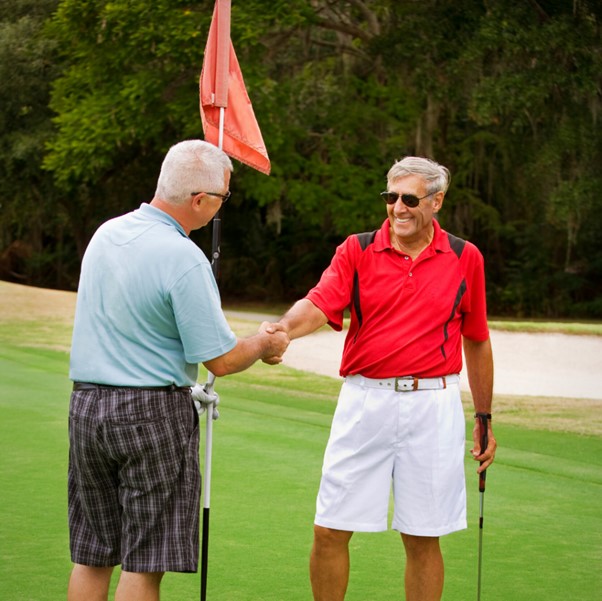 A pair of golfers displaying golf etiquette by shaking hands on the final green.
Hooray! So you are now hopefully getting used to nailing the basics.
But with these 5 tips below, we want you to feel at ease on your first outing:

Leave Your Golf Bags Outside

This is common practice in most places, make sure to leave your bag outside.

Respect your playing partners time

If possible, always show up 10-20 minutes early. This way you can quickly pay and get set up.

Take Care Of The Course

This goes without saying, yet it's common practice to see golfers forget to fix their divots and ball marks before leaving.

Prepare before your shot

Before it's your turn to hit the ball, make sure you have a few swings to get ready for your turn.
The best way to wind up a golfer is not necessarily how well you perform on the range but rather how fast your game is.

Don't stand on other people's putting lines

Try not to stand on other golfers lines, this is a piece of grass usually between the hole and the ball.

Always offer a handshake after a game

Always be kind in defeat. Shake hands with everyone.

#5 – Have fun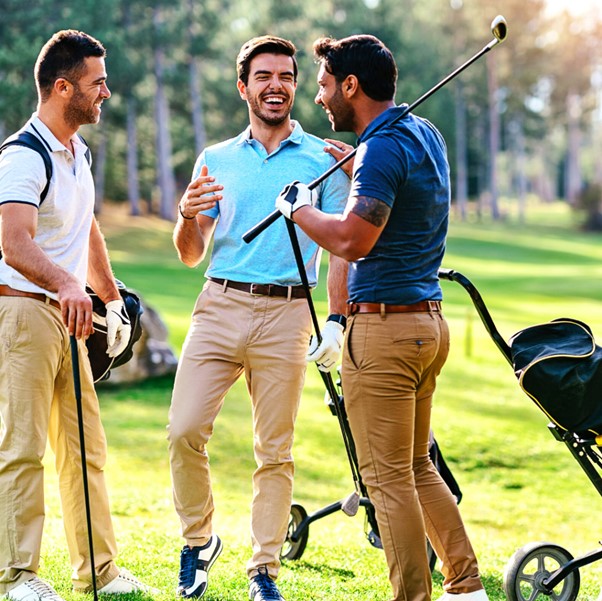 A group of friends chatting & sharing a laugh on the Golf course

Last but not least, we couldn't help but not put this tip in the list.

Keep this in mind when you're winning all your placed bets or ever on the side of blowing it on the last shot.
No matter how the game ends, make sure to have fun and enjoy the experience.
Bio - Lee Dixon is an avid golf fanatic and content writer at :
https://thegolfconnector.com
On a typical workday, he'll be found researching all the latest golf news and releases.
He enjoys being able to share his knowledge and passion for golf through his writing and content that is pleasant to read and easy to digest.
In his free time, you'll undoubtedly find him on the green enjoying a round of golf whilst sharing his knowledge with his playing buddies.