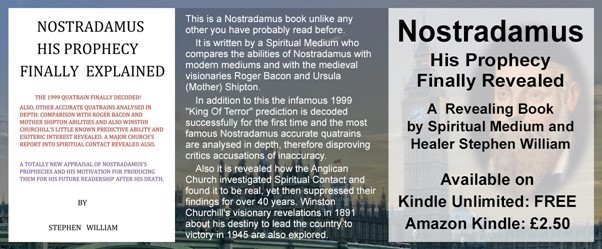 The Woman of Endor , Maligned and Misunderstood Mystic ?
By Stephen William. He is an UK based Spiritual Medium and Author of:
"Nostradamus His Prophecy Finally Explained."
Available on Amazon Kindle now.
When is a witch not a witch? Perhaps when she is The Woman of Endor! Commonly referred to as the Witch of Endor.

This short story in the Old Testament (Samuel 1. 28) has been magnified throughout the ages , as a warning against breaking the Law of Moses and not using the official religious authorities of the time opinions on spiritual exploration.

As you may be aware, it appears to show attitudes towards prophecy and direct spiritual communication in the Old Testament. The story of the Woman of Endor in the Book of Samuel is remarkably interesting to anyone of a mystical lifestyle . King Saul of Israel had apparently displeased God by various aspects of his behaviour, such as killing priests and planning to kill his talented warrior leader David out of jealousy. His old mentor and advisor Samuel was now dead and Saul's kingdom was now threatened by a foreign invasion. In these desperate circumstances he sought supernatural insight via his own retinue of prophets. I think it should be noted that the first anointed King of Israel employed people whose job was to predict the future by supernatural means . Unfortunately ,they could not provide him with any satisfactory answers to the predicament he faced. .

Saul had been told of the Woman of Endor, a spiritual medium (banned by the Israelite state for a contacting departed spirits) and decides to consult her on the day prior to a planned battle against the invading Philistines. He travels to see her in disguise with two trusted companions. His plan apparently was to have her contact the spirit of Samuel or perhaps some other spirit to gain advice and to re-establish contact again with God.

When he arrives at the Endor woman's house, she as he planned does not recognize him. She successfully contacts the spirit of Samuel who is displeased at being disturbed . Samuel also gives Saul the unwelcome news that he is still alienated from God and he and his sons will die in battle with the Philistines the next day. This is information, of course, causes great alarm to both Saul and the Woman of Endor.

Saul is obviously greatly distressed about the impending death of himself and his sons. Also, the fact that God is still displeased with him. The Woman of Endor is also greatly frightened by the realization that the person she has with her is King Saul who has previously exiled and supposedly killed mediums such as herself!

Despite his distress Saul promises that no harm will befall the woman for her service to him. She in return out of pity for him, begged him not to return too quickly to his army and insisted he rest and she prepared a meal for him and his companions. Samuel's prophecy as reported in the Bible came true and Saul and his sons did die in battle the next day. Samuel had already anointed David as Saul's successor not Saul's own son. This appears to enhance his own considerable reputation as a prophet.

What are we to make of this curious story of prophecy and mysticism from the Bible? Firstly, keen students of the Bible will notice that I refer to the medium as the Woman of Endor. She is more commonly known as the Witch of Endor in popular culture. This name mainly has arisen from the use of it in the King James Bible . She is referred to as the Woman of Endor in the New English Bible and other versions of the Bible. Why the difference in her identity ?

According to my research, when the compilers of the New English Bible in the 1960s were updating the Bible into modern English, they went back to earlier versions and translations of Bible . She did not appear to be described as a witch in these. Words more akin to "medium" were used when they went back to earlier translations of Bible . Although one early Greek version uses a term meaning ventriloquist ! The inference being the supposed "medium" was speaking without moving their lips in the pretence that a " spirit " is speaking. There is even a term for this practice, called gastromancy. From my point of view, this probably is the ancient translator(s)'s own judgement of how a "trick" was performed by a conjuror/entertainer of their own time, rather than an actual true translation of the scripture before them. Saul would have known Samuels's voice and way of speaking , therefore would have been alerted to trickery if the "medium" or the "spirit" conveyed the message in a radically unusual way. Remember also, The Woman of Endor did not originally know that it was Saul she was talking to .

Witches both male and female at the time of the creation of the King James Version Bible, were generally held to be spellcasters ,not mediums of the passed spirits. They did make predictions and prophecies , but generally these were believed to a result of their supposed spells , not contact with passed friends and relatives.

So why did the King James Version Bible describe her as a witch? In the actual verse in the KJV Bible, King Saul is quoted as saying "Seek me a woman that has a familiar spirit ". However, in New English Bible , King Saul is quoted as saying " Find me a woman who is a medium." The rest of the narrative in the respective versions follows their respective terminology. In Britain in the early 1600s when the KJV Bible was compiled, witches were always supposed to have "familiars" to do their "evil" work. Normally in animal form such as a cat or a toad etc. Shakespeare's play "Macbeth" which was written in the exact same period , had the famous three witches who predicted Macbeth's future, in which one of them is" summoned" by her familiar" Grimalkin" which was an Old English term for an old gray cat. Therefore, the people of the time would automatically assume that anybody with a familiar spirit was a witch.
The use of such terminology may have come about because of the personality of King James I himself, who commissioned this version of the Bible. James I of England was a man of many interests, inconsistencies and paradoxes. He was Scottish born and King of Scotland first , but as the opportunity to become King of both Kingdoms became available ,he immediately moved all his court to the much larger and wealthier Kingdom of England and resided for most of the rest of his life there.

His opportunity to be King of England came about, because the childless and unmarried Elizabeth I died, and no Protestant heir was available to become King of the recently converted Protestant Kingdom of England. However, James was the son of the devout Roman Catholic, Mary Queen of Scots, an enemy of the Protestant Elizabeth I . In fact, it was Elizabeth I who had Mary executed!

Because of his birth to Mary, he was baptized a Roman Catholic , but later in the by then, mainly Presbyterian Scotland , he became a Presbyterian. However, when he moved to England he was said to have "leaned towards" Escopalian style Anglicanism ,the Church of England religion of many of his new subjects.

He was known for his great learning and intellect , however his judgement in great matters of State was so suspect , that he was dubbed "the wisest fool in Christendom" a title that a history teacher in my schooldays liked to impart to his pupils with relish! He was known to be greatly religious and tried to be a peaceful monarch with his mainly Roman Catholic neighbouring nations, despite being a committed Protestant . He was also interested in the arts and was the author of some books. Despite this apparently mild and cultured nature, he personally attended the torture of alleged "witches" and had them executed. He even imagined an apparent attempt on his life by witches on a rough and stormy voyage returning from his wife's homeland of Denmark. He believed they were trying to sink his ship by witchcraft!

Denmark was going through a spate of "Witch Hunts" , so coupled with his own religious views and fears, it appears he decided that he would have his own Witch Hunt to find the witches responsible. It ended up with the notorious "North Berwick Witch Trials" where nearly a hundred alleged witches were executed after confessions extracted by torture including Agnes Sampson an elderly respected healer (what is evil about healing people ?) and Doctor John Cunningham a middle- aged and respected teacher . Both only confessed after extensive torture, which points to the probability the allegations were not true. Generally, people only confessed to stop the prolonged torture and pain , not because they were guilty.

Therefore ,when King James became King of England and sponsored the creation of an English language Bible for the Church of England , he also gave directions on the style it should be written in. Thus, any of the people working on the Old Testament , knowing of the King's views on "witches," would probably have decided that "woman with a familiar spirit" was the best translation of the word "medium" in whatever language or previous version of the Bible they were working on.

James I although outwardly pious in his stated beliefs , like many human beings had parallel standards when it came to his own personal behaviour. Despite being a married man and producing several children by his wife , he also had a long- term lover Anne Murray , who he first started a relationship whilst his wife was carrying his first child. In addition to this double standard , despite describing sodomy, as male same-sex activity was then described, as a "horrible crime never to forgive" and instructing Lord Burleigh to instruct judges not to pardon anyone found guilty of the crime, many historians believe that James was bisexual. He apparently had affairs with several men including the Duke of Lennox ,the Earl of Somerset and the Duke of Buckingham. The Old Testament condemnations of adultery and same-sex attraction were apparently not meant to app[y to him. Given his fondness for mass executions, he also did not seem to be overly bothered about the Commandment of "Thou shalt not kill" either.

In our modern times, most Churches tend to have a more tolerant view on homosexuality and the Anglican Church as other churches, has several ordained ministers who are openly gay. As mentioned before, attitudes to Biblical teachings tend to change from era to era , even amongst the most devout followers. Perhaps direct spiritual contact will be viewed with more understanding in the future?

I do not intend to "demonize" King James. Compared to most other European rulers in the 1600s he was no more cruel and sexually promiscuous than many of them. He could be also argued to be slightly more sensitive in some ways, such as producing a Bible for his subjects in their native tongue , rather than Latin, which had been the practice for many centuries previously. Although it was not the first English language Bible, it certainly was the most professionally produced and politically approved one . It is probably the reason it remains in common use today throughout the English-speaking world. Nevertheless, the description of the Woman of Endor in the Bible he endorsed and approved in its text, has "demonized" her in the minds of its readers throughout the centuries.

The Woman of Endor is far from being a cruel satanic sorcerer as she is sometimes portrayed in art and poetry describing this story. She in fact appears to be quite a sympathetic person .When she sees Saul's distress at the terrible prophecy he is given, she as mentioned before, comforts and also begs him and his companions to rest and eat before returning to his troops. She even kills a fatted calf for their meal. An expansive and generous gesture in Biblical times, as the Parable of the Prodigal Son in the New Testament demonstrates.

Compare that behaviour, with the lifestyle of Jacob the father of Joseph.
According to the Bible , he deceived his elderly and then blind father Isaac to give him his blessing over his elder brother Esau . Not much brotherly love displayed there. Earlier in his life he blackmailed his very hungry brother Esau to give up his inheritance in return for a meal. He also was married to two wives at the same time Leah and Rachel. However, he openly preferred Rachel and her two sons. This led to the jealousy that Leah's sons developed towards Joseph, one of Rachel's sons. In the Bible, he had married Leah first , but at the age of seventy-seven he married Rachel who is described in the Bible as a young maiden. In addition to this, he had some sons by two servant women, Bilhah and Zilpah. He later cheated his Uncle Laban out of some of his sheep ,apparently by a "magic" trick, but later claimed to his wives it was God's Will.

In modern conventional religious congregations such a man and his behaviour would probably be viewed very unfavourably to say the least ! Yet, he is revered as one of the Hebrew Patriarchs . He was not only the father of Joseph, but also by his own account recipient of several direct messages and visitations from God. In his defence he preceded both Moses and Jesus , so he did not have the benefit of their teaching and instructions on behaviour towards his fellow human beings. However, his behaviour does appear to be very selfish and materialistic to our modern view of a spiritual person. Certainly, religious views seem to be flexible over the ages on some matters.


In contrast with the Woman of Endor , who apart from showing compassion to a man who she had just met and had the power to execute her , also apparently used her abilities to help people. Jacob does not seem to extend many fellow feelings towards his wives and close relatives. He also appears to mainly use his spiritual and physical gifts to enhance his own position.

Jacob of course lived in a very much unsophisticated and unstructured time in the Bronze Age Middle East, therefore self- survival was a more pressing concern than in our modern times. However, he does appear very selfish.

Religious traditionalists of course will argue that the character of Jacob is not important, as he was God's choice . They may argue God had a long- term plan which overrode Jacob's possible character defects. Jacob's arguably selfish actions set in motion a set of events which led to Joseph's unpopularity with his brothers and his forced removal to Egypt and therefore to the presence of the Children of Israel in Egypt. However, the Divine choice of a scheming ,sexually promiscuous person in Jacob as presented by the Bible ,shows that in different earthly eras , it appears to require different qualities in people to deal with the circumstances around them. This seems to be accepted by religious people in our age ,who may well believe in different behavioural standards are required in our current times. Consequently, this apparent flexibility does cause scepticism in people who are not conventionally religious.

Several other mistranslations from that period were picked up by the modern translators, including unicorns(!) which are now described in the New English Bible as wild oxen, due to the context these animals were described in . Also, moles are now described as dung beetles, as the description of them, more fits their activities. Therefore, I believe the description of The Woman of Endor as a witch is a misdescription also .

Apart from the fact that the Woman lived in an Israelite city called Endor we are not supplied with many facts about her in the Bible . We do not know her age, social status(single, married , divorced, widowed, rich, poor etc.) or even her race or nationality . Was she an Israelite or of one of the other Canaanite tribes that neighbored the Israelite kingdom? If she belonged to another tribe it could explain her behavior being contrary to accepted Israelite ethics.

Despite the brief description, there are clues to who she possibly was which are not often presented for popular consumption. As she was living in Endor and it was easily accessible to Saul and his companions it is reasonable to speculate that she was a fellow Israelite. Her provision of a fatted calf meal for her distinguished visitors appears to be a practice which continued into the New Testament in the parable of the Prodigal Son , which I have already mentioned. Therefore ,it is also reasonable to assume she was almost certainly a co-religionist and of the similar beliefs of King Saul himself.

Her instant recognition of the spirit of Samuel and realization of who her visitor was, shows she was probably an integrated part of the normal Israelite community. Some critics of her ,both religious and non-religious who assume that the appearance of Samuel which startled her, proves that she was fraud who had never actually made spiritual contact before. They obviously have never visited a modern medium and therefore are unaware that visual appearances by the spirit to the person consulting the medium are virtually unknown . It therefore is understandable that such an event would startle her as well.

What I find intriguing though, is that she lived in society which prized prediction and prophecy, hence the famous and elevated status of Samuel and Saul's dependence on him, whilst he was alive. She obviously had talent for this herself, whether it was born talent or developed through influence of another mystical person, but this was suppressed by the threat of a death sentence. Why was that? In the Book of Leviticus, which is claimed to be authored by Moses himself, it is said that the God dislikes people contacting the dead. However, it does not feature in the Ten Commandments. Therefore, is this Moses 's personal opinion it has been reasonably speculated or an actual instruction from on High ? Much of the rest of Leviticus is ignored in the modern world such as the dietary rules , the charging of interest on loans , wearing certain fabrics etc. Consequently, to many modern people the ban on seeking confirmation of an afterlife and the advantage of seeking guidance on future occurrences in their life, seems outmoded as well.


Perhaps there are two reasons why the Woman of Endor was not described as prophet. Firstly, the governing establishment of Israel at the time ,liked prophets to be firmly under the control of the ruling hierarchy of Israel. Independent mystics would possibly provide an alternative opinion to official dogma. We in modern times would however this class this as Freedom of Expression. Israel just a few generations after the time of Saul split into the two kingdoms of Israel and Judah. Both still had separate prophets after the split , so this illustrates different interpretations of spiritual direction are permissible within the Bible.

However , there may have been a gender discrimination as well. Out of all the Old Testament prophets only five women are identified as prophets. Mystical people in modern times are in the majority, women , throughout the world.. All ancient societies as well as the Hebrew ones were male dominated, so this is probably also the reason for the disapproval of this ability.

Her portrayal as a witch conjures up an image as a spellcaster as well as a medium. However ,there is no mention of "familiar spirits" in earlier versions of the Bible, preceding the King James Version. It also implies that she was some form of outcast hag eking out an existence on the margins of society. Nonetheless, she was recommended to King Saul as an accurate seer and he easily found her. Whoever proposed her as a potential provider of prophecy to him ,stood to suffer great danger if she turned out to be an obvious fraud or grossly inaccurate. Kings in the ancient world , Hebrew or not, usually executed people who displeased or made a fool of them! Perhaps ,although mediumship and the mystics who practiced it were officially banned by penalty of death or exile, were discreetly tolerated? As a "back- up" to the official retinue of official prophets controlled by royalty and the priesthood, if they failed to produce accurate prophecies that were required ?

She as a person comes across as a well- meaning humane person with a mystic talent that she was not ashamed of, which assisted her fellow human beings . When you discount the largely post Biblical times created antipathy towards her, the prophecy she provided turned out to be correct and proved the afterlife existed. What is not to like ? I am sure many modern people of a Mystical Lifestyle can identify with her.
©Stephen William International Copyright.

If you wish to read my book ,which is available at only US $ 3.45 on Amazon Kindle or FREE TO READ if you are a Kindle Unlimited member. please follow this link.
https://www.amazon.co.uk/dp/B098LS5PM7/ref=cm_sw_em_r_mt_dp_MBDF06G549ZKJ6XFKMCJ