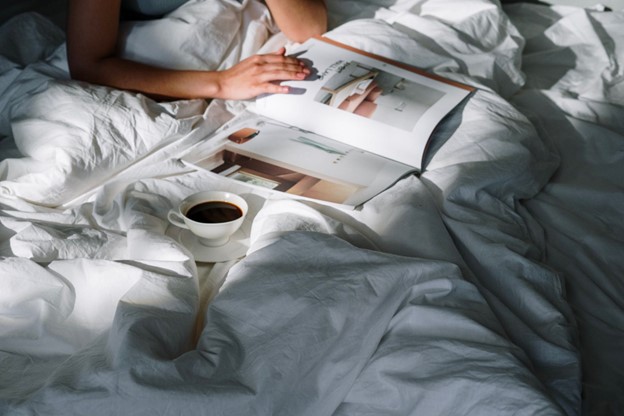 Tips for Keeping Anxiety at Bay

Many people experience increased levels of anxiety at one point or another. There are some methods that can help in overcoming that anxiety and minimizing or preventing panic attacks. Presented by
Mystic Living Today
, here are a few tips to help you in your quest to subdue your nervous tendencies.

Take Pauses
Everyone needs breaks. Many times in today's society, it is difficult to take time for restoring and relaxing, but this is often just what is needed. Working for long periods of time is known to lead to stress and exhaustion.
Research shows
that taking breaks can lead to more creative discoveries.

These adult time-outs do not need to be strictly restful. One way to take a break from your workday is to get up and take a short walk. Another idea is turning away from your computer screen and listening to music that you enjoy. Even simply curling up with a good book and a weighted blanket will do the trick. Any activity that brings you joy or calm can help you be more productive when you get back to the grind.

Spend Time Outdoors
Studies show
that spending time outdoors leads to a better sense of mental well-being. Experts recommend spending
120 minutes outside
each week (this amounts to roughly 17 minutes daily). Even in less than ideal weather, it is possible to get yourself out of the house for a short period of time. Some fun activities could include taking walks with a pet, enjoying a cup of coffee on your patio, or spending time working in your garden.

Make Time for Healthy Activities
You may be a very busy person, which could be contributing to your heightened anxiety level. Though it can seem counterintuitive, you should do your best to carve out time for both physical and mental exercise. Physical activity is known to
reduce stress
and anxiety levels. If you have not been a workout aficionado in the past, you can get your feet wet slowly by trying at-home yoga or low-impact exercise videos. If you consider yourself pretty physically fit already, try finding a bit of time daily to squeeze in the activity of your choice.

Mental exercise
is also important for reducing anxiety. Quieting your mind can be accomplished by practicing meditation, praying, or mindfulness training. It may prove difficult at first, but it will be well worth it to reap the reward when you feel your mental health improving.

Create a Healthier Environment
Cluttered homes often lead to cluttered minds, so consider freshening your abode to relieve some of your stress. If your family is contributing to your anxiety by arguing or complaining, try injecting positivity into the environment by cleaning, letting in fresh air, and decluttering. Add some colorful flowers around your home, especially in your office (if you're a remote worker). Flowers have been shown to
boost serotonin levels
, which can make you feel joy and happiness, as well as keep your stress under control.

Reconfigure Your Career
If you experience anxiety, depression, or irritability related to your job, then you may want to think about finding a new one. This could mean moving from one company to another or embarking on a total career change. So, figure out what you like to do and pursue it. For example, have you always thought about quitting your job and becoming a clinical coder? If so, there are many
online medical coding courses
available to you that allow you to complete your training at your own pace. The best part: you can complete the training without having to purchase any manuals or textbooks. Of course, it doesn't matter what you want to do — discover what makes you happy and pursue it. Your professional life may become a lot less stressful as a result.

Anxiety can be debilitating if not addressed through hard work and perhaps some help from professional sources. Remember to honor your own desires, freshen your surroundings, pursue training to improve your career, and take the time for activities that you enjoy in your journey toward a more healthy you.
https://mylifeboost.com

Image via
https://www.pexels.com