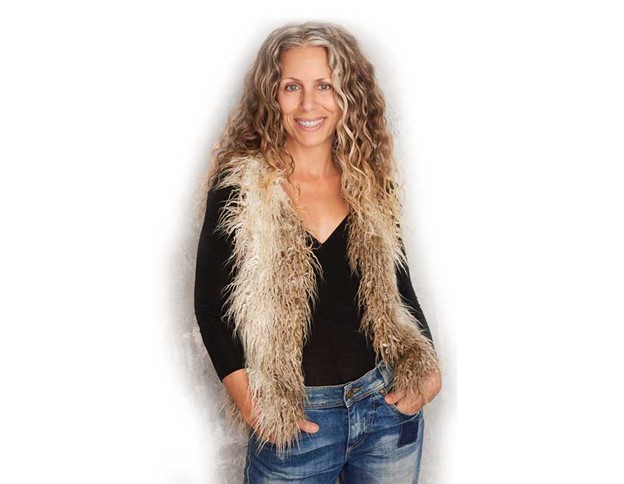 Dina Saalisi
It was in 2nd grade in Miss Bergen's class, that she told us that people—human beings are animals. My bestie and I looked at each other and giggled—the very thought of us kids being animals sent a murmur through the whole classroom.

At lunchtime all the kids pretended they were animals—some forged around like buffalo, while others pretended to swim like fish, and some flapped their wings like birds. As kids it was easy to use our imaginations to connect with the energy of the animals and feel all their habits and traits. I remember this because it was one of those magical times when we understood our synergy with the subtle essence of other forms of life, and this felt right.

An excerpt from Find Your Animal:
"It's quite simple. All life energy is connected. As humans, we perceive this connection through our intellect. With the understanding that everything is made up of molecules and atoms, we can collect and process information about our physical energy. We can also expand this awareness to include our life-force energy or "spirit," which makes up who we are on the inside, at our deepest layer of being. From this inner depth, we can connect with the subtle energy that surrounds us in nature and use it for self-empowerment.

Spiritual healers have known for centuries that energy is exchanged between all life forms, always. When we connect with animals metaphysically, we understand that life energy goes beyond physical form and exists on an invisible level. This abstract quality can also be referred to as "essence." As human animals, we can easily attune to these energies present in our relationships with other mammals, birds, insects, and amphibians. Through awareness of our own inner being, we can utilize the power, wisdom, and support available from the animals we attract. In this way, we embrace Animal energy as "medicine" for our souls."

And for Natalie, who embraces Deer as her Animal:
Deer

Gentleness, Generosity, Survival

Deer are one of the most adaptable animals on earth. Native to every continent (except Australia) their powers of survival have certainly stood the test of time. Many of the stories about Deer, reflect a hunt, which brings new adventures into the follower's life. Deer leads with gentle persuasion into new territories. Perhaps this is the perfect metaphor for the expanse of Deer throughout the world. Deer are natural wanderers—they rarely follow the same path twice, always willing to explore new ways. When we notice a sense of wanderlust, Deer energy is present. A desire for adventure and a love for the outdoors are traits that this Spirit Animal embodies. When Deer appears as a Spirit Animal, reflect on how you are moving through life. Where would you like to be going and how can you get there, swiftly and with ease?

We encounter Deer regularly in the various landscapes of fields, forests, and home gardens, as they make themselves quite visible munching on plants and flowers. When Deer energy emerges, this signifies a time when opportunities to embark on new quests that might be outside of your comfort zone, will be presented to you. Deer can act as a guide, ushering you in gently and skillfully. The fortitude and stamina this animal has is displayed in their quiet strength, which offers a delicate coaxing into new endeavors.

Deer and humans have been in close contact for as long as we know, their images depicted in ancient cave paintings and petroglyphs. There was great reverence for this benevolent being, as every part was used by Native Americans, for food, fuel, clothing and more. This partnership symbolizes the generosity of Deer, and as a Spirit Animal relates to an ability to humbly care for others.

Displaying large ears, Deer possess an acute sense of hearing. This relates to a heightened ability to tune into what others are saying and act from a place of compassion. When we are able to offer this validation, we engage Deer energy in its purest form. A keen understanding of the needs of those around us and a powerful ability to meet those needs, are gifts that originate from this acute perception.

Power:
• You have an ability to successfully take on new endeavors that are outside of your comfort zone.
• You have a penchant for travel. You may make your home in several places throughout your life.
• You possess a gift for leading others into new adventures, with gentle persuasion.
• Your acute senses guide you with empathy and deep understanding. Generosity comes naturally for you. You are known for your kindness towards others.


Protection:
• Proceed with caution in new endeavors. Check in with your intuition. How does it feel to enter into this new place? Trust your "gut."
• When things feel overwhelming, you can go inward to create safety for yourself.
• If you notice yourself feeling exhausted, take some time to do something that feels nourishing. Take a walk, read a book, write in your journal.

Wisdom:
• Get in touch with your true nature. Give yourself time to explore and honor your wild side. Are you taking life too seriously?
• Take adequate time to fulfill your own needs, every day.
• Learn how to balance time alone with time spent with others.
• There is more power in vulnerability than in force. As you take risks with those you love, you create a deeper sense of intimacy in all your relationships.
• Remember that you are your best teacher. Trust that every experience is one of learning. Be gentle with yourself.

Messages:
• Reflect on the balance of giving and receiving in your life. Are you doing too much for others? Are your needs being met?
• New adventures are on the horizon. Perhaps travel to a far-off place or a new area of study, that will enhance your life.
• When Deer appears, you can be sure that you are entering a powerful cycle of slow, steady growth. Continue to nurture projects that have been slowly evolving.
• A new opportunity could be presented to you that will be somewhat out of your comfort zone. If your senses tell you to pursue it, then do so!

To discover how to work with the spiritual medicine that each animal provides, Find Your Animal can be found everywhere books are sold.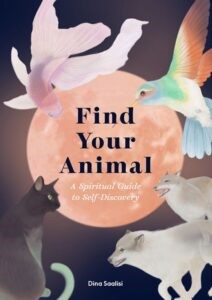 Mystic Living Today readers receive 10% off a first-time healing session with Dina use code: flowers10.

Schedule online at:
https://www.dinasaalisi.com
***Thank you Dina for mentioning my Deer its true***