Aries – Two of Pentacles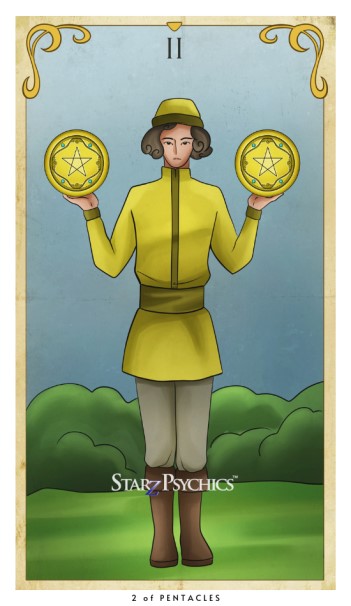 Keep your feet planted firmly on the ground this month Aries and maintain a good balance especially in your physical life. Make sure you keep those books balanced metaphorically speaking that is! You may find this month that you have to juggle many things such as work, finances, home, family, play and love and that this can leave you feeling tired, therefore try and keep focused on what is important and use your energy and time wisely.
Taurus - Seven of Pentacles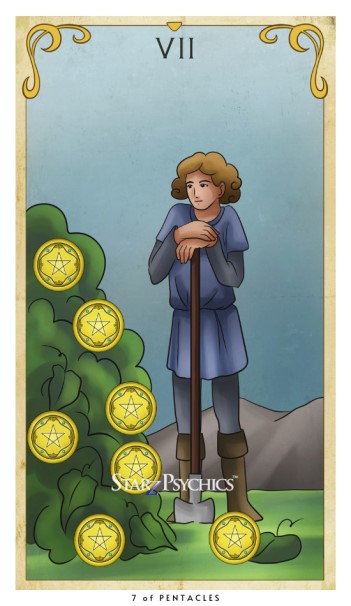 The seven for you this month Taurus is asking that you are patient and that you take your time with any important decisions. Don't feel rushed or pressured, it is important that you look at all the facts and information you can gather. Make choices based on logic, rather than on guess work or the say so of other people. You may find your choices are many right now, so be careful when you make the final call!
Gemini - Three of Cups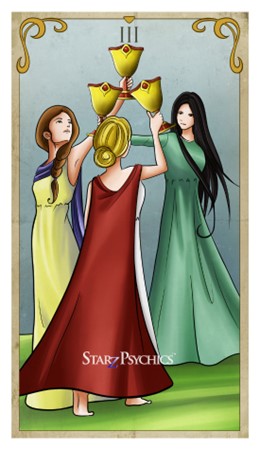 This month is about celebrating and about being with the people that you care the most for. Gather those you love around you, and spend good quality time with them. You may hear of or be invited to a gathering / party, accept the invite you will have a great time. If you do nothing else this month get in touch with someone and share laughter, it's a great way of lifting your spirits.

Virgo - Ten of Swords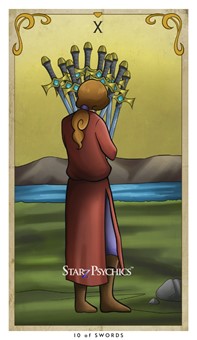 Things are looking up this month for you Virgo! What may have felt like an uphill struggle is coming to a close and things are starting to look and feel better all around. This ten implies the start of a fresh new phase, the rising of the sun and a time to embrace all the good around you. Things are going to improve, it might even feel like a new day is dawning where you are on the winning side!

Libra - Four of Swords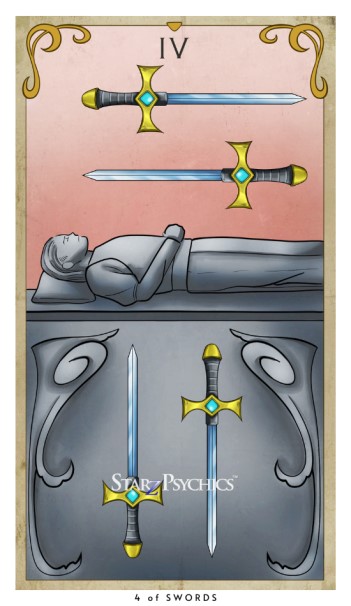 Patience is the keyword for you this month Libra, take your time and don't rush your choices and decisions. This is a quiet month, a time for you to rest and relax. Take your time to ponder life and where you are right now, it might be that you have just come through a particularly difficult phase and need this time out, so make the most of it before you jump back into the hustle and bustle of life.
Scorpio - The Fool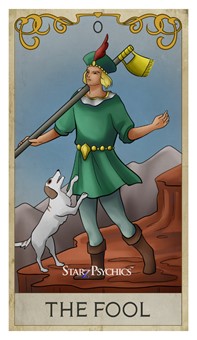 The Fool says go for it this month, take a leap of faith! Is there an exciting possibility ahead that has been drawing you in, or maybe you are feeling a bit nervous about a new venture, whatever it is the Fool is telling you to seize the day. Follow your heart, even if this means going against logical thinking, the Fool is a card that says, yes now is your time!
Sagittarius - Five of Swords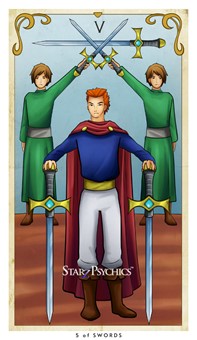 Are you currently engaged in some sort of battle or conflict, and the act of winning has become so important to you that you are prepared to do almost anything to win? If the answer is yes then you need to take a step back, and re-look at the situation, because winning has over taken what you originally fell out over. Honesty is the best policy this month so be upfront and truthful at all times.
Capricorn - Three of Wands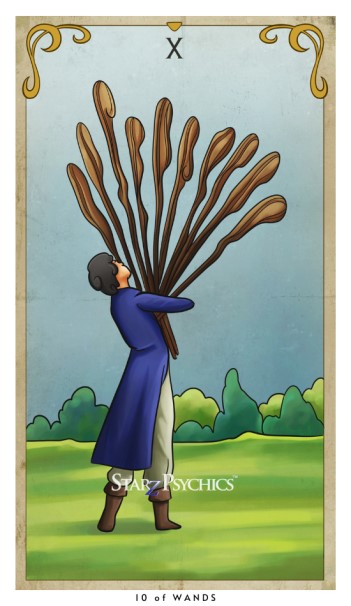 The Universe is about to offer you a new opportunity, so be ready for it, keep your eyes and ears open. It might be related to your work, education or to a venture / project you have been debating. This new opportunity will be good for you, so make sure that you don't miss it. Look to your long term future this month and set out your plans for your own success!
Aquarius - Six of Swords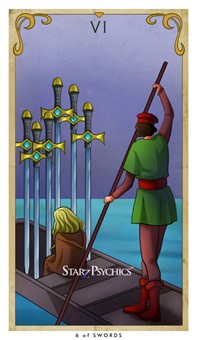 Keep your eyes focused on the road ahead of you this month and let go of whatever it is that holds you back. Let go of the past, and of any hurt associated with it. This month is about moving on and moving forward, it is about new opportunity and new ways of looking at things. Assistance this month will come in many ways and from many directions, so if you need help just ask and it will be given.

Pisces – The World
Now is your time to shine, to seize the day and show the world exactly what you are made of metaphorically speaking. Everything is coming to fruition, you are finally seeing the rewards for all your hard work. You have come full circle, you are in the right place at the right time! Take the time to reflect on your journey and on how you have dealt with all the highs and lows you've encountered and how they have brought you to where you are today and be thankful.


STARZ PSYCHICS TAROT CARDS - PDF DOWNLOAD AUDIO COURSE
INFO BELOW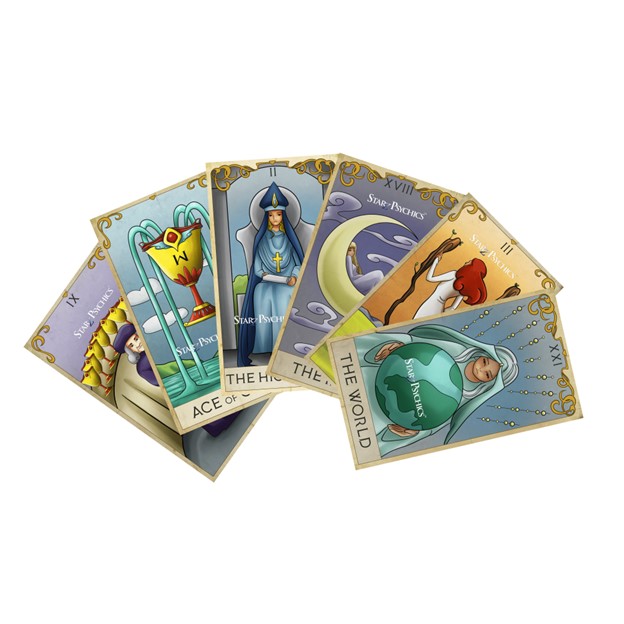 Would you love to be able to read Tarot like a PRO? You can, with our ONLINE PDF Tarot Course! The only thing you need is a willingness to learn and a desire to delve deeper into the mysterious world of the Tarot. You will also need a tarot card deck, which we have covered with our unique Starz Psychics Tarot Card Deck.


What Does this Course Include?
18 Lessons with accompanying exercises - In a five part course
Access to me Starz Amber
PDF Keyword Charts
Information and Summary Charts
Audio's to accompany lessons and exercises
IN FACT - Everything you need to take you from base camp to reading Tarot like a pro... In simple easy to follow steps!

This course is designed for Beginners to Intermediate readers.


At the end of this course you WILL:
Give Accurate Readings!
Have the knowledge to be able to make money doing what you love.
Be confident about doing a Tarot Reading!
Know-how to a detailed reading without second guessing yourself
Know-how to avoid pitfalls and mistakes
There is an accompanying audio of this course available, just to make your learning experience easier!

So join me StarzAmber, on a unique Tarot Journey. I have over 30 years' experience reading Tarot and am ready to help you. This course comes in five parts, and can be done at your own pace! I will be with you every step of the way, and can be reached through a dedicated email which I will share with you.


Click here for details:
https://starzpsychics.com/tarot-card-course.php