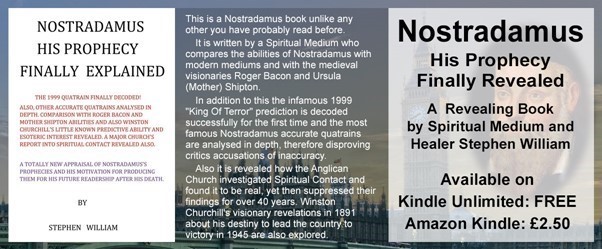 By Stephen William. He is a UK based Medium and Healer and Author of "Nostradamus His Prophecy Finally Explained."
Available on Kindle now
.
This is an obviously a difficult a question for anybody to answer. Even the most talented medium only has a contact with the departed person , not a tour of where they are. I am aware that "spiritualist" descriptions of the "afterlife" have been published , but mainly they were in the 19th and early 20th centuries ,when as we now know there were some fraudulent mediums about, only interested in making money . The published " descriptions" from that era that do not fall into this category, appear to be well meaning wishful thinking by the writer and obviously cannot be verified.

The departed themselves from my own experience , only give vague descriptions of their current state and mostly tend to mention they are happy, with no further details . Occasionally they do mention they confused about their current state but tend to go into no further in detail and only are really interested in communicating with the person they knew when they were alive. If they were deliberate impostors or evil demons as religious traditionalists have insisted for so long , they do not do a particularly good job of the temptation of the place they are supposed to be in! Most of my fellow spiritualist mediums appear to be a well- intentioned kindly people in their work . So therefore, their spiritual contact does not seem to have "corrupted" them. I also have never been asked to perform a harmful act to any living being in my own spiritual experience.

From my own experience and assessment , the spiritual dimension or Afterlife where the departed go ,seems quite low key by earthly standards. As departed spirits apparently have no need to eat or drink to sustain themselves , procreate to reproduce themselves , wash and dress themselves , exercise to keep fit etc. they have a totally different existence to us. A truly non-material spiritual existence in fact. Therefore, the satisfactions in such a place would be totally different to ours , by our material world standards.

How I came to this assumption is when they appear to mediums, so we can describe their appearance to the living person , they project themselves at the most recognizable stage of their life to the living person. This is sometimes very much younger than they were when they died . This flexibility of form points to a totally different plane to our own. It appears to be an ethereal and unearthly and not at all the traditional place of harps, clouds , Elysian Fields, or earth like in any way. The satisfaction and contentment there are obviously different to our usual forms of happiness. Trying to imagine a non-material existence is obviously difficult and perhaps impossible for us to comprehend in this life. Perhaps that is why they appear not to explain their new existence ?

In fact, some historians and Biblical scholars have identified the visions of Heaven and Hell have more in common with Graeco-Roman views of the Afterlife than the ancient Hebrew/Old Testament view of the Afterlife. For example, the traditional view of Heaven does closely correspond with the heathen Greek origin Elysian Fields or Elysium of verdant fields and earth like beauty and perfection. Hell seems to be to be extremely close in description to the Graeco-Roman heathen Tartarus . It was supposed to be surround by a river of fire and presided over by a hideous blood-soaked goddess called Tisiphone armed with a whip which she continually cracks. As you will notice, it seems to be very much like traditional Christian descriptions of Hell.

However, both Elysium and Tartarus have a heathen origin rather than a Biblical origin, coming instead from the Olympian deities - based religion of the Greeks and later the Romans. Historians and respected Biblical scholars have noted this similarity and probable connection . There is also a very plausible way it found itself into the period when Christianity was being formed.

Although it is well known that Judea/Palestine was part of the Roman Empire during Jesus's lifetime, it is perhaps less well known that before it was ruled by Hellenistic(Greek culture ) Seleucid rulers for over two hundred years before the arrival of the Romans . This situation had arisen by the conquest of the what we now usually call the Middle East by Alexander the Great and his Greek-Macedonian army. The Macedonian Empire that he founded lasted only a few decades after his death , but it then fell into separate states ruled over mainly by his generals and their descendants. Their Greek culture and religion was not at first (although later on it was )actually imposed on the Jewish inhabitants there.
However, because the attractiveness of the Greek culture( enlightened philosophy , advanced technology and medicine for the era , etc.) some aspects of it did find favour with a significant portion of the Jewish population. The descriptions and story of this era are described in the Book of Maccabees in the Old Testament . By New Testament times and in the early Christian period some of these Hellenized Jews and some Greeks from Asia Minor (now Turkey) and Greece itself ,became some of the first Christians. The Afterlife descriptions from their cultural background probably became embedded in their preaching to other new converts. This partially explains the early Christian teaching of the Afterlife compared to the original Hebrew view, earlier on in the Bible.

The original Hebrew version of the Afterlife was called Sheol. In the early part of the Old Testament, both the good and the bad went there. The description of it seemed to be very plain, almost non-descript and a bit austere compared to our existence . Nothing much was supposed to happen there. This seems to partly correspond with the view of the spiritual dimension I encounter. It has also crossed my mind , that these descriptions point to probable spiritual mediumship experiences of these ancient Hebrews.

The spirits contacted in modern times, appear from the reactions of the people receiving the messages, to be a mixed bunch of individuals. Very often the people who are being given the reading are happy to be receiving any message, however on a few occasions when another medium or I have contacted a disliked close relative for the recipient of the message, their reaction sometimes seems is extremely negative. Even if the deceased person is asking for forgiveness . The explanations given for the living seeker's reaction, ranges from long running family disputes or misunderstandings to sometimes atrocious behaviour inside and out of the family. Alleged violence ,cruelty, theft etc. are brought up demonstrating the deceased were not probably a "saint" to anybody! Therefore, it appears that both the good and the bad enter this spirit world. Sometimes this rejection appears to dismay the "black sheep" spirit. The medium sometime does say to the person they are giving the reading to say that it may be best if they hear them out . Sometimes, but not always , that creates a better understanding and a satisfactory resolution to past troubles.

It has occurred to me, that this sort of rejection of the living person being contacted by a spirit of alleged bad character in life ,may reassure those who think there should be some form of punishment for wrongdoers in the afterlife. On the few occasions I have seen this to happen, sometimes the rejected spirit appears to be upset and disappointed at the lack of affection towards them. It reminds me of the fictional scene in Charles Dickens 's "A Christmas Carol" where Scrooge is taken by the Ghost of Christmas Yet to Come to his own funeral and the only people who attend are some local businessmen , who only turn up because there may be good meal at the Wake afterwards. He is then shown his own servants stealing his property and celebrating his demise and an elderly couple in debt to him also happy at his death. He also sees the premature death of Tiny Tim the crippled son of his underpaid clerk Bob Cratchit, due to the poverty caused by Scrooge's meanness. Scrooge realized his selfish life had been a terrible waste of time with a total lack of love and kindness.

He as the story continued, then famously mended his ways BEFORE these scenes came true. These spirits of alleged bad character contacted in modern real life have passed on and now have no way to amend their past deeds. Their only recourse is to ask for forgiveness of the people they have wronged if they have made direct spiritual contact. Just as with Scrooge it must distressing for them to find that no one liked them and are glad they are out of their life permanently. Perhaps that is the real torment for the ones who have committed bad deeds in this life . Apart from no love of their memory or life , their memory in our existence fades quickly and they are soon forgotten. They then realize whatever petty pleasures they did gain by their selfish behaviour; they missed the far bigger pleasures of love and respect.

As I previously mentioned the Afterlife resembles the early biblical Sheol ,which traditionally seemed to be a bit of disappointing to early Hebrew people and possibly it seemed to them that everybody is "rewarded" with an eternal existence of boredom. However , as I mentioned earlier, it is virtually impossible to imagine a non-material existence in our current life , so perhaps it only seemed very dreary to people who lived an already dreary semi-desert existence . It did not seem very much to look forward to, after perhaps living a virtuous life. They did also describe the spirits who were there as "tsalmaveth" in the Hebrew of the time. This translates in literally into" death-shadow" or "shadow of death". This appears to demonstrate a kind of understanding that the afterlife is a form of non-material place . This may have led to the impression that the afterlife was virtually inert.

In modern times we do have a more expanded understanding of the non-material occurrences around us . Radio waves as well as Light are scientifically not considered a form of Matter but a form of Energy. As we know of these invisible , but very tangible forms of energy , it is easier for us to visualize a non-material existence. Radio waves for example though they are invisible, we know move at near the sound of light, can move through solid objects and travel vast distances through space. Though, they produce a tangible message when they reach their destination. Different frequencies can also co-exist on different wavelengths . With this knowledge, modern people can more easily envisage a non-material type of existence and dimensions which run parallel to one another and do not normally disrupt a different dimension's normal activity . Our ancestors did not have this advantage of understanding.

Some people when they first encounter spiritual contact via a medium have doubts about whether the information about the deceased, was a form of " well meaning" deception. They ask themselves "did I give something about my past away", "does my appearance and accent betray my origins" or even "when I booked to see them , did they looked me up on the internet and found out my personal details" etc. Yet, an accurate prediction of a totally unexpected event in your life cannot be explained by any form of trickery. Even coincidence would not be in play if it concerned a specific personal issue that could not be possibly guessed at on casual acquaintance . These predictions are normally very clearly made and cannot be explained by apophenia (the mistaken connection of unrelated events) on the part of the recipient either.

It is these staggeringly accurate personal predictions that help people in the material existence know that there is a wider dimension to existence by proving that time as measured in our world is obviously different in another dimension. The future can be viewed in the Spirit Dimension . Prophecy or prediction , however you define it , when it comes true is the greatest proof of a contact of the spiritual dimension . Accurate specific prophecy cannot be faked or explained by coincidence especially when it concerns a very personal event in your life. The fact that it is given by a loved or friendly passed one is also reassuring that there is an afterlife.

So, are we directly "punished" for our misdeeds in this Afterlife ? Apart from living relatives having "bad "memories and lack of remorse for our passing , are there any other sanctions against us on the other side? Well as mentioned spirits which are bad or selfish on this side of existence ,do seem to have the freedom to contact people here to ask for forgiveness. This does seem to indicate that they have a form of freedom and are not being permanently punished or tortured in the Afterlife for their misdeeds. Perhaps the punishment is the lack of forgiveness from the living? Reflecting on a wasted life and missed opportunities to give and receive love? Just like Scrooge in " A Christmas Carol?"

Perhaps our desire for revenge on those who have wronged us , has throughout history made the desire for a place of eternal torment after death attractive? Dante the great Italian poet of the Middle Ages wrote his classic poem" Inferno" (Hell in English) in the early 1300s . Dante's Hell is toured by himself ,guided by the Roman poet Virgil a heathen from pre-Christian Rome before the birth of Jesus. This "Hell" is populated by creatures from Greek and Roman mythology such as the Minotaur and centaurs. It should be noted that the scholarly Dante is still being influenced by pre-Christian influences , nearly a thousand years after Christianity being established as the official religion of the Roman Empire. Yet again an ancient heathen religion, seems to continue to influence modern religious thought on the nature of the Afterlife.

However, what is probably more revealing is that Dante encounters contemporary figures from his own lifetime suffering various punishments and torments. These include some people who had personally wronged him ,such as conniving in his exile from his home city. This appears to reveal the all too human desire for vengeance on those we feel have done harm to ourselves.

As mentioned, on my personal experience as far as I can tell, the Afterlife appears to be more like the Sheol of the Early Hebrew perception of it. In the Bible, The Woman Of Endor the medium that King Saul consults to contact Samuel appears to contact him there and obtain a prediction of the future. Samuel is indeed contacted and gives Saul the unwelcome news that he and his sons are going to be killed in battle the next day! Samuel was one of the great prophets of the Bible and had originally anointed Saul as the first King of Israel. He would hardly be residing for eternity somewhere evil and responding to a medium if there was wrong with the practice of direct spiritual contact. Some people of conventional religious beliefs seem to miss the importance of such teachings like this.

As mentioned in my book ( see above), direct spiritual contact was investigated in the 1930s by Church of England the founding church of the worldwide Anglican Communion (the American member of it is the Episcopalian Church). They investigated direct spiritual contact and found it to be a reality. They also stated in their Majority Report that it could enhance belief in traditional Christian and Biblical belief . However, the report was suppressed for 40 years ,it is surmised because it conflicted with the Christian tradition that has evolved over the past 2000 years. I feel this was a mistake . The presence of an actual spiritual dimension to existence, is central to most religions.

Some members of the modern Church of England including some clergy are interested in the proposals put forward in the report. However, there is in some quarters a feeling that the more conservative arms of the Church are not actually worried that mediumship and spiritual contact may be illusory or the source of it is evil, but because the afterlife that is revealed appears to have no heaven or hell. Everybody seems to go to the same place whether they have what could be described as having a virtuous life or not . For example, as observed by myself many people are surprised when an uncaring and cruel or a deliberately absent parent contacts them via a medium . When this happens ,the spirit is very often sorry for their actions, but sometimes are self -justifying or even not displaying any recognizable regret. This and certain other situations demonstrate that they are perhaps not gaining any "corrective treatment" on the "Other Side". This obviously contradicts centuries of Christian teaching and could be said to actually be offering no incentive to any form of being good or penitence.

From my point of view , continuing to frighten people into good moral behaviour by eternal torment after death, which is partially inherited from now defunct heathen religions and from writers who were born long after Jesus's passing, is rather a negative way of trying to get people to behave in a kind and humane way. Good moral behaviour is supposed to confer rewards in this life by making this world a better place to live in. It also is supposed to mean that if you project love and kindness to your fellow humans, you will receive some back. I know this does not always work in proportion to an individual's good efforts but knowing you have acted in a correct and generous way is supposed to bring a spiritual satisfaction more than any material gain. The spiritual contact with deceased who are sometimes still making excuses for their bad behaviour or begging for forgiveness for their past misdeeds would illustrate dramatically that loving and kind behaviour in this existence is the true path to follow.

Therefore, in answer to the question is there punishment after death? Yes, I suppose there is , but possibly not in the way as traditionally perceived. The possibility of eternal separation from those who should be closest to you through your own misdeeds is a frightening enough prospect, without the possibility of being tortured by demons forever! In fact, the idea of perpetual torture of people who have wronged us in revenge, is a very human failing which seems to have travelled through the ages as I think I have been able to explain . It reflected their societies mindset . The Ancient Greeks and Romans despite their relative technological advancement in the Biblical period, were totally brutal in their treatment of law breakers. The crucifixion of Jesus and the compulsory poisoning of Socrates are two outstanding examples of this behaviour. In Dante's Medieval Europe the torture and execution of people for crimes which nowadays may only attract a short spell in jail or even a fine was common. Therefore, his view of punishment of those who had wronged him corresponded with that

It is not until we get until the 19th century when Dickens created the character of Scrooge in "A Christmas Carol" that a more sophisticated view of the Afterlife and possible penalties for a badly lived life emerges. Admittedly Victorian London was no paradise, the courts still passed sentences for execution for murder and thieves were still transported to the penal colonies in Australia very often for life. However, the age of total savagery had begun to pass. Dickens view of punishment therefore was more of mental distress and abandonment.
People of a mystic lifestyle know that there is an Afterlife . However ,they also know we must live this material life as well as we can in harmony with our fellow human beings. A life well lived in this existence is the best preparation to whatever lies ahead.

©Stephen William International Copyright.