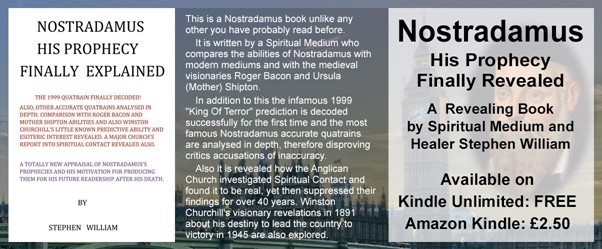 When I was researching my book on Nostradamus and his mystical abilities, I was struck by how surprisingly mundane his mystical visions and experiences were in comparison those of the post-Biblical Saints and the potential credibility of them . Direct spiritual experience is the basis of virtually all religions.
Nostradamus's and modern mediums experiences are fairly restrained in detail . Prophetic visions/messages and contact with beings from the spiritual dimension of existence (be they departed relatives, friends or persons not known to the recipient ) appear to sum up the spiritual contact of Nostradamus and most modern mediums. The contact of modern mediums is mostly attested to be correct by the seeking person they are working with , in the case of the events or predictions made in relation to their life or the identity of the spirit contacted.
Comparing this some of the events attributed to some Saints , Nostradamus's and modern mystics abilities seems quite low key. I live in the County of Essex in England , which as historians point out was an independent kingdom within Anglo-Saxon England for some while before the Norman Conquest. Essex means "Kingdom of the East Saxons". One of these Kings of Essex was called Sighere (died approx.668 CE) His Queen was a lady called Osgyth, who was canonized into a Saint . The basis of her sainthood was because of her apparently amazing Christian life and martyrdom .
She was the daughter of Frithwald(died approx.675 CE) described as a "sub-king" of the Surrey/Berkshire area of the then greater Kingdom of Mercia, another part of ancient England .She was sent as a child to be brought up brought up by her two of her maternal aunts. One of these aunts was Saint Edith of Aylesbury who supposedly was acquainted with another female Saint, Modwenna of Northumbria.

One day Edith is supposed to have sent the young Osgyth to deliver a book to Modwenna in a convent she founded , which was nearby to where Edith and her niece lived. On the way Osgyth had to cross a fast- flowing stream ,which burst its banks due to flooding . Unfortunately, the young girl slipped and fell into the stream and was drowned. Her aunt assumed she had safely arrived at Modwenna's convent and did not worry when she did not return that night believing she was staying with her, according to the story.

Three days apparently passed before Edith was apparently concerned enough to go looking for her young niece. When she reached the future Saint Modwenna and found she had never arrived, they both went looking for the young girl. They searched the stream and found her lifeless drowned body and apparently dead for three days. These distraught holy ladies then prayed with much fervour and asked for the young Osygyth to be restored to life . She was then apparently and miraculously restored to life! Whilst living her with aunts she apparently also said she wished to be an abbess when she was an adult.

Obviously, this story is highly improbable. Apart from the obvious improbability of restoring a body to life three days after drowning , Osgyth was a princess by birth, in rough and violent Anglo-Saxon era England. A young royal princess would probably not be sent to run an errand totally on her own , especially without an armed guard . Apart from potential human attack ,bears, wolves, and lynx still prowled the English countryside. The fact she was apparently alone and fell into the stream renders the whole story improbable even before the restoration of her three days dead body.

Despite her professed ambition to be an abbess (no doubt influenced by spending a lot of time in her childhood with two women who were to be made saints themselves) her father Frithwald later gave her to King Sighere of Essex in a political-dynastic arranged marriage so beloved of dark ages/ medieval royalty. This act does show Osgyth's importance as a political figure and therefore she would probably have not been allowed to be running unaccompanied errands and her absence ignored for three days. This would have been most unlikely to have occurred.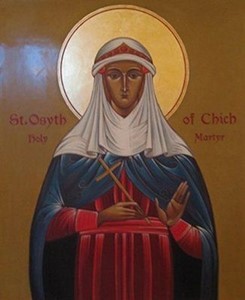 A traditional image of Saint Osgyth.

The importance of Osgyth in uniting the two royal dynasties of Mercia and Essex appears to have overruled Frithwald's own alleged religious piety . He is supposed to have been one of the founders/patrons of Chertsey Abbey in Surrey in England, where ruins of the Abbey, still exist . The alleged fact he sent his daughter to be raised by his extremely religious sister -in-law also does point to a devotion to the Christian religion.

However royal /political matters seem to have come first and Osygth was married to Sighere and even gave birth to a son apparently. However, whilst Sighere was out hunting a rare white stag one day , she fled to two bishops and they accepted her vows to become a nun. Sighere on his return from his hunt appears to have accepted this situation and even to allow her to build a convent at the village of Chich ,where she became, so it is said the abbess. Chich was renamed after her death, St Osyth's, the traditional local spelling of her name. The local manor house is still called St Osyth's Priory. It became a manor house after it was seized during the Protestant Reformation. Meanwhile, King Sighere is said to converted back to Germanic (Anglo-Saxon) paganism ,which eventually cost him his kingdom ,when his cousin, King Sebbi (died approx.695 CE) still a Christian, deposed him.

Osgyth's very eventful life came to an end apparently a second time, when a party of raiding Danish Vikings attacked the convent ! She it is said, bravely refused their demands and they cruelly beheaded her. This is where the tale becomes seriously strange again. Her body then apparently picked up her head and then went to the convent and banged on the door according to some versions of the tale ! When the door was opened her headless body was discovered .

I believe some parts of the story are true. An abbess in the area was possibly murdered by heathen Vikings as this form of atrocity was recorded at many Christian holy establishments throughout Britain and Ireland during the Viking Age. They were in search of gold and silver contained in various religious artefacts at these places. The torture , murder and rape of the clergy was possibly a terror tactic, to ensure that it seemed resistance was futile and future raids elsewhere would be easier to conduct.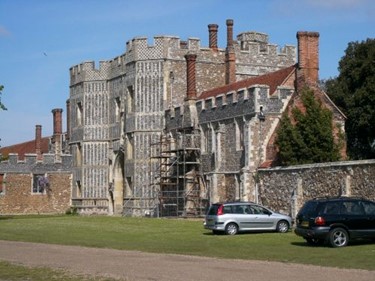 St. Osyth's Priory in the 21st Century. This was the Priory apparently founded by Saint Osgyth. The building is no longer a religious building and has spent most of the last 500 years as a Mansion for wealthy people.

Despite the possible truth in the cause of St Osygth's "second"death and martyrdom (or Sythe, Othith or Ositha as other spellings and pronounciations of her name ) the rest of the tale or legend is highly suspect. Why would a man who was inclined towards paganism ,meekly accept the desertion of his wife and mother of his son and then grant her land to build a Christian convent ? The headless corpse of a saint delivering and carrying its head is common enough to have its own classification , they are referred to as Cephalphoric Saints. The most famous of these is St Denis of France. France like Britain had a Celtic culture prior to invasion by the Romans. As Nostradamus admirers will know, he often refers to the French and France as "the Celts" in his prophecies .

Some historians have identified this form of story as a continuation of the old pagan Celtic Head Cult which included head hunting amongst its practices. The story of Bran the Giant after being mortally wounded, asked for his own head to be severed and placed on a pole on White Hill ,(now apparently the site of the White Tower part of the Tower of London) is an example. It was also supposed to be capable of speech until it was finally buried! His severed head was supposed to protect the island of Britain from invasion. Yet as many people will know Britain was invaded many times after this tale from pre-Roman times. It was invaded by the Romans, the Germanic tribes, the Vikings and eventually the Normans.

Contrary to popular belief, these invaders did not exterminate or banish to Wales and Cornwall, the Celtic culture Britons of what became England . Many of the invaders intermarried/interbred with them soon after they arrived, especially the Germanic tribes who became identified as the Anglo-Saxons by historians. The DNA of most modern English people generally contains approx. 50% of the DNA of these pre-Roman Invasion people. In comparison Anglo-Saxon(Germanic) DNA typically only comprises approx. 30-35%. Roman, Viking and Norman DNA considerably less than that. Because of this prominent heritage ,this is why some pagan Celtic beliefs and culture remained within the later Anglo-Saxon dominated English speaking culture, even when they converted to Christianity. The inclusion of King Sighere, Osgyth's husband killing a white stag would seem to confirm the pagan Celtic origins of some of this story. White stags or harts (mature stags with twelve points on their antlers) were in Celtic mythology believed to be messengers from the spirit world . Whether this was a Christian inspired allegory, to demonstrate Sigheres 's slippage back into Germanic/Anglo-Saxon paganism, it seems pagan origin Celtic symbolism was used to demonstrate it.

As demonstrated some elements of the St Osygth story appear to have been derived from pagan Celtic and other legendary sources . Its fantastical elements far outshine the predictions and activities of Nostradamus and modern mediums and clairvoyants. True spiritual direct contact does not need exaggerated symbolism to demonstrate the existence of spiritual dimension, just proof that the recipient can accept.

However, despite these pagan elements, St Oysgth is a saint still, not only recognized by the Anglican and Roman Catholic religions, but by the Eastern Orthodox Churches as well. Her feast day is the 7th of October . The other Cephalphoric head carrying saints are also still mainly recognized as well , despite their similar stories very often originating in countries which had Celtic cultures prior to the Roman Empire in the past as well. I am not saying that these people did not actually exist and perform good deeds, but the "miracles" and other events surrounding them either were either invented or transferred from previous non-Christian sources. These probably inserted magical events sometimes appear to have nothing to with Jesus's teaching or anything else to do with Biblical teaching, except for a very often a painful death for the unfortunate martyred saint. Decapitated corpses carrying their own heads just do not appear in Bible!

I do accept that the early Christian Church, despite its attractive and humane message of universal brotherly love and goodwill, sometimes had a hard "selling" job against some of the heathen deities who mostly had alleged outstanding powers and abilities. These abilities probably seemed a little bit too exciting or attractive for some heathen people to let go of. Therefore, there was a likely temptation was for the early Christian preachers to invent events or add similar fantastical abilities for their new saints to make them look more attractive to potential converts. The problem of tales of people walking around with their own severed heads or fighting dragons (as was grafted onto the life of St. George) etc. can make any acceptance of the supernatural in the modern rational world seem ridiculous . I believe this is one reason many modern people find belief in spirituality as a reality, difficult to believe.

Modern Christians I know, do not mainly place such figures as St Osygth at the centre of their belief. Though their presence within religion , coupled with some improbable events in the Bible do cause reasonable people ,beside hardened cynics to question the whole existence of any kind of spirituality. Even in Nostradamus's time and before, people were questioning the truthfulness of religion, not only in Christianity, but in Judaism and other major religions throughout the world. Prior to his time this criticism mainly was of the established religion in the part of the world the critic was living in . It generally was not of the actual existence of a supernatural plane or a Supreme God , but of the manipulation of the religion to bolster the power of the ruling elite and priesthood of that country or region .

The qualification of how to successfully enter the "afterlife" was seen as a tool to get people to endure any kind of unfairness and strictures from the rich and powerful in case questioning it, condemned them to eternal punishment or spiritual extinction.

By Nostradamus's time this however had turned into the questioning of the whole existence of a spiritual or non-material plane of existenc, and therefore the existence of God himself. Even many modern Roman Catholics would probably agree, the Protestant Reformation was in part caused by the excesses at that time of the existing priesthood both at a local and the highest level. Yet some free thinkers of the time took the disapproval of these behaviours even further than that of the new Protestant church leaders. They speculated that if the Church's priesthood whose behaviour which sometimes conflicted with basic Christian teaching, appeared not to fear any Divine retribution, was there a God at all ? It appeared to them, some of the priesthood appeared not to believe in Him or they would have complied more closely with Biblical teachings.

This I believe is why direct spiritual experience is so important . It demonstrates that there is a spiritual dimension to existence and there is an afterlife. In our rational and scientific age, faith in texts hundreds or thousands of years old written by very often by people unknown to us are just not believable anymore .However a personal direct spiritual experience whether facilitated by a medium or a mystic or just a personal encounter with a departed relative or friend not only proves that a spiritual plane exists, but most of the great spiritual teachings of the past were based on a tangible inspiration.

That is why modern spiritual and mystic people have such an important task to perform. To stop the world from an increasing disbelief in a spiritual and mystical side to existence. Knowing there is a greater reality to existence than the physical world we see around us is our "Inheritance of Spirituality."

©Stephen William International Copyright.