Aries – Six of Pentacles
Consider this month what 'having' truly means! It might be that you are in a position to offer help and assistance to someone that may need it. It might also be that you are considering reaching out to ask for some sort of help. Whichever is true for you know it is ok, so long as you maintain balance, by giving and taking equally, this can be materially, through resources, effort, time, energy, compassion or love.

Taurus – Ace of Swords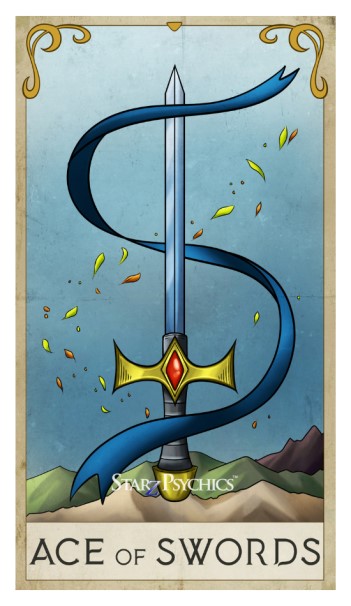 The Ace is asking that you stay true to your own beliefs this month and that you speak your own truths. Don't engage in gossip or hearsay, if you want to know something ask at the source rather than digging for info from a third party! Be factual and honest in all your dealings and try not to allow uncertainty or miscommunication to be a thing this month!
Nine of Swords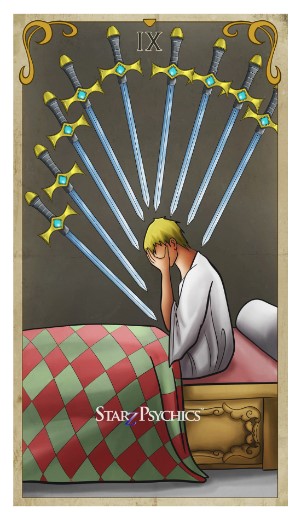 The nine of swords is all about facing your fears and speaking out about the things that are bothering you. It is about making a stand and facing up to the things that need facing up to, whether this is a situation or a difficulty within a relationship, it is time to face fact and to make your mark. If you are suffering sleepless nights, do something about it!

Cancer - Page of Swords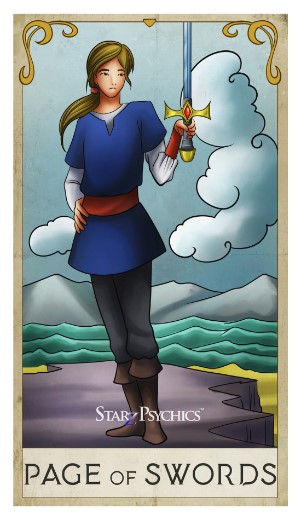 Think carefully this month before you make any major choices, decisions or jump into a situation without thinking things through properly. The page is asking you to look at things from a new angle, and says rather than leading with your heart and emotions lead with your head and logical thinking. Deal with fact and not fiction.

Leo - Ten of Cups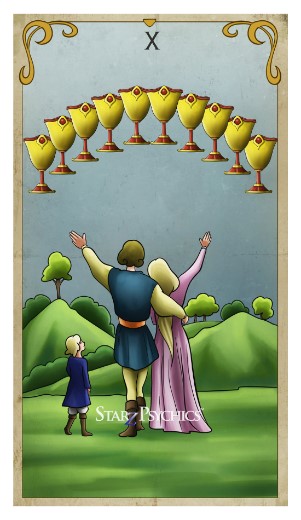 Create an environment this month where everyone feels loved and valued. Be inclusive and incorporate all the important people in your life in the choices that you are making. Listen to your heart, and your gut feelings, because your intuition is sharp right now and can be trusted. Family and friends are also very important this month, so make time for them!
Virgo - The Devil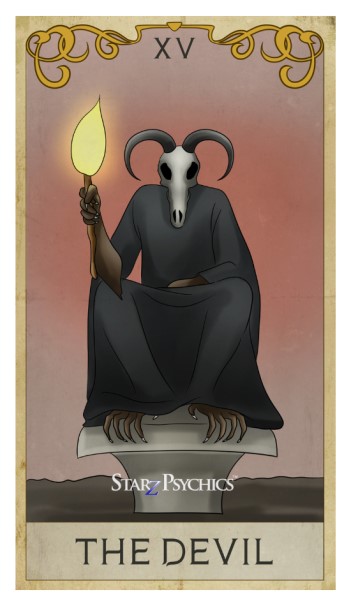 If you have a major choice or decisions to make this card may be suggesting "choosing between the devil you know versus that devil that you don't." It is also a card that asks you to take a look at your own dark side (we all have one), and to recognize the need to make change, maybe you need to conduct a self-assessment to determine what needs to change in your life or circumstances.
Libra - Two of Pentacles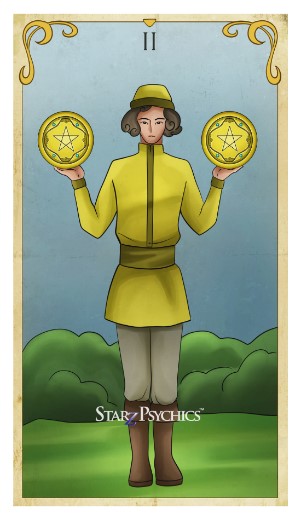 If you are considering a large purchase this month, consider all the pros and cons before making your final decision. Look into things, read all the small print and don't just jump into something without weighing it up properly. Maintain balance in your life, make sure your out goings are in line with your in-comings.
Scorpio - Eight of Swords
Open your eyes this month Scorpio and see things how they really are. If you have been avoiding something or refusing to make a change that is needed, stop, and make the change that is needed right now. Become more aware, and alert. Stop shutting yourself off or closing your eyes to the truth. Face things head on and do what needs to be done!
Sagittarius - Ace of Cups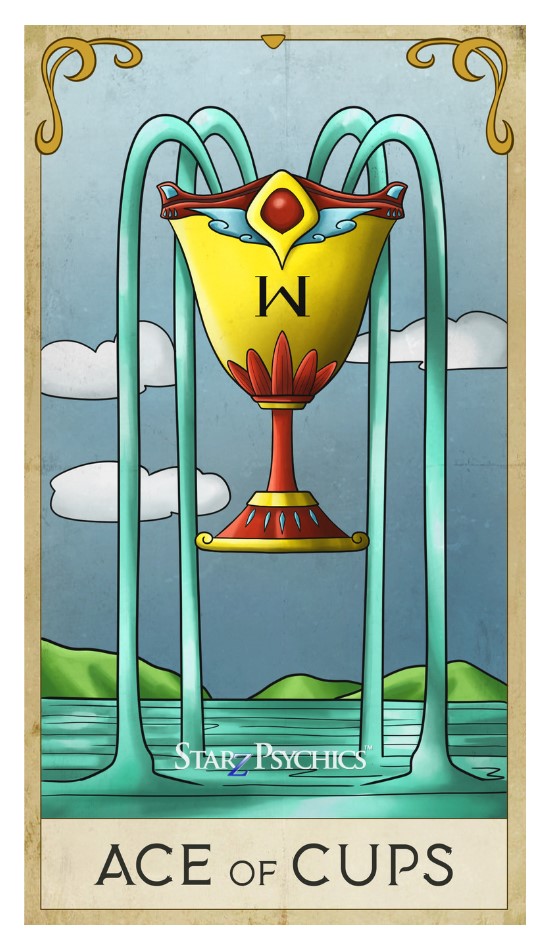 Love is in that air this month Sagittarius, so if you are looking for love, it may be just around the corner for you. If you are trying to decide whether to propose, this is a good month for it. Listen out for some good news, this could be an announcement like a birth or pregnancy. Or it might be that someone is going to want to share something that will put a huge smile on your face!
Capricorn – The Hermit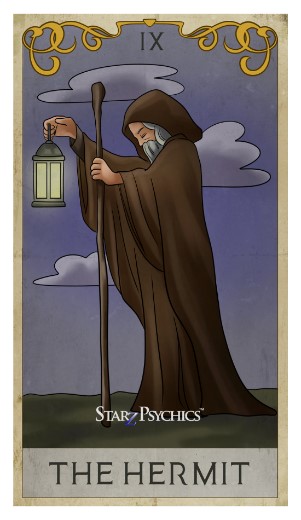 Take your time this month Capricorn, if you need to pull back from a situation do, it is ok to be cautious, in-fact this month caution is recommended. Have patience and maybe even take some time out for reflection and for being by yourself. Listen to your own gut feelings because this is your higher-self trying to bring you guidance.
Aquarius – Ten of Pentacles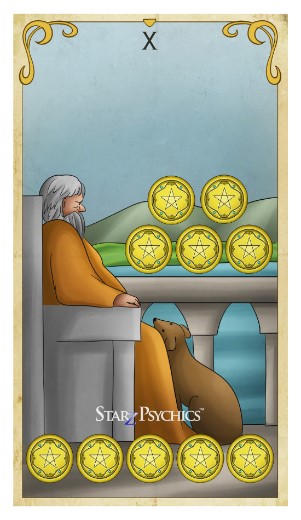 Be generous with the people that mean the most to you this month, generosity can come in many forms - materially, resources, time, effort and love. Be open, compassionate, and caring towards others. If there is an opportunity to gather with friends and family, take it, and make memories. Work and business could flourish this month!
Pisces – The Moon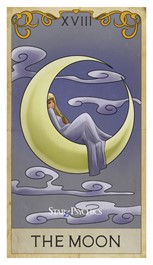 Trust your instincts this month Pisces, go with what you feel in your gut, because the chances are you are right. You may feel a bit like someone has turned on the light, and all of a sudden things are starting to fall into place and become clear. You can see the way and are able to now control situations and outcomes!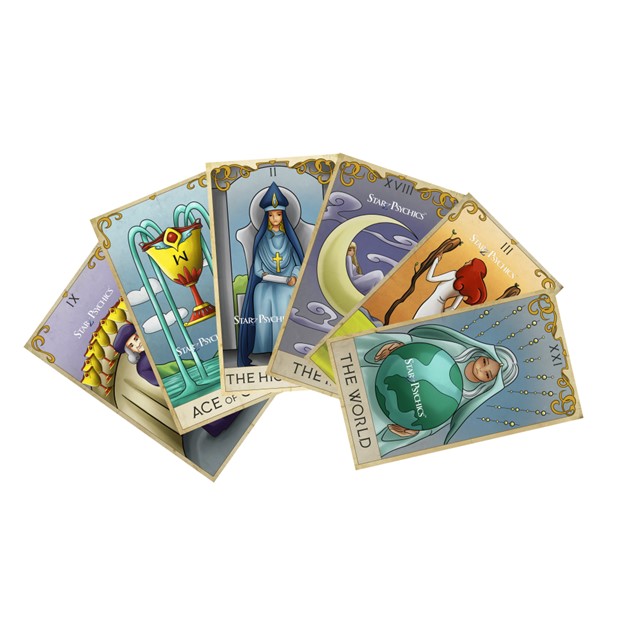 *******************

The Starz Psychics Tarot Course

Would you love to be able to read Tarot like a PRO? You can, with our ONLINE PDF Tarot Course! The only thing you need is a willingness to learn and a desire to delve deeper into the mysterious world of the Tarot. You will also need a tarot card deck, which we have covered with our unique Starz Psychics Tarot Card Deck.


What Does this Course Include?
18 Lessons with accompanying exercises - In a five part course
Access to me Starz Amber
PDF Keyword Charts
Information and Summary Charts
Audio's to accompany lessons and exercises
IN FACT - Everything you need to take you from base camp to reading Tarot like a pro... In simple easy to follow steps!

This course is designed for Beginners to Intermediate readers.

At the end of this course you WILL:
Give Accurate Readings!
Have the knowledge to be able to make money doing what you love.
Be confident about doing a Tarot Reading!
Know-how to a detailed reading without second guessing yourself
Know-how to avoid pitfalls and mistakes
There is an accompanying audio of this course available, just to make your learning experience easier!

So join me StarzAmber, on a unique Tarot Journey. I have over 30 years' experience reading Tarot and am ready to help you. This course comes in five parts, and can be done at your own pace! I will be with you every step of the way, and can be reached through a dedicated email which I will share with you.


Order form click on the link below:
https://starzpsychics.com/tarot-card-course.php
Cards use in the Tarot Scope are from the Starz Psychic Tarot Cards…coming soon

Plus coming soon learn Tarot in our Zoom Tarot Lessons

STARZ TAROT CARDS - YOUR FUTURE AWAITS ™
Natalie xo

Need an answer reach for the Starz - Your Future Awaits
https://www.starzpsychics.com