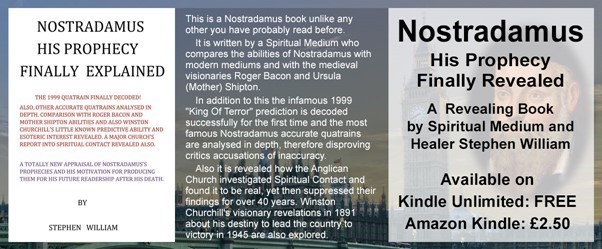 HEBREW MYSTICISM AN ALTERNATIVE VIEW
By Stephen William. He is a UK based Medium and Healer and Author of "Nostradamus His Prophecy Finally Explained."
Available on Kindle now.
Mysticism has taken many forms throughout the ages. However, probably the most widely known are the ancient Hebrew mystics in the Old Testament . Although they are rarely referred to as mystics, especially by conventionally religious people, their recorded behaviour and actions corresponds strongly with modern mystics and mediums.

There are many Old Testament characters who have supernatural experiences (hence their inclusion In the Book!) and it would be near impossible to describe them all in one magazine article . I therefore am going to concentrate on the ones that either correspond most strongly with modern mystics or ones that may be overlooked by the casual reader.

Firstly, I would like to examine the story of Joseph the son of Jacob in Genesis. Joseph is the favourite of his father Jacob which draws the jealousy of his half-brothers . In fact, he is so favoured by his father that he is presented with a coat of many colours. He is bright and intelligent, but boastful and is a receiver of prophetic dreams . He has two dreams which he boasts to his brothers show in the future he will be the master of the whole family including their parents and they all bow down to him. To those of you familiar with the Bible, you know this comes spectacularly true.

Unfortunately, this boastful information causes his half-brothers to be even more jealous and they plot to kill him so the prophecy does not come true. So, one day in the fields they seriously beat him up and threw him into a pit to die. By chance a group of slave traders bound for Egypt pass by and the brothers pull him out of the pit and sell him into slavery. They later presented to their father his blood-stained coat of colours as evidence he had been killed by wild animals.

In Egypt, he was sold to a wealthy Egyptian official Potiphar and his wife. Joseph's intelligence and charisma meant that he was promoted to overseer of the other slaves and his master's personal servant. Unfortunately, Potiphar's wife tried to seduce Joseph and when he rejected her , she accused him of rape and he was thrown into prison. However, he found favour through his intelligence and ability and he was made overseer of the other prisoners. Two of the prisoners had strange dreams and asked Joseph to explain what they meant. Joseph then tells them that one of them who was the King of Egypt cup bearer ,he will live and be restored as the King's cup bearer. The other prisoner unfortunately was told he would be executed . Both predictions came true . Unfortunately for the second prisoner!

The King's cup bearer when he was restored to duties to the King , remembered Joseph's dream reading ability ,when the King had some graphic and disturbing dreams. Joseph was then brought before the King (or the Pharoah in its Egyptian form). Joseph predicts there will be seven years of plenty , followed by seven years of famine! This obviously distresses the King and he ask what is to be done to prevent a disastrous famine. Joseph offers some solutions and the King appoints him Vizier (a modern equivalent would be a Prime Minister or Chancellor) to put his solutions into action.

The predicted famine comes to pass and affects other countries in the Middle East and Mediterranean area. However, Joseph's plans and strategy kept the Egyptian nation well fed. Joseph's family back in the Land of Canaan are also afflicted by this terrible regional famine. Jacob dispatches his sons to Egypt to attempt to obtain food. When they arrive in Egypt they are brought before Joseph and they do not recognise the grown man dressed as a rich Egyptian and bow to him as predicted by him many years ago. Eventually he reveals his identity and the rest of his family/ tribe are asked by a grateful King to live in the Goshen region of Egypt as a reward for Joseph's service.

As modern mystics what can we take away from this ancient tale of supernatural insight? Firstly, apart from having prophetic dreams ,Joseph can interpret other people's dreams. This appears to be a mediumistic ability . He is interceding between the supernatural and the person who is telling their dream and giving them a correct prophecy from the dream. Interestingly the ability to receive such predictive dreams are not limited to Yahweh (God) worshipping Hebrews like himself in this tale , but also to presumably heathen Egyptians such as the King of Egypt himself. However, the King's wise men were unable to provide him with an answer unlike Joseph.

This clairvoyant ability that Joseph possessed and helped him be promoted to Vizier , also helps set up the large presence of Hebrews in Egypt which of course leads to Moses and the Exodus of The Hebrew Slaves later in the Old Testament. Some people would construe this as being part of a "Greater Plan" in action.

Some cynics would say , outside of the Bible , there is no evidence of Joseph's existence. However, there was a powerful foreign-born Vizier/Chancellor named Bay or Baya who served under the Egyptian Kings father and son Setti II and Siptah around 1200 BCE. His name was not Egyptian , but West Semitic in origin . Hebrew is a West Semitic language! He was also in power during the widely historically recorded famine affecting the North African and West Asian region. Both Egypt and Canaan are within that area. His name has been translated into Modern English as the mystic sounding "He who rides the clouds"! He later changed his name to the more Egyptian sounding Ramesse Khamenteru. He has been identified as the possible person behind the story of Joseph , by various respected historians.

There is no record of him actually possessing clairvoyant or similar abilities, but he apparently came from not only foreign , but also low born origins. For him to be appointed to the highest political office in one of the then most powerful countries in the Ancient World he would have to be a man of outstanding abilities, whatever they were. You can check out the life of this outstanding figure by your own research.

As mentioned, the actions of Joseph led to the presence of a large population of Hebrews in Egypt by the time of Moses. Moses The Law Giver, from the modern mystic's point of view can be a controversial figure , despite his immense influence on the World's definitions of Right and Wrong. The Book of Leviticus which is traditionally considered to have been written by him, specifically forbids direct spiritual contact with deceased spirits. Much of modern direct spiritual contact is of course via deceased spirits ,who of course bring knowledge of future events which come true. This obviously seems to ban much direct spiritual or clairvoyant activity. Yet is this the total reality of Moses's views?

In the Book of Numbers(ch11 v 16-25) , Moses summons seventy Israelite elders and the "Spirit of The Lord comes upon them and they prophesied and did not cease". Yet interestingly two men not invited to the gathering also start to prophesise,because the "Spirit of the Lord" comes upon them" also to according to the Book of Numbers. When another Israelite reports this Moses as presumably a breach of Moses's previous teaching, Moses however reacts surprisingly to this news and says angrily ,"Would that all God's people were prophets". This appears to be a paradox with the teaching given in Leviticus.

From a personal point of view, I see that Moses had a genuine problem with non-Israelite spirituality of the neighbours of the wandering people of Israel. They had religions that permitted among other things human sacrifice ,especially of children! Therefore, a medium or mystic from such a religious background ,even if they personally disapproved of the practice would have a very different outlook from the creed that he was preaching. However. It appears that people that accepted his teachings and his Hebrew followers of Yahweh were to be trusted with direct spiritual contact.

Moving forward to the time of the Prophet Samuel and the first King Of Israel Saul , Samuel anointed Saul as the first King of Israel . Yet he correctly predicted that despite the Israelite people's demand that they have a powerful unifying King to help them fight against their enemies , it would not be the end of their troubles. Saul starts off well , prevails in battle against the Philistines in particular on several occasions. However, what is often overlooked he had mystic and prophetic abilities himself according to the Old Testament. Once he encountered a group of wandering "Nabi" who were oracles or prophets who danced wildly in a whirling dervishes manner until the "Spirit of God came upon them". Saul upon seeing them pulled of his Royal robes and joined them in the wild dancing and crying out prophecies. What is interesting that these "prophets" who were predicting the future were apparently independent of the State religious establishment Why were they allowed to so without being seen to be in breach of the laws lain down in Leviticus? Saul and the Israelite establishment only had their word they were receiving all their prophecies directly from the "Lord"?

Saul however like many absolute dictators let power go to his head. He killed religious figures who disagreed with him and did other bad things. This caused him to fall out with his old spiritual mentor Samuel and then the very old Samuel died. Saul seems to have lost all spiritual direction and started losing battles against the Philistines . Saul's own personal retinue of prophets could not provide him with answers, so he consults with the Woman of Endor, a spiritual medium that is recommended to him.

The Woman of Endor was wrongly named as a Witch in the King James Bible. King James was the first undisputed King of England and Scotland. However earlier translations of the Bible describe her in terms more akin to a medium. This description has been restored in some modern Bible translations such as the New English Bible. King James had a well recorded paranoic fear of "witches " putting spells on him, so this is most the likely reason why his Bible compilers described her as such. Despite being publicly pious, King James tortured and executed many of his supposed enemies, not just "witches" , but political ones as well. He was also persistently unfaithful to his wife with both female and male lovers. He was not probably the best spiritual advisor to his own generation and future ones. In fact, he in some ways resembled Saul!

King Saul and some companions in disguise, visit the Woman of Endor and she contacts the spirit of Samuel who angrily tells him he is still out of favour with God and predicts correctly he will die in battle the next day ! The Woman is frightened for her life, when she discovers who her "client" is, because of Moses's prohibition on consulting dead spirits. Yet Saul promises not to harm her in return for her service. Also, it must be noted why did Samuel the most prominent Hebrew prophet of his age allow himself to be contacted by her if it was so wrong? The Woman appears to a be fellow Israelite, so why is she not seen as a prophet herself? There are only five female prophets in the Old Testament and one of them is unnamed, as opposed to twenty-four male prophets. As many mediums are women in our modern era, is it possible that the original ban on consulting with deceased spirits was partially because a lot of the practitioners were women? Women in cultures at that time were very much seen as second-class citizens.

After Saul's time some generations later, Elijah appeared as the major Prophet of his time. However, he had his own school of prophets ,which confirms that predictive activity was a far more widely practiced than just one special person per era. He is remembered amongst many other things as predicting the downfall of King Ahab and his non-Israelite wife Jezebel for their disrespect to the religion of the Israelites.

He is also remembered for his exiting this life ,not by death ,but by being raised up to heaven (Kings 2: 12-11) by supernatural means! He also appears in the New Testament in the Transfiguration with Moses , therefore breaching the Leviticus law of not contacting the dead. This is not to disrespect Biblical teaching ,but just an attempt from a mystical and spiritual outlook to decipher what is being transmitted to us from these ancient teachings, without the filter of a minster of religion's own opinion. It appears that every significant figure in most major religions was revolutionary in their attitude to previous teachings and spiritual understanding. Perhaps there is a lesson there for modern spiritual seekers?

Moving on a few centuries to the prophet Amos, we find confirmation of an evolving and somewhat revolutionary understanding of previous spiritual traditions and how they apply to the world and society that people they live in. In the Book of Amos, it is notable that declares he is not a prophet! He then goes on to eloquently make various prophecies! Why the paradox? Amos apparently is a shepherd and small -scale fig farmer. Not one of the wealthy elites of society . He appears to signalling that he is not a member of an official school of prophets, therefore an independent person who has spiritual visions independent of official opinion.

Amongst the prophetic visions he is noted for is the occurrence of an earthquake two years before it happened and the destruction and invasion of the Northern Kingdom of Israel by the Assyrians. The original Kingdom of Israel had split into Israel and Judah by Amos's time mainly due to arguments about Moses's Law . Amos lived in Judah but was highly critical of Israel and the way the country was being run.

Yet his visions also caused him to be critical not only of the elite ruling class in both countries , but also the treatment of the poor by the local rich in the poor's lives. Generally, until Amos's time it was considered so long as you kept to the Ten Commandments (publicly at least!) and were seen to be attending public religious rituals you were a righteous person. The visions Amos received compelled him to preach that the world was being corrupted by people being selfish and greedy ,even if they followed all the "Thou shall not" Commandments. He said they had to extend their behaviour into a Thou shall be kind, Thou shall be generous , Thou shall be merciful etc. type of behaviour . This seems to predate the teaching of Jesus by many hundreds of years such as "Love thy neighbour as yourself " "Do unto others as you would be done by yourself" etc. Teachings like this had been mentioned in the Book of Leviticus but obviously were being widely ignored, by the rich ignoring the poverty of the poor around them and doing nothing to alleviate it or even causing it.

This appears to be a very mystic way of behaving . By your own spiritual inspiration, you feel compelled to share it with others , regardless of the commonly held prevailing opinion. Mystics throughout history in all cultures were very often in conflict with the accepted cultural and religious norms as was Amos . Only five years after he started publicly preaching what he had received by spiritual inspiration, he was murdered by the son of one of the High Priests! Fortunately, such violent reaction to spiritual dissent is not common in the developed world anymore . Mystics are allowed to act on their own spiritual inspiration and share it with others. The link between the old Hebrew Mystics and modern mystics appears to be well-defined.

Conventional ethical opinion in most societies very often seems to revolve around physical matters such as wealth , property, etc. Very often opinion on religion is often backward looking and concentrates on doing only the bare minimum asked of the individual in very old religious texts , instead of expanding on that knowledge and trying to make the current world a better place for everybody. Mystics because of their personal experience of a greater scope of existence take a metaphysical view , not just in this life ,but beyond into the future. They come up with an expanded understanding of what is required to make existence in this time and life more purposeful. This is why the lives and opinions of many of the mystics of the past are remembered today and the opinions of the detractors of them in their own time have now fallen away.

Many Biblical mystical figures whether they were described as prophets or not, were agents for change and improvement over what had been spiritual practice previously. That is still the task of mystical people today, I believe.

If you wish to read my book ,which is available at only US $ 3.45 on Amazon Kindle or FREE TO READ if you are a Kindle Unlimited member. please follow this link.
CLICK HERE FOR BOOK
© Stephen William International Copyright