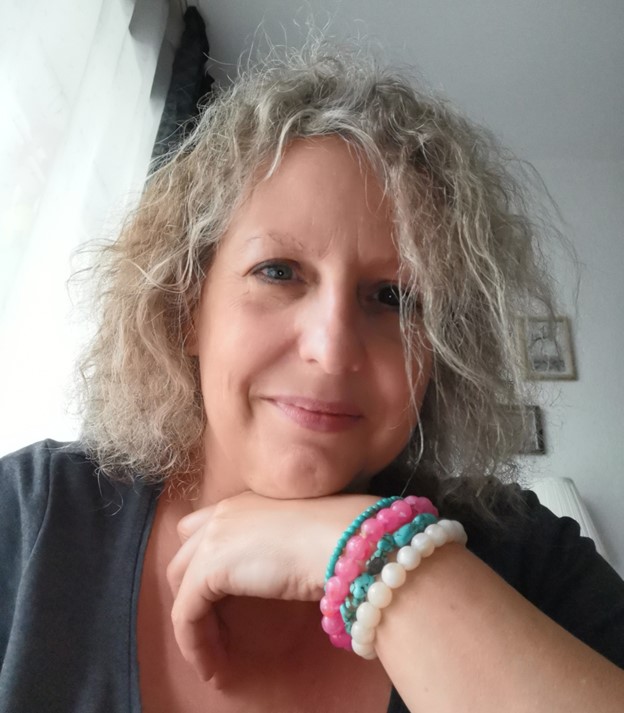 Ellen Hofrath-Stovall
Hello my dear reader,

I hope this finds you well, happy, and healthy.

We are finally getting to the end of a dark and cold winter. Even the strongest characters amongst us feel tired and exhausted and are longing for spring to come. Eager for sunshine. I personally am looking forward to spending my first afternoons sitting outside a Cafe, enjoying a coffee, and watching the people passing by. We only have to wait a little bit longer.

I'm a passionate reader and one of my favorite genres is fantasy. Reading has always been important to me. Back in the days you would never see me without a book. Means one book at every place I would stay for more than five minutes. In my car, in my locker at my working place, you get the picture. It was also very important for me to pass this passion to my daughters and to their children. We talk about bedtime stories as an appetizer, turning into short stories on the bus.

I love to inspire kids' fantasies and take any chance to let them create. As a probably frequent reader of my column you have heard about Elias before. He is one of my grandsons and the only one living nearby. So I see him the most and we have a very strong bond from the beginning. He was only a couple of hours old when I first called him my little wizard.

He will be four years old soon and some things didn't change. So the first thing he does when he visits me, is go into my bedroom and pick some healing stones. Sometimes more neutral ones, sometimes "problem solvers" and uses them, without having learned, to channel his emotions while telling me what's on his mind.

We also draw a lot together, or go on a walk in the woods or any kind of nature. He is an active storyteller, and always mixes reality, story characters, and things he overheard somewhere. And so, sometimes we get lost in our overboarding stories.

But because of his age, and being an urban child, some natural events scare him and let his imagination run wild. This winter provided all kinds of weather, especially strong winds and rain. He lives in a high rise condo, I in the opposite in a more rural part of the town. At home he barely heares the wind or rain. But at my home, you see the trees bending and heare the windows clink. It's all really close to my balcony.

This particular afternoon it suddenly got very dark, and from one second to the other we had a first class winter rain storm. I had to step out on the balcony and wanted to feel the sensations on my skin. It took a minute or two for me to realize how scared Elias was. But instead of going inside with him, I took him in my arms, wrapped a blanket around him and introduced him to the beauty of it. He began to see the dance of the trees and hear the melody of the wind. Then, somehow the wind and the clouds turned into angry dragons. I have no idea how.

Like children can be, this image settled in his mind and at bedtime he started talking about his fear of the angry dragons and how they shook the house out of anger. So, what to do? The last thing you want is trying to get your grandson to bed, when he's afraid of angry dragons. So I got my sketchbook and started to sketch some characters, telling a story from scratch. I don't look like an average granny, wearing mostly Boho-style clothes or at least loose fit and colorful. Always necklaces with healing crystals, curly hair, and so on. Compared to the parents and grandparents from the other kindergarteners, I am definitely unique, and people treat me like this. So it is no wonder, Elias took my story for real without a doubt.

Here is the story I told him: Those dragons are not angry, actually they usually are very funny and friendly. Dragons fly very high and they joke around a lot, so they lost each other during the storm. So they were really upset and concerned about their friends. And as I am a good witch and dragons and witches are friends forever, they came to me asking for help to find their friends. And as they are so big, their wings make the wind even louder and that's what made him (Elias) think they are angry. And as we all know, dragons are huffing and puffing all the time, because fire within them. That'S what makes them growl.

Then I asked him if he would like to support me, bringing them back together. First he was a bit hesitant, until I let him decide to pick the right scent of scent sticks to attract the lost dragons. As everybody knows, dragons have a very fine nose. Especially when it comes to different kinds of smoke, as they spit fire themselves. Elias chose Ylang Ylang because it "smells like fun" and Sandalwood, as it "tickles in the nose, and this is fun too". Well, that is nothing I would argue about. We had a smudge ceremony, where Elias handled the feather to spread the scent. Then we put candles on the window sills to show the way. We protected our windows and doors with salt and crystals. As everybody knows, dragons are clumsy and sometimes run into doors and walls, when they stumble and use their wings on the ground. But salt gives them friction and also keeps them away.

So not only did Eias sleep like a little angel that night, giggling every now and then, I also got the idea for the book I'm working on now.

And as life is always surprising, a couple of days after that, I found an advertisement for a set of dragon rings. They actually are meant to be for couples. But now I kept one for myself and gave one to Elias' mother. In case they will have trouble with monsters or ghosts again, she can use the ring to call "my" dragons to shush them away.

Here are the first sketches I made, while telling the story. They are pretty rough and shaky, but you can get the idea, where the book is turning into.

I hope you had some fun with my story. Let me know if you would be interested to read more about Moma, Elias, and their dragon friends.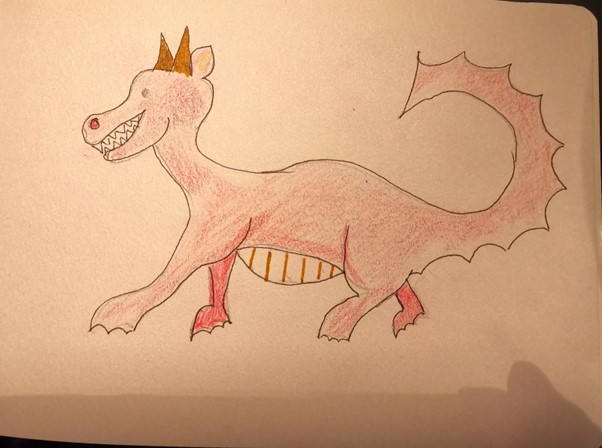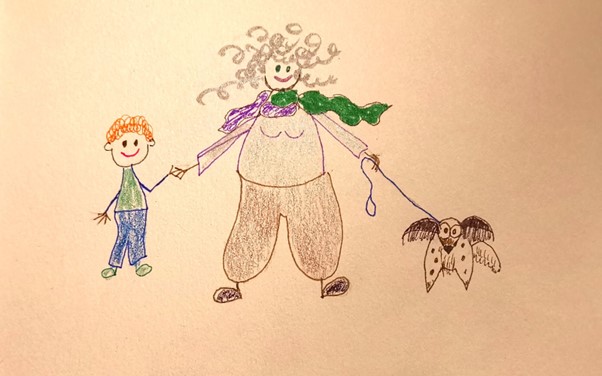 I can't wait to bring Elias to Narnia or introduce him to Alice. There lies a list on my bookshelf with books for Elias and I to read together. We will follow the Yellow Brick Road, stroll through magical forests and fly in the clouds…So many adventures to come.

Enjoy the upcoming spring with all the funny weather. - Ride the storm.
**********************************

You may reach Ellen at : bunteinspirationen@gmail.com on Instagram: ellenberlin1

Bio: Ellen Hofrath-Stovall was born in 1965
She is living in Berlin/Germany
2 Daughters, 3 grandchildren
single
Painting since 2012, self-educated several exhibitions in cafes and restaurants


Reproduction of all or any part of material of Ellen Hofrath©, including previous posts, without the express written permission from Planet Starz, Inc. is strictly forbidden.

**Note from Natalie: Ellen is someone I discovered on Instagram and immediately we became friends. I thought what a nice addition to the ezine this would be to have a column for her.
Enjoy her work every month here at Mystic Living Today**


See you next month !!

Love,
Ellen