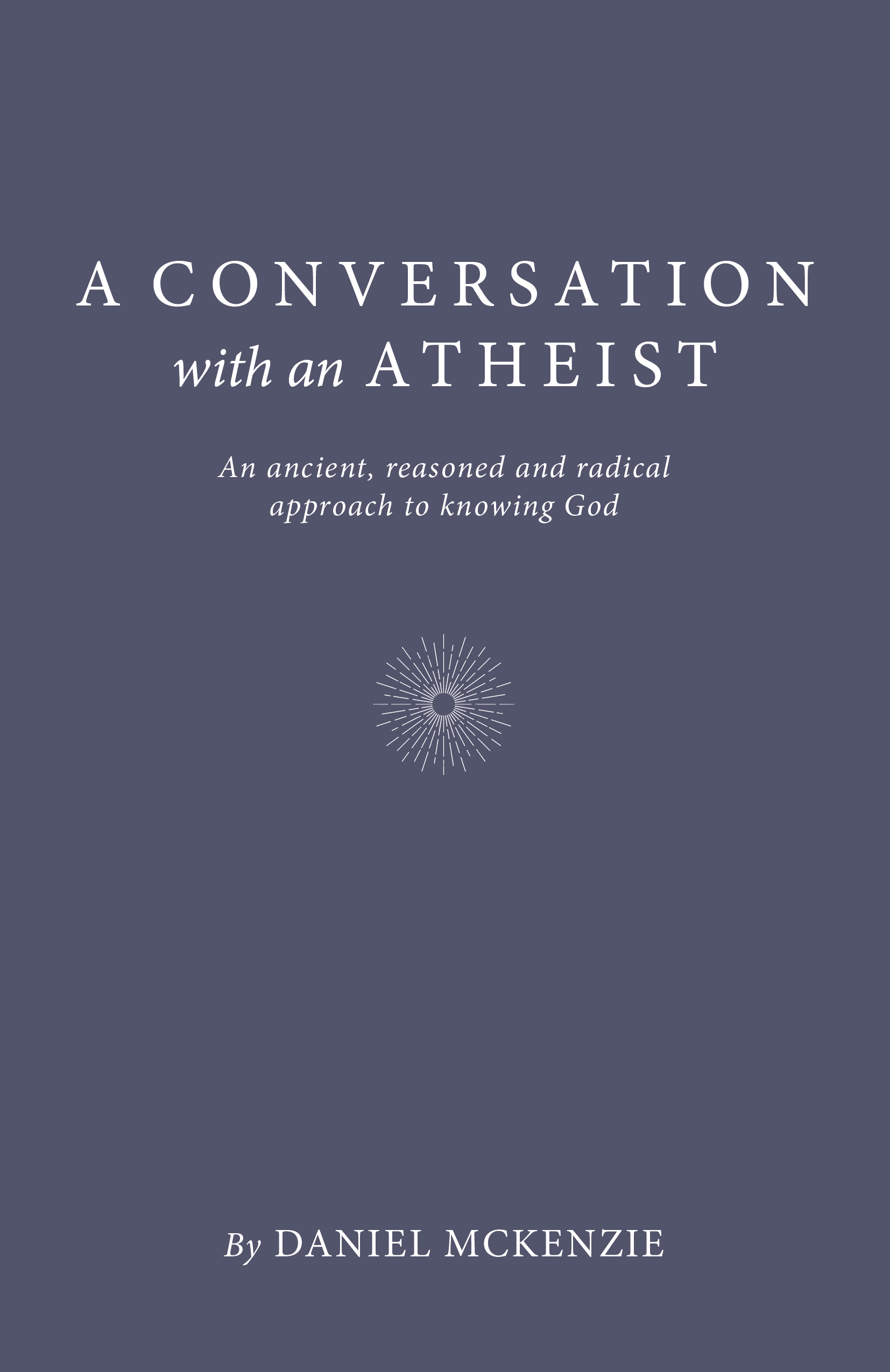 A Conversation with an Atheist
by Daniel McKenzie
/ www.mantra-books.com
Let's face it, "God" is an awkward topic for most westerners. God is rarely spoken of outside a house of worship and rarely, among friends or even family. As a society we are more comfortable discussing our sex life than we are God. On the rare occasion the G-word does slip out, our knee-jerk reaction is to shuffle, duck and dodge. In short, God is now a private affair best kept to oneself in fear of offending the neighbors.

But God's unpopularity doesn't end there. According to a Gallup poll, in 2020 just 47% of US adults belonged to a church, synagogue or mosque. This was the first time in the history of the poll that membership had dropped below 50%—which is remarkable considering that just twenty-two years earlier the number of US adults affiliated with a church, synagogue or mosque was almost 75%.

Even though I grew up Catholic, like so many others from my generation, I too lost interest in God. It was only later in life, through my eventual discovery of the teachings of traditional Advaita Vedanta— an ancient method for examining our experience—that I learned that the concept of God had a certain value and utility. What had suddenly peaked my interest in God wasn't an impassioned devotion to a supreme entity or the intoxicating elixir of universal love but rather, God as a means for understanding the world and my place in it.

Through Vedanta I learned that to know God is to feel comfortable with what is—that is, with this apparent world, person and that which is witness to it all. I also learned that to know God is to understand what the sages talk about when they say the world is perfect as it is and can't be any different. And I learned that to truly know God is to have the satisfaction knowing that whatever happens, I'm okay.

I also began to understand that faith in God should be approached like a walking stick we use until the time arrives that we're able to walk on our own two feet (such is the proper definition and use of religion). Faith should be where you start your journey, not where you finish it. What so few ever realize is that there is such a thing as having God-knowledge and that one needn't be satisfied with mere beliefs and illogical answers to life's biggest questions. In fact, the answers have always been there just waiting to be uncovered (such is the nature of the truth—and of God).

Lastly, I learned that God is important because without God, what to do with the ego which always seems to get in the way of spiritual progress? The ego's ability to persuade us into believing we are separate, unique individuals apart from the rest of creation is so preposterous and yet, so persistent that without having an understanding of God we are left powerless to its many whims. Knowledge of God reminds us that we aren't detached from creation, that we aren't really in control, and that in spite of a consumer society that encourages ownership of everything, we are in actuality, owners of nothing.

In the past, I always struggled with believing in God, but now I could know God. The difference is night and day for the seeker. The problem with believing in God is that if I believe in God, I'm making a judgment before ever knowing. I'm saying God may or may not exist. With belief, there is always a sense of uncertainty and reliance on non-verifiable facts that as a thinking person, I'm not comfortable with. Furthermore, if I can only believe in God and not know God, how am I expected to interact with God, let alone have any real relationship with God? If God is only a belief for me, I'm at risk of asking the wrong questions or worse, being disappointed when my expectations of God aren't met.

Once you have God-knowledge, questions such as "Where does God live?" "What does God look like?" "Will I ever meet God?" seem childish. They reflect a certain naiveté just as they would if the same questions were asked about any universal power, for example, gravity. You would probably never ask, "Where is gravity?" "What does gravity look like?" "How can I meet this gravity?" Simply put, so many of us never find the answers to questions about God because we are asking the wrong questions! For starters, our first question shouldn't be "Where is God?" or "How can I see God?" but instead, "What is God?" Because without first defining God, we run the risk of pursuing something totally different, or something that logically doesn't even make sense.

How we define God matters just as much, if not more, than what we believe or understand about God. For example, let's say I ask you about some random word. Let's say the word is "cherimoya." You respond with a flummoxed look, so to keep you guessing I tell you it's a physical object—which somewhat narrows the scope but still leaves you with too many options. Next, I tell you it's a fruit, and all of a sudden you're able to come up with dozens of related questions: "What shape is it?" "What color is it?" "Where is it grown?" "What does it taste like?" "How many seeds does it have?" etc. So, until we know the what, we can't even know if why or a where are applicable.

So, then…What is God?

Simply put, God is everything that exists including existence itself. But more to the point, God is both the consciousness and creative principles, which are referred to as God 1 and God 2. The first is the formless "spirit," while the other is the matter and intelligence that make up the material world. In my new book, A Conversation with an Atheist, I approach God using logic, inference and good old common sense. I also take inspiration from the Bhagavad Gita, the Upanishads and other texts in order to show God's two-fold nature.

As an aside, in many ways A Conversation with an Atheist is a follow-up to an earlier book of mine, The Teachings of the Bhagavad Gita, where, with the aid of various Advaita Vedanta masters, I was able to unlock the meaning of the Gita. A Conversation with an Atheist takes that knowledge and attempts to describe it in more detail using additional sources, while also introducing new perspectives, such as God as one great order, God and the question of free will, and whether or not God is love. I have also included a section in the addendum that answers questions that were not specifically covered in the book's chapters.

Lastly, the objective of A Conversation with an Atheist isn't to help the reader become a God-believer but instead, a God-knower. God has become unpopular these days because for many of us, God simply doesn't make sense anymore. It's my hope that the book in some small way helps one to reconsider God—not as another veiled attempt to making you feel guilty about being an imperfect human being (I promise, it won't do that), but to better understand our experience and place in the cosmos.
A Conversation with an Atheist by Daniel McKenzie is available from
https://www.mantra-books.com
And from wherever books are sold.

BOOK LINK:
https://www.johnhuntpublishing.com/mantra-books/our-books/conversation-atheist-radical-approach-knowing-god