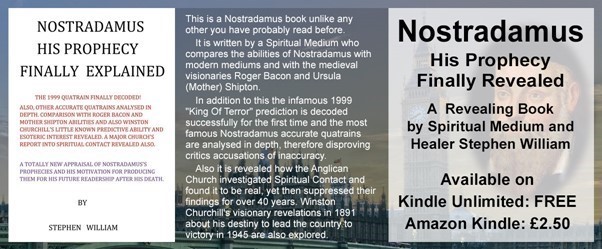 THE POSSIBLY REAL MOSES AND HIS EFFECT ON SPIRITUALITY AND MYSTICISM.
By Stephen William. He is a UK based Medium and Healer and Author of "Nostradamus His Prophecy Finally Explained."
Available on Kindle now.
When I was recently writing my article "The Hebrew Mystics, An Alternative View" which appeared in this magazine's March edition , I came across some interesting information on Moses the recipient of The Ten Commandments. He is the possibly the most influential figure in the Old Testament . He is also one of the most influential figures in history in the countries where the Abrahamic religions have been traditionally practiced . The decrees he laid down from The Ten Commandments to the further commandments in the Book of Leviticus and his lifetime sayings still influence the societies we live in ,whether we agree with all of them or not. I therefore believed a more in- depth article on Moses was justified.

From a modern mystic's point of view, Moses prohibition of contacting the deceased as stated in the Book of Leviticus , which is traditionally supposed to have been written either fully or partly by himself, is problematic . Much of mystical practice is devoted to contacting passed away people to give comfort to their living relatives and friends. It also gives proof of a spiritual dimension to existence. Therefore, this Biblical prohibition makes relations with conventionally religious people at times difficult. It can also cause feelings of doubt and even guilt amongst even resolute mystics, such as "am I following the right path?" However, whatever the feelings of modern mystics , it remains the fact the teachings of Moses have had an enormous influence on the world , from religious morality to justice systems everywhere.

Yet as many people reading this article will know it is often repeated, that outside of the Bible , there is no historical mention of Moses or any tangible proof of his existence. Therefore, it would appear a major influential person on how we define right and wrong and also how we act towards other people , may be a fictional character! However, as I researched my previous article it emerged that there were various people who resembled Moses in different ways, had been recorded by the Ancient Egyptians and sometimes in an unflattering way because they were considered an "outsider"! The strongest candidate in my opinion, for being the Moses of the Bible , was a Semitic man who originated from Canaan (the traditional home of the Hebrews) called Irsu.

Before I go any further on Irsu's recorded actions and life , I think I should explain the presence of many Semitic people and other "outsiders" within Ancient Egypt . It is often also quoted that there is no mention in Ancient Egyptian records of the presence of the "Hebrews" or "The Children of Israel." Neither is there mention of a" Joseph" or" Moses" by name . Whilst it is true that there is no specific mention of those tribal descriptions or personal names , there is frequent mention and depiction of Canaanite Semitic speaking people within Ancient Egypt. Why were they there? Well as many readers will know Ancient Egypt was for the time, a technologically and economically advanced society which owed a lot of its stability to the annual Nile Flood which provided water for its crop fields and animal pastures. Because of that it did not suffer the extreme famines caused by droughts in neighbouring countries. Therefore, hungry people in the neighbouring countries in times of famine made their way to Egypt to seek a regular food supply. In addition to this in 1458 BCE the Egyptian Pharoah Thutmose III defeated a coalition of Canaanite tribes at Megiddo in what is now Northern Israel. He not only invaded that territory which remained an Egyptian possession for the next two to three centuries, but brought back a lot of Canaanite slaves as well.

What advantage to Egypt were these outsiders you may ask ? These incomers obviously provided extra consumers for Egyptian farmers produce and when times were good became farmers themselves according to Egyptian records, therefore increasing the Egyptian food supply even more. They also probably became taxpayers , providing many Egyptian Pharaohs' with revenue for their huge temple and palace building projects. They also probably provided affordable labour for them as well. Yet it did not always go well for the Ancient Egyptians , one tribe of Semitic incomers the Hyksos, known as the "the Shepherd Kings", took over Egypt and established the Fifteenth Dynasty of Pharaohs , before being overthrown themselves according to Egyptian records of the time.

Interestingly, the Ancient Egyptian term for some of these people was Habiru . Its translation into Modern English has been described as "dirty people" or" robbers and mercenaries." I mentioned that the descriptions were often unflattering! We must aware that as these descriptions were by native Egyptians and some may have been resentful of these people of a different culture and lifestyle. The likeness to the word "Hebrew" has been noted for many years now. Whatever the connection , these records demonstrate the presence of a large amount of Canaanite origin ,Semitic speaking people for many centuries in Ancient Egypt.

EGYPTIAN IMAGE OF SEMITIC PEOPLE. NOTICE HOW THE MEN ARE HEAVILY BEARDED COMPARED TO IMAGES OF EGYPTIAN MEN AND THE WOMEN HAVE VERY DIFFERENT HAIRSTYLES TO EGYPTIAN WOMEN OF THE PERIOD.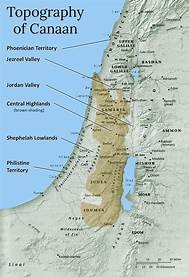 MAP OF CANAANN IN BIBLICAL TIMES. MOST INHABITANTS SPOKE SEMITIC LANGUAGES AS THEY DO TODAY IN THE MODERN COUNTRIES CONTAINED WITHIN THIS AREA.

As I pointed out in my March article, there is possible evidence of Joseph the Old Testament Dream Interpreter and Pharoah's Vizier's existence. There was a powerful foreign-born Vizier/Chancellor named Bay or Baya who served under the Egyptian Pharaohs father and son Setti II and Siptah around 1200 BCE. His name was not Egyptian , but West Semitic in origin . Hebrew as many will know is a West Semitic language. He was also in power during the widely historically recorded famine affecting the North African and West Asian region. Both Egypt and Canaan are within that area. His name has been translated into Modern English as the mystic sounding "He who rides the clouds"! This translation was made by experts in the West Semitic languages of the time. He later changed his name to the more Egyptian sounding Ramesse Khamenteru. He has been identified as the possible person behind the story of Joseph , by various respected historians.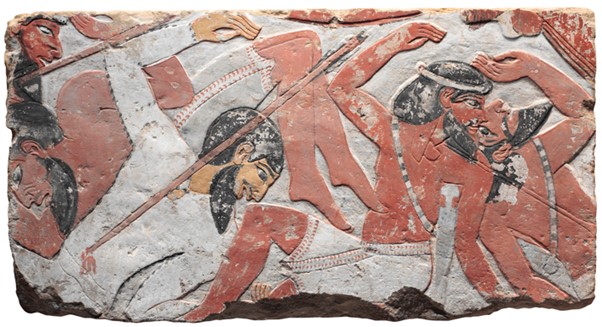 ANCIENT EGYPTIAN WALL PAINTING CIRCA 1400 BCE AT THE METROPOLITAN MUSEUM NEW YORK DEPICTING DEFEATED CANAANITE WARRIORS AT THE BATTLE OF MEGIDDO.
There is no record of him actually possessing clairvoyant or similar abilities , but he apparently came from not only foreign , but also low born origins. For him to be appointed to the highest political office in one of the then most powerful countries in the Ancient World, he would have to be a man of outstanding abilities, whatever they were. He is also reported by some Egyptian sources to have had an affair with the Egyptian Queen Twosret , which may be the origin of the tale of the Egyptian official Potiphar's wife's unsuccessful seduction of Joseph.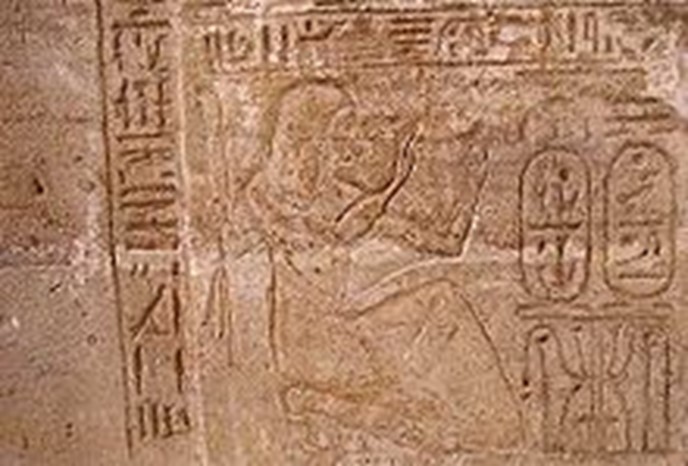 AN IMAGE OF BAYA THE CANAANITE SEMITIC VIZIER WHO WAS IN POWER IN EGYPT DURING THE GREAT FAMINE OF THE WESTERN MEDITERRIAN. MUCH OF HIS KNOWN LIFE STORY MIRRORS THE BIBLICAL LIFE STORY OF JOSEPH. THIS IS ON A CARTOUCHE AT THE AMADA TEMPLE.

Now I have established not only the presence of many Canaanite Semites in Ancient Egypt and the fact that some even achieved high office, including in the Hyksos period some even became Pharaohs, I would like to turn to the man known to Egyptian history as Irsu .His life greatly resembles the Biblical story of Moses. He also was a man of Canaanite Semite ancestry . He though according to some Ancient Egyptian records of the time was raised by a sonless Egyptian princess as in the case of Moses! How this came about is not clearly explained , but as Egypt had some conquered territories in Canaan at that time , he may have been the son of a chieftain of one of these areas and was a compulsory " guest" cum hostage of the Egyptian court to ensure his father's compliance with Egyptian rule.

This kind of arrangement of seems bizarre to our modern eyes , however in the ancient world this form of tactic was quite common to ensure rebellion would not occur in a conquered land . The child would be kindly treated and well educated , so long as his or her family did not rebel against the ruling power. It also helped indoctrinate the child into being a loyal subject to his captors. This appears to be the case with Irsu as when he achieved adulthood, he became the Governor and Tax-collector in the conquered Canaanite territories. Moses in the Bible spent some considerable time in the Egyptian conquered Canaanite territories before he started his rebellion against the Egyptian overlords.

His name means according to some translations means "He who made himself ". It is unknown if this is the name he was given at birth , but it certainly reflects his later life. He returned to Egypt after some time in this Governor role and is said to have formed an alliance with the previously mentioned and by that time, widowed Queen Twosret. As her husband had died , she reigned on as Pharoah alone and was the last Nineteenth Dynasty Pharoah. She is not recorded as having sons, so she may well be the Egyptian princess that raised Irsu, who may have seen her as a mother figure. However, Irsu started openly disrespecting the Egyptian polytheistic (many gods) religion and also plundered much treasure from religious and secular sources . Because of this situation a powerful Egyptian called Setnakhte rebelled and became the first Twentieth Dynasty Pharoah and defeated and then expelled Irsu and his Canaanite followers from Egypt. They are said to have abandoned much of the Egyptian goods and treasures in their flight back into Cannan. Perhaps this could be seen as the contemporay Ancient Egyptian view of the Biblical Exodus?

The Harris Papyrus I which now in the British Museum in London gives us much of the information we know of Irsu. However he is mentioned in other sources such as the Elephantine Stele as well . All these sources are dated to within a few decades of the events happening.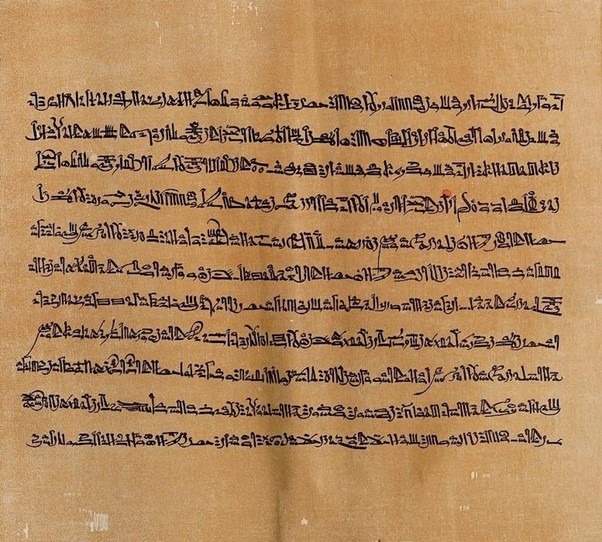 A SEGEMENT OF THE HARRIS PAPYRUS IN THE BRITISH MUSEUM. IT WAS BROUGHT BACK FROM EGYPT IN THE 1700s AND DETAILS SOME OF THE LIFE OF IRSU.

Some centuries later an Egyptian historian also makes mention of the Canaanites flight or removal back to Canaan from Egypt . He said this group settled in Judea. As the term Judea did not exist in the time of Irsu as the Hebrews had not yet split into two kingdoms Israel and Judah, some centuries later, this seems to be an enlightening statement. It demonstrates that this Egyptian connected the flight of these Canaanites with the Jewish people in his own period of time.

From the mystic point of view ,as with Baya the potential Joseph candidate , Irsu in the contemporary Ancient Egyptian records is not credited with any supernatural abilities. But why would they? He is a hated outsider who had disrespected their own gods and he and his followers had to be forcibly ejected from Egypt. Yet like Baya he is shown as a man of outstanding ability in leadership and persuasion. He also appeared to have military skills and personal courage just like Moses in the Bible.

Yet just as Egyptian Pharaohs and other leaders of ancient peoples , the king or chief was often the senior religious figure in their nation. Even if they were not mystical themselves ,they employed people who were. Irsu certainly was outstanding and may have had spiritual insight. His life has various parallels with the Biblical life of Moses and his outright rejection of the traditional Egyptian religion showed he clung to the beliefs of his ancestry and conscience ,when he could have had an easier life just going along with the Egyptian status quo.

Perhaps us modern mystics can provide the answer to why Irsu / Moses took the actions he did. We know that direct spiritual experience is a true ability. Whether it is communing with the deceased or seeing future events concerning the people who come to us for guidance, we know that direct spiritual contact is achievable . Even in a sometimes increasingly non-spiritual world , where we are sometimes are ridiculed by conventional religious people or by cynics of the supernatural, our own experiences compel us to continue to demonstrate a mystical dimension to existence. The story of Moses observing the Burning Bush and having a spiritual revelation during it, is remarkably similar to a modern focused mediation which mystics can relate to.

So why Moses did ban contact with deceased people which makes up a lot of modern mystical practice? From a personal point of view, I see that Moses had a genuine problem with the non-Israelite spirituality of the other tribes of Canaan. They had religions that permitted among other things human sacrifice ,especially of children! Therefore, a medium or mystic from such a religious background ,even if they personally disapproved of the practice would have a very different outlook from the creed that he was preaching. However. It appears that people that accepted his teachings and his Hebrew followers were to be trusted with direct spiritual contact.

In the Book of Numbers, Moses summons many Israelite elders to help him prophesise . Two Israelites who were not invited by Moses , also began to make prophecies and Joshua reported this to Moses as a breach of his teachings. However, he was taken aback when Moses replied, "would that all people of Israel were prophets!" It appears that people of good intentions were allowed direct mystic contact. I think we forget that when Moses was giving his instructions to his followers he was trying to construct a new nation ,not a worldwide religion at that time . He did not want outsiders with radically different views interfering with that process. Therefore, the prophecy of his followers was to be accepted ,but not others. Some of his followers would have foreign spouses or themselves have foreign ancestry (as Moses did himself with his wife Zipporah, a Cushite woman) therefore contact with passed on relatives who were not followers of Yahweh would probably not be accepted as good advice.

Another part of Moses teachings in Leviticus which causes some modern people whether mystical or not to have problems with his teachings, is his prohibition of same -sex intimate relationships. Curiously it only appears to apply to men, however religious tradition has often extended it to cover lesbianism also .Yet again however it seems that Moses was not attempting to construct a worldwide religion, but the new nation of Israel. All nations or tribes at that time wanted the same thing , new members! This was achieved mainly by their people having children. Population growth meant national or the religions' growth. A declining population meant eventually extinction , if not everybody engaged in replacing themselves and adding to the population. This was not only the attitude of the ancient Israelites ,but of many other societies of the time.
In the over-populated 21st Century ,we can take a more understanding and accepting view of people of natural gay orientation. However, in the world Moses lived in it went against the survival and expansion objective of most the human race. Most of the dietary laws he laid down ,were to avoid food poisoning, such not eating shellfish ,which are notorious for rotting within a brief time of being caught. Here again the needless death of members of the tribe or nation would inhibit the growth and flourishing of that society.

I do not think any rational person would refute many of Moses Laws ,such Thou Shalt Not Kill or the prohibitions on stealing or jealousy etc, as they are the basis of good relations between all human beings . These are of course now universal values even in non-Abrahamic religion countries and still serve us well today. Yet, the seeming inflexibility of some of Moses's Laws that made good survival sense at the time they were given, whether they were Divinely Inspired or of his own devising, now perhaps need a new understanding of spiritual contact in an increasingly materialistic and non-spiritual world. This is required to remind the world there is a spiritual dimension to existence . Perhaps if conventionally religious people examined the world that Moses lived in , they would understand that if you have a religion based on supernatural occurrences you must present proof of a spiritual dimension to existence. Faith in a modern rational world is increasingly not enough. As did Moses himself who demonstrated spiritual abilities according to the Bible.

The proof of an afterlife would perhaps make people realise that existence is not just a lifetime sprint, but a marathon throughout eternity. We are all on the same provable path whether we wish it or not . Therefore, kindness and respect to our fellow travellers on that path is the best route to happiness for all of us and to make a better world.

©Stephen William International Copyright.
If you wish to read my book, it is available on this link at Amazon.
https://www.amazon.co.uk/dp/B098LS5PM7/ref=cm_sw_em_r_mt_dp_MBDF06G549ZKJ6XFKMCJ