How Can I Meditate
By Debbie A. Anderson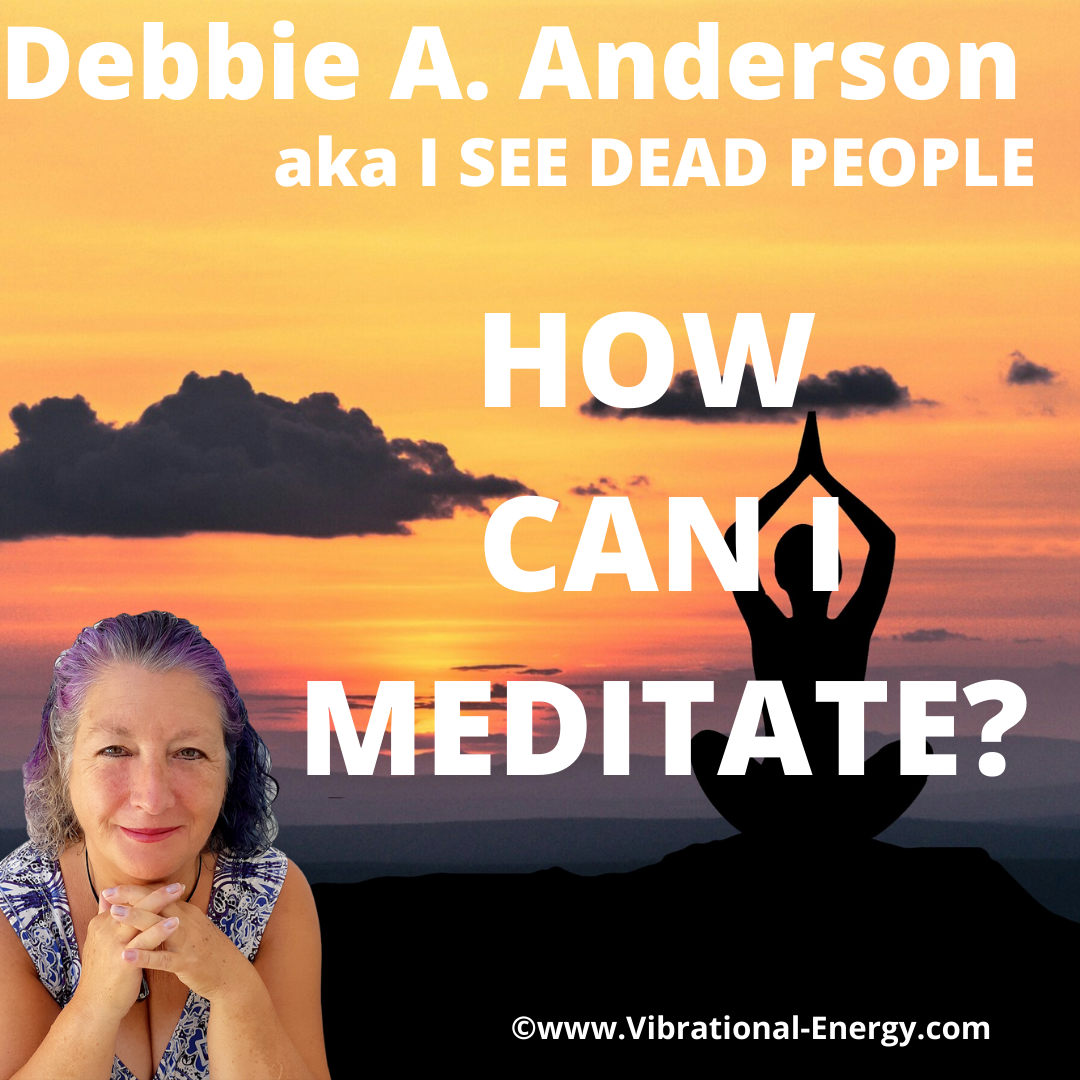 How Can I Meditate?
I have been asked many times "what is the easiest way to meditate?"

What I will share are just my thoughts which is just the way I meditate.

What I believe meditation is about is resting your mind and connecting with your consciousness to achieve peace, quietness and hopefully find your bliss.

Of course for anyone who has tried to meditate knows, often the mind itself is the biggest obstacle that stands in our way to our own awareness.

What I am hopeful meditation will do for you is to invite your vibrational essence to connect with YOU in an effort to help YOU achieve what YOU need at any given time.

Meditation is a tool to assist you in your day to day life. It is deemed to help reduce stress, anxiety, depression and even lower blood pressure. Basically, it can help improve the health and wellbeing of your mind, body and soul.

Here are some of the meditation techniques I suggest to anyone wanting to embrace this experience.

Invest in this time for your "self" being.

Find a comfortable place to sit, that is away (as far as possible) from noise & day to day distractions.

Close your eyes and focus on your breath. Feel and listen to your body inhale and exhale. Breathe naturally, slowly.

Do this for just 2 to 3 minutes in the beginning.

If all else fails, go for a nice peaceful walk and allow your mind to take in the surroundings.
What I hear so often is people struggling with the fact that their mind doesn't slow down enough, or wanders off while attempting meditation. If it does, then let it be. Try not to fight it, otherwise you will be negating any emotional benefits and frankly making yourself feel more stressed than when you started.

I would like to encourage you do what I call a mindful meditation. This is allowing your mind to focus on something, be it an image, a word, or maybe a card pulled from an oracle or affirmation deck. This allows your thoughts and feelings to create a mental image based on what you have seen, observed. If you prefer add some background music that soothes your soul. All this is doing is opening up your awareness to infinite possibilities.

After you have sat for a few minutes, open your eyes and write down anything and everything you felt, sensed or saw during that process. Maybe there were images, words or thoughts, whatever you write in your journal will help you to open up your intuition and awareness.

Remember, there are no wrong thoughts. They are just thoughts, so the more you can release them, the more you will be able to relax.

Meditation should not be an endurance test. So I am hopeful what I have shared will start you on your journey to your own self enlightenment and bliss. After all, you are a vibrational being!

Bio: I SEE DEAD PEOPLE. Yes, that is how Debbie A. Anderson introduces herself. From a young age she had the ability to connect & see spirit. She is a clairvoyant and for over 40 years she has united people with loved ones who have crossed over to say "Hi", get closure or maybe find that missing will. She raises the vibration & shares the positive using the oracle & affirmation decks she has published, teaching others how to shift their energy to tap into the "self" in a focused & balanced way. Sign up for her newsletter & receive I AM Mantra meditation FREE.
https://www.Vibrational-Energy.com
Share this article with friends!