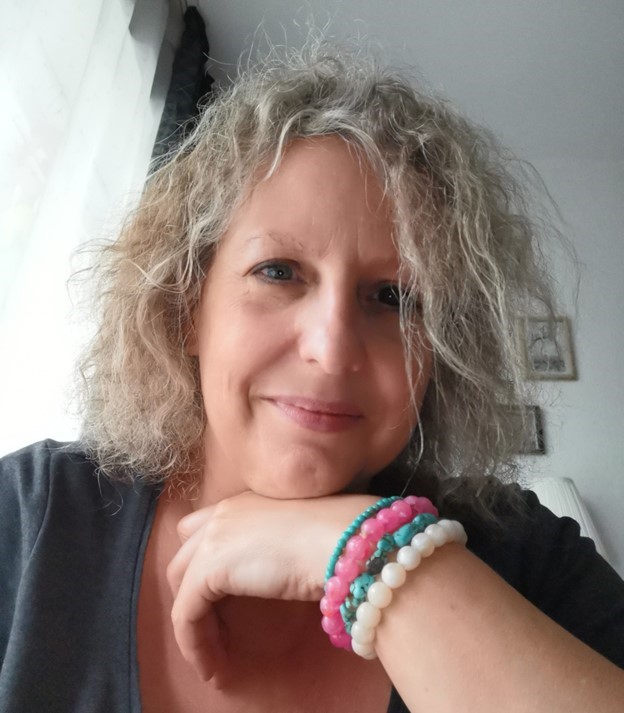 Ellen Hofrath-Stovall
I love abstract painting, but I'm pretty bad with realistic paintings or drawings.

My Cassandra and Goliath illustrations turned out pretty good, but it was a fun project. Now I'm writing some stories for my grandson and that won't work here.

So I had to figure out other options to illustrate my stories. The stories are mostly to support Elias. He is a cute, 4-year old boy with a very, very active imagination. He is also very sensitive when it comes to spiritual things. Unfortunately that results in nightmares and difficulties falling asleep. He tells his parents about hearing roaring dragons outside his window or ghosts or monsters in his bedroom. Protective stones and scents work for a while, but not always. Only when he is at my place, he has no issues whatsoever. That's why I decided to write him some stories.

The ideas were born in an instant, but what to do about the illustrations? You can't have a children's book without. But my abilities definitely don't match the needs here.

So I figured, I may try AI, or better "word-to-image" programs. AI is everywhere and you almost can't avoid learning about it. I wanted to give it a try for quite a while now and was happy finally having an actual reason. It was an interesting experience, and I'm still in the midst of learning.

To break it down, there are programs for writing, which I didn't need and others for editing or creating images. There are different methods for it. From editing an already existing image to let the software create one, based on your description. And that's where it gets tricky, as you can only try and try, how you need to phrase your idea to get the result you want to get out of it. I got some nice results pretty fast, but am still struggling with some of the details.

First you pick a filter / style you like, then start with the content. In this case "4 year old boy with his Papillon-Dog". I liked the image itself, but don't think the style works for the story (but the dog looks a lot like my Odin):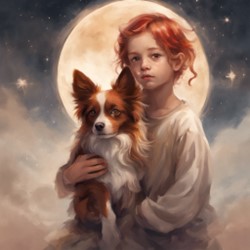 Next try was my balcony, as it's part of the story. Again, nice "drawing", but essential items are missing (I wanted a baby pool and a hammock in the picture - both not there) and the style, nah, doesn't work. What you can also see here is another common issue: actual errors, like the missing legs on the chairs.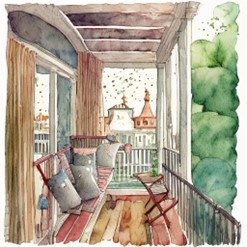 I found several apps and sites, some completely free, others not. Of course, the one I liked most only had 5 images for free. So I got down to 3 options, 1 app on my phone, the others are browser based and work perfectly on my laptop, which is much easier. Finally I also found a style/filter I liked and also the images met my description.
That's the good thing. The bad thing is, that I can't get more than 2 images where the characters look the same. I will show you some examples. All the same description for the characters, but different backgrounds.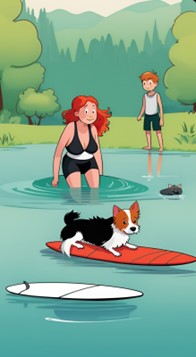 As you can see by the format, this is the phone app. Really nice image, but lots of errors in the pictures. That's actually a good one and I like the style. But it's the one with the most errors. In the next picture there "I" was in the water, completely dressed - with 3 arms. And that happens a lot with that app.

Different app. Same character description, with very different results. Both were supposed to be Elias and I.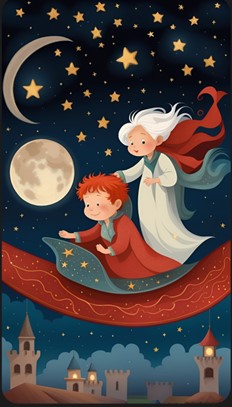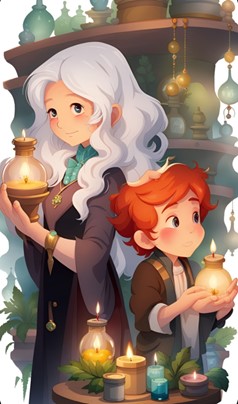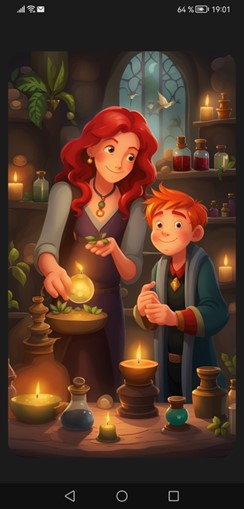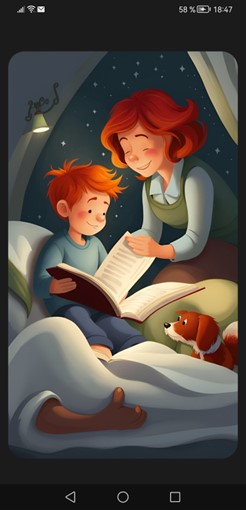 As you can see at the time those were created within a few minutes and again: not really the same, and have a look at the weird food that grows out of the blanket ….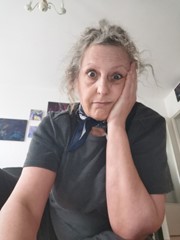 I think you can see my issues. But I'm still confident. I will get there soon. The images are mostly really nice and they match the storyline.
My favorites so far are the following. I chose some of them for the first version that Elias already has got.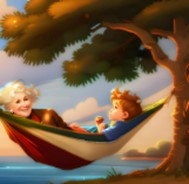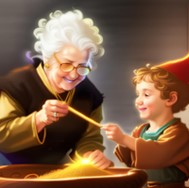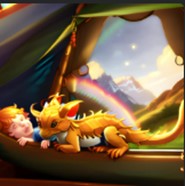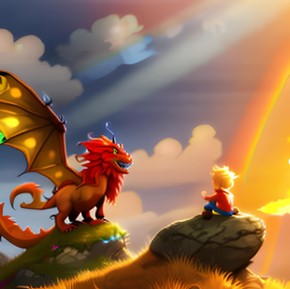 I have some additional stories in my mind. Hopefully I can figure out a way to get my illustrations the way I want them to be. If so I may publish the stories as a book later.

Would you be interested to read about Elias, his Grandmother with magical powers and Dario the Dragon, who becomes Elias' best friend?

Great things can happen, when you are open and stay curious. Have fun exploring new things!

See you next month, thank you for your visit!


You may reach Ellen at : bunteinspirationen@gmail.com on Instagram: ellenberlin1

Bio: Ellen Hofrath-Stovall was born in 1965
She is living in Berlin/Germany
2 Daughters, 3 grandchildren
single
Painting since 2012, self-educated several exhibitions in cafes and restaurants


Reproduction of all or any part of material of Ellen Hofrath©, including previous posts, without the express written permission from Planet Starz, Inc. is strictly forbidden.

**Note from Natalie: Ellen is someone I discovered on Instagram and immediately we became friends. I thought what a nice addition to the ezine this would be to have a column for her.
Enjoy her work every month here at Mystic Living Today**