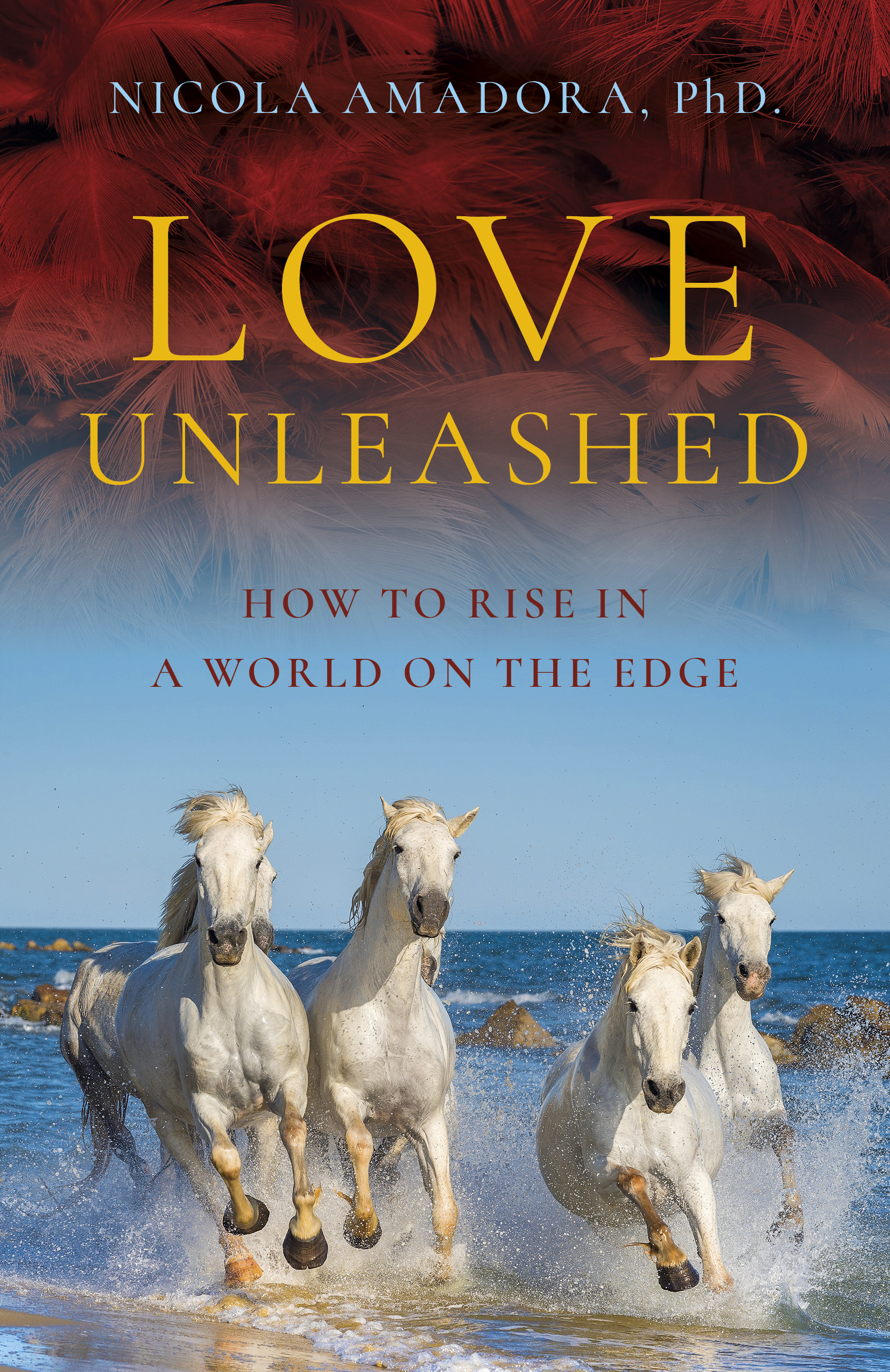 Love Unleashed
by Nicola Amadora PhD/
https://www.o-books.com
Years ago, when spiritual tourism didn't yet exist in the Amazon, I had the good fortune to live in the heart of the jungle with an indigenous tribe and learn from a crinkled, powerful shaman women. One auspicious day she motioned me to follow her. Curiously, I walked barefoot with some men and women from the tribe beneath the vibrant, humongous trees and thick roots until we reached an opening where the sun pierced through. It was so hot, I was dripping wet. She told me that this was my initiation and if I succumbed to fear I would definitely die. Then she asked in a serious, fierce tone, if I am ready. Well, if I died here it would be alright, or so I thought (I didn't have a child yet.) Little scared me, except big hairy spiders, and I encountered plenty of these here, even in my bed. So I motioned, unperturbed, with no clue what awaited me: Sure, ready for anything.

She covered my eyes with a worn cloth and began chanting. I dropped into stillness, while heavy footsteps approached. Suddenly from behind, an enormous weight was laid upon my shoulders. Immediately I sank to my knees and ripped off the scarf from my eyes. Shock jolts surged through my entire body. This was a full-grown anaconda snake hanging on me! Holy Mother. My teacher laughed through her brownish teeth, and declared that the snake hadn't eaten. So if I freak-out she would strangle me and could not be loosened. Was she joking? I realized quickly, unfortunately not. Slowly the snake's head moved straight toward my face, with her tongue sticking out, hissing at me.

No fear? I was terrified out of my wits and shaking like a leaf. To make matters worse, with focused motion, she was slithering closer and closer toward my wet, soft neck. Instinctively I had put my hands there. Naïve, for that would make no difference whatsoever now.

What do you do, when you can't stop fear and it will surely lead to what you fear the most?

Will it be life or death? I had only seconds. Sweat was dripping from my forehead. This was the test for real, without drugs, imaginations or crutches. Would years of spiritual practice and training get me through? And what did love do in this wild trial?
You've got to read the book to find out…

A New Way

What was revealed in this intense moment of hanging on the cliff between life and death showed me the way and it helps many people around the world today.

You have seen it; we are all thrown into the turbulent rapids in these times, personally and globally. But what do you do when you're left rudderless in the great sea, traumas arise and you're longing for safe refuge, a hand and nothing is in sight? Or, when you are awakening and your life is suddenly turned upside down and inside out? Maybe you wonder how to sense your heart and soul in daily life with your child or mate and embody the truth you've glimpsed. And this question nags most of us: How can we respond to wars, global warming, violation of women, racism,.. and make a difference for the great turning we are called to show up for?

That's why wrote this book. 'Love Unleashed' offers an embodied, integrated spiritual path that emerged through decades of much inner and outer labor. Without the usual wishy-washy concepts, you are invited into direct experiences and true magical stories to leap into the deep mystery of love, whilst I also offer you down to earth stepping-stones.

Seek not the fleeting safety of this world, my friend, but take refuge in the only safety there is: your heart. The truth itself or call it love.

One of the basic practices that helped me with the anaconda snake and works like a charm for others is the art of grounding and holding. It can shift us from survival brain into being present and gives space for love to emerge.

- Sense the chair below you or the floor. Let your body weight drop down, lean in. Feel, something bigger, the earth, actually holds you in this moment now no matter what you are going through (Good news, nobody has ever fallen off from her.) Root down, like you are dropping an anchor. Breathe out from your mouth, in through the nose a few times. Notice the space around you, and what feels safe in your immediate environment. Allow your feelings to flow through, like you are welcoming each of your lost children or guests. And let yourself experience you are also the wise one who is eternally present and embraces what is with you, here now, as it is. What emerges for you from below the waves?

Walking Hand in Hand
Of course, far more is revealed when we endeavor to walk hand in hand with our vulnerable humanity and innate divinity, and also learn to dance in healthy, connected relationship. For that, we need both wings - transcendence and immanence, psychological healing and spiritual awakening - to actually embody our soul here on earth. So we can let love reach where it never has before, tingling through our fingertips and toes right into the beauty and the mess here.

It's an adventure, not for the fainthearted, to end the cycles of suffering and to birth forth a way that truly cherishes all life. But if not now then when, if not you then who?

For, one drop of love can cure a lifetime of pain, one touch can uplift, one kiss can awaken us from the slumber of forgetfulness—and one moment of love is eternity taking us home.

The red thread woven throughout this book guides to your own precious self, to feel connected with all beings, and to walk the 'Real', what's sacred even in the mud, come what may. That's what can enable us to meet any situation with guts and a kiss, responding from loving presence to rise together in a world on the edge.

Wildly alive to turn the wheel and live the greatest love story ever told.

Love Unleashed by Nicola Amadora PhD is available from
https://www.o-books.com
and from wherever books are sold.
BOOK LINK
:
https://www.collectiveinkbooks.com/o-books/our-books/love-unleashed-how-rise-world-edge