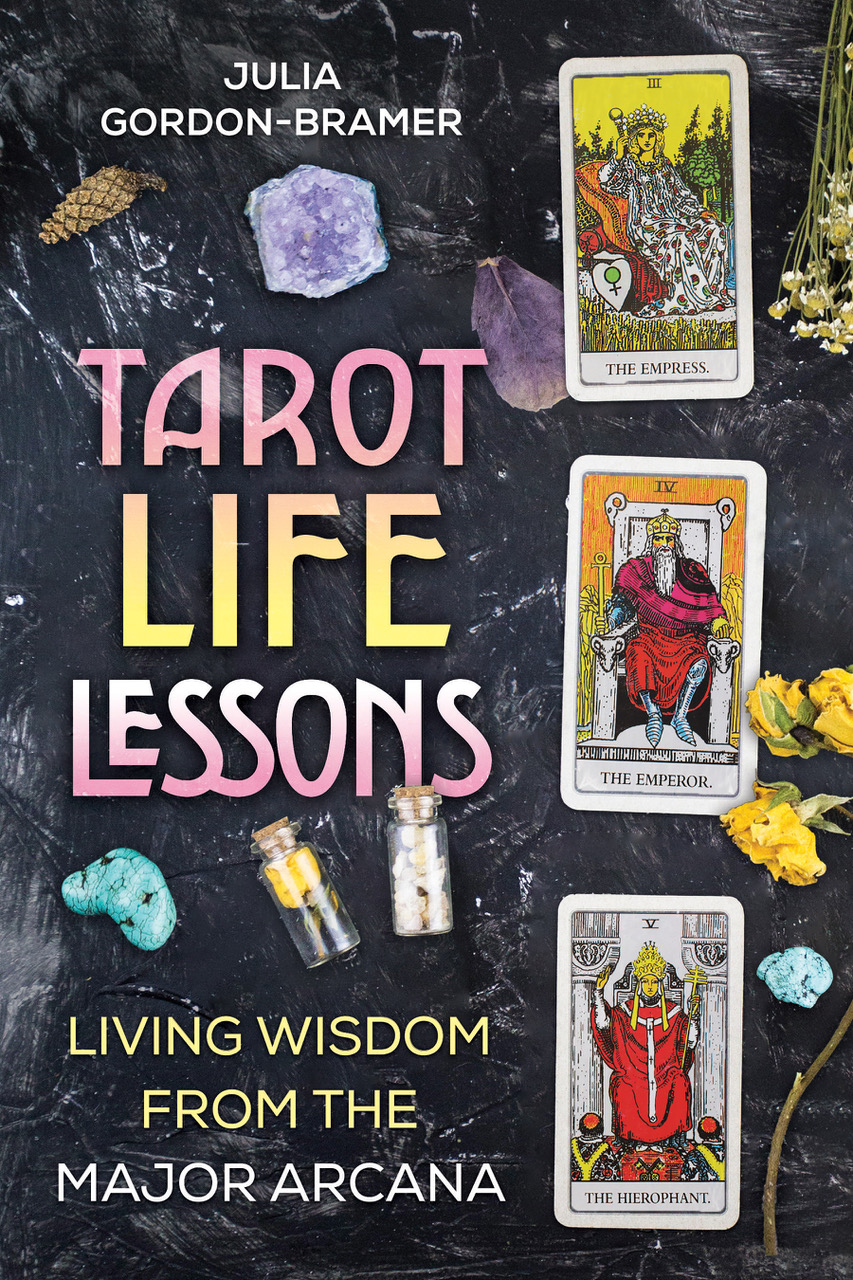 Tarot Life Lessons
Excerpt One

You would think a wedding would be all happiness, but the truth is that they are roller coasters of emotion. There is happiness, yes. But while everyone smiles at the bride and groom taking their vows, it's a mix of energies in the crowd: The guy full of addictions is taking advantage of the open bar. The lonely, recently widowed woman is trying to smile. There is the woman in the sexy red dress looking for love (isn't there always that woman in the red dress?). Children run through the partygoers, overloaded with sugar from rainbow-colored macarons, chasing bubbles and having temper tantrums. The partygoers watch the ceremony and question their own lives inside their heads. They wonder if they made the right or the wrong choice for their own spouses. Some are so moved with happiness, yet they wish that dearly departed Mom could have been there to see it. Others doubt love entirely and smirk inside, placing bets on how long the couple will last before the divorce. Some witness the seeming happiness around them, yet they are saddened by the love they lost or never had. It all comes out in their tarot cards.

The set-up was ideal. The reception was held on the grounds of St. Louis' Forest Park on an early summer day, and they had erected a glittery little tent to shade me from the sun and offer cover if it rained. Inside was a pretty little table and some chairs. I sat and read cards to a steadily growing line of attendees. I have to keep things moving at these prodigious events, so I do quick five card spreads.

When The Hermit card falls right side up, he is the wise man in the tarot. He may choose to be with someone or not, but he is not needy. He lives simply and is unencumbered by the trappings of the world. While he looks old and frail, his mind and heart are strong.

An older man sat down in my tent. His skin was as gray as the few hairs left on his head.
"Hi," I said. "What's your name?" There is information even in just a name and how they say it. The tone of their voices tells me bully or victim, saint or sinner. My work will be more challenging if I don't get a name.
"Harold," the man said.

The Hermit is on a quest for enlightenment. He stands atop a mountain with his lantern to guide others. He is a spiritual leader who has exiled himself from the world, as Jesus went into the desert and Buddha journeyed alone with nothing. In reverse, the Hermit is another thing entirely. Being alone, in this case, is a problem. Sometimes, the Hermit needs alone time and can't get it. Sometimes he is terrified of being alone. Sometimes he can't escape being alone. Always, there is a reason that The Hermit is alone, and if he looks inward he will discover the answer.
I asked Harold to shuffle the cards, and I laid the solemn spread down, one by one: the Empress, reversed; the Three of Swords; the Page of Cups reversed; the Hierophant reversed; the Four of Swords. The bride walked past our tent in her long white gown, peeking in and offering us glasses of champagne. We both declined.

I don't always get the tarot card's message immediately. I talk it through to the person I'm reading for. Sometimes these scary and strange symbols make sense to me, and sometimes they do not. The questioner almost always understands my subtle musings and outrageous declarations because they know their lives better than I do. I just speak what I see.

"To have an Empress as a first card is almost always about your mother because our mother is the first person we meet on this life journey and your first model of what love looks like. But yours is reversed, so there is sorrow there."
Harold flinched but said nothing. I knew that I had hit the core issue.
"The Three of Swords is a lot of emotional despair, and the Page of Cups reversed tells me that you kept it all in, never told anyone. Oh, no! That you never expressed any love. . . ."
Harold wiped at a tear.
"The Hierophant is often a marriage card, but that's reversed too. It either never happened, or it didn't work out for you. And so here you are, Harold . . . isolated and alone . . . that's the Four of Swords, here. You present yourself as the Hermit, but oh, there is an awful lot of heartache. Harold, you were never loved, and you never knew how to do love. You have never known it. . . ."

About the Author: Julia Gordon-Bramer is a professional tarot card reader, award- winning writer and poet, Sylvia Plath scholar, former professor for the Graduate Writing Program at Lindenwood University and host of the radio show, videocast, and podcast Mystic Fix. She has appeared on MTV, Nickelodeon, and many television and radio shows to share her tarot talents and scholarship. Recognized as one of St. Louis' Top Ten Psychics (Psychic St. Louis) and St. Louis' Best Fortune-Teller (CBS Radio), she is the author of several books, including Fixed Stars Govern a Life: Decoding Sylvia Plath. She lives in St. Louis, Missouri.
https://www.juliagordonbramer.com